Courtesy of Influencer / Canva
Behind the Feed: Lauren Trythall, Whose Passion for Fashion Became an Unexpected Side Hustle
A junior at Loyola University Chicago, Lauren Trythall is more than just your regular student. As a content creator, she spends her time sharing fashion tips, skin care products and more on her TikTok and Instagram. And, when she's not posting on her socials, she's running her blog, making relatable lifestyle content for young college students. 
Becoming an influencer was initially a hobby, but this initial gig has turned into an opportunity for Lauren to truly showcase her passions and creativity to the world.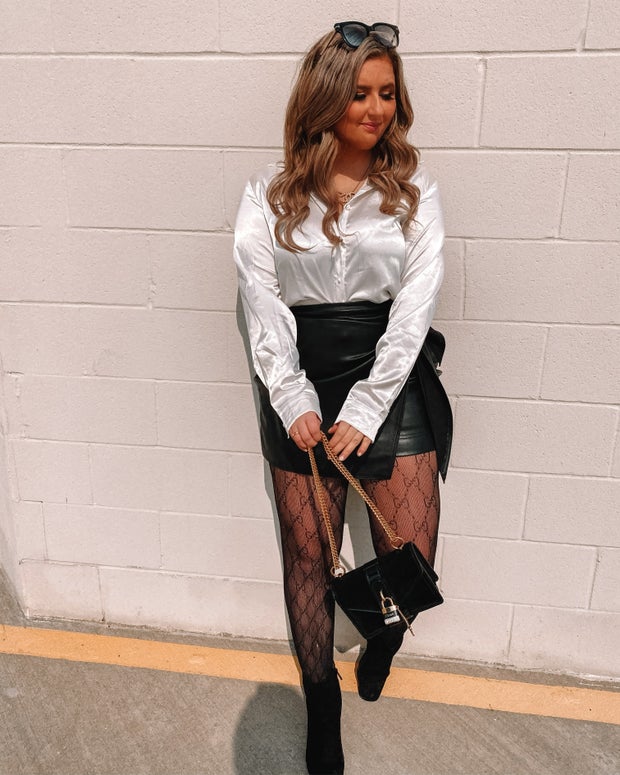 Courtesy of Influencer
Her Campus: Tell us about your site/platform and why you launched it.
Lauren Trythall: I decided to start my blog because I wanted a place to share the things I liked. I've always been into fashion, and I thought launching a blog would be a great way for me to express myself and share my outfits. This was a fun hobby for me, but has grown into a side hustle, which I love. I'm so thankful for the opportunities social media has brought me and I'm looking forward to what the future holds for me as an influencer.
HC: What do you hope your followers get out of following you?
LT: I hope that my followers are able to receive inspiration from my platforms, whether that has to do with fashion or personal goals. I hope to inspire others to live their best life and make the most out of what life has to offer. It's really important to me that my social media is a place of enjoyment for those who follow me. Growing up, I loved watching YouTube – it was like an escape for me, where I was able to watch someone else and gain inspiration from them. I hope that I can provide that for my followers, because I know sometimes social media can be toxic, but it can also be a nice break from a person's day-to-day life. I think everyone can use a little relief from their everyday life, and I hope that my followers can get that relief or escape, even if it's just for a few moments. 
HC: What does your week currently entail? Is there such a thing as a typical day?
LT: I think that I have somewhat typical days. As a college student I have classes pretty much every day, and spend a lot of my time studying or doing homework. As an influencer, I spend time creating content and focusing on my social media platforms. Combining the two can sometimes be a challenge because social media is a 24/7 job. Sometimes, I'm up late sending emails to brands I'm working with because I couldn't squeeze it in with my schedule as a college student.
When it comes to creating the actual content, it's an everyday task. I take photos, share my stories, and film for social media. I think it's important to realize how much work goes on behind the scenes of what might just appear to be a simple Instagram picture. 
HC: What are the best and worst parts about being an influencer? 
LT: The best part about being an influencer is the community I've built and the connections I've made with people I probably wouldn't have met if it wasn't for social media.
However, I think the worst thing about being an influencer is the constant comparison you feel on social media. There are always moments for me where I'll take a photo, but then just pick out everything wrong with it and then not want to post it. It's really easy to fall victim to comparing yourself with others, whether that's comparing looks, how many likes you receive, or how many followers someone else may have. It's definitely important for anyone on social media to remind yourself that people only share the best.
HC: What advice would you give to a college woman with similar aspirations?
LT: I think that anyone who has similar aspirations should just go for it. It's easy to get overwhelmed by all that social media has to offer, but it's important to just start somewhere and stay consistent. I also think reaching out to other college influencers is a good step to start building connections and get their advice whenever it's needed. 
HC: Is running your platforms your full time job or a side hustle, and why did you make that decision?
LT: Running my platforms is a side hustle. I am not at the point to do this full time, but I'm looking forward to seeing what the future holds for my influencer career. It's also a lot of work balancing school and social media since social media is a 24/7 job. This side hustle has given me a lot of opportunities and I'm really grateful for all of them. 
HC: Which people have had the most influence on you, and why?
LT: @emmaleger, @sophiesuchan, @nitsanraiter, and @weworewhat, on Instagram. I know this might sound cheesy, but my mom and dad have had the most influence on me in my life. They've taught me how to work hard and have shaped me into the person I am today. Without them, I wouldn't be here, and I have to thank them for the life they've provided for me. I can alway count on them for anything and I wouldn't be able to be where I am today without their help. 
HC: How has being an influencer affected your friendships and relationships?
LT: Being an influencer has allowed me to make connections with people who I probably wouldn't have met if it wasn't for social media. I've made friendships with other content creators, which has been an amazing outcome of social media. I think when it comes to my relationship with my boyfriend, he's a very private person and doesn't use social media in the same way that I do. I want to share everything, and he [doesn't]. It's definitely funny when we go out to eat and I have to take a picture of our food, and he's just ready to eat! 
HC: What has been the most surreal thing that's happened to you as an influencer? Any fun or crazy gifts you've received?
LT: The most surreal moment for me during my influencer career has been being invited to New York Fashion Week. I dreamed of being able to attend fashion week ever since I was a kid. When I received invites to the shows, it really felt like a dream. It just goes to show you how social media can open a lot of doors for people.
One of the best gifts I've received as an influencer has been my Kendra Scott jewelry. I've loved their jewelry, and being added to their PR list was such an amazing opportunity. 
HC: What are your three favorite tools for content creation? 
LT: I cannot live without my tripod or ring light. Those are important tools that help make my life easier. It's so much easier to shoot my own content without help from others, since I can take a lot of my own photos that way. I also love the app Lightroom for editing my photos. 
HC: What does the future of influencing look like for you? What's next for you personally?
LT: I hope that my platforms continue to grow, and I can grow the community I have built. I am personally trying to revamp my platforms to align more with my own personal growth. I want to start sharing more about mental health with my followers, and grow to be a resource for them. I think the next step in my influencer career is to share more of my day-to-day life with my followers as I launch my YouTube channel. 
Behind the Feed is a weekly series showcasing a different member of the InfluenceHer Collective every week. Are you an influencer? Apply to join the IHC, and you could be featured in the future!