The 9 Weirdest Christmas Song Lyrics
We've been singing along to Christmas carols for as long as we can remember, but how well do we really know the lyrics? If we take the time to listen a little closer, some holiday tunes are actually a little concerning. Here's a complete list of the creepiest, weirdest and most cringe-worthy Christmas lyrics you'll immediately want to forget.
1. "Grandma got run over by a reindeer/Walking home from our house Christmas Eve" ("Grandma Got Run Over by A Reindeer")
Wait… does that mean grandma's… WHAT?!
2. "He sees you when you're sleeping/He knows when you're awake" ("Santa Claus Is Coming to Town")
Is it just us, or does Santa sound like a stalker?
3. "Say, what's in this drink?" ("Baby It's Cold Outside")
Let's be real, this whole song is downright creepy. Get out of there, girl. ASAP.
4. "Santa baby, forgot to mention one little thing/A ring/I don't mean on the phone/Santa baby/So hurry down the chimney tonight" ("Santa Baby")
…but she kinda is. You're better than that, Santa.
5. "Oh, what a laugh it would have been/If Daddy had only seen/Mommy kissing Santa Claus last night!" ("I Saw Mommy Kissing Santa Claus")
Soooo... Mom's cheating on Dad… Merry Christmas?
6. "There's a world outside your window/And it's a world of dread and fear/Where the only water flowing/Is the bitter sting of tears/And the Christmas bells that ring there are the clanging chimes of doom/Well tonight thank God it's them instead of you" ("Do They Know It's Christmas?")
Yeah, we know this song was about raising awareness, but it's also probably the darkest, most condescending Christmas song of all time.
7. "Your soul is an appalling dump heap/Overflowing with the most disgraceful assortment of deplorable rubbish imaginable/Mangled up in tangled-up knots" ("You're A Mean One, Mr. Grinch")
Cut the guy a break. His heart is two sizes too small. Doesn't give you permission to talk behind his back like that.
8. "The horse was lean and lank/Misfortune seemed his lot/We got into a drifted bank/And then we got upsot." ("Jingle Bells")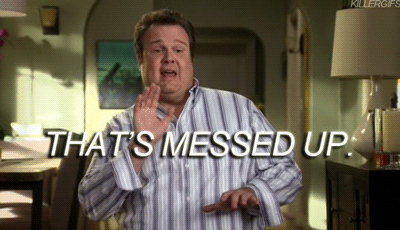 Yes, the second/less-well-known verse of this classic tune tells a tale of reckless driving.
9. "In the meadow we can build a snowman/And pretend that he is Parson Brown/He'll say, 'Are you married?'/We'll say, 'No, man!'/But you can do the job/When you're in town."  ("Winter Wonderland")
Gotta love when creepy snowmen start asking you about your love life.
Happy caroling, collegiettes!