7 Adult Back-to-School Supplies You Need Once You Get to College
This is a sponsored feature. All opinions are 100% our own.
The best season is finally back: time to spend hours shopping dorm decor and back-to-school supplies like it's our job. But before you start reaching for those glitter gel pens and neon highlighters, hear us out—it may be time to upgrade your school supplies to sleeker, chicer, adult elegance.
We've put together a list of some of our favorite back-to-school essentials from Moleskine, our go-to for all things organization and personal expression. Add these cool and classic products to your shopping list, and you'll be ready to head into this school year with enviable sophistication.
Taking notes in class can feel tedious, but sometimes all you need is the right notebook. These notebooks from the Moleskine Classic Collection are perfect for jotting down lecture or starting that bullet journal you've always talked about. With three different size options, they're perfect for any backpack or bag you choose (and we've got a couple recommendations below!).
And in case you're still attached to colorful school supplies, you don't have to give them up—the Classic Notebook comes in a variety of different colors, from daisy pink to dandelion yellow.
Many college students tend to think that any old notebook can work as a planner, but this Moleskine vertical weekly planner has it all. The yearly calendar in the front helps you look ahead, while two pages dedicated to each week keep you on task in the moment. There's even a map of the world with time zones, making it the ideal planner for the traveling students that's studying abroad.
And, oh, did we mention you could personalize it to have your name or any message that motivates you printed on the cover in select colors? We're pretty sure that's way cooler than the sticker-covered notebook you used back in high school.
You'll be using your backpack every day, so you want one that stands the test of time, in both quality and fashion. The Moleskine Classic Leather Backpack can easily hold all of your everyday essentials, so it's super easy to be on the move around campus and in your city. There's a special pocket designed to protect your precious laptop (every girl's most prized possession, right?), plus two side pockets for your phone and water bottle.
Also, there's literally pen holders and business card holders, you guys. They think of everything. (And you'll never lose that last stray pen you can't keep track of.)
This notebook is perfectly whimsical, while still maintaining the Moleskine elegance we know and love. Dr. Seuss's Oh, The Places You'll Go! has the perfect motivational message to keep in mind as you're on the go – to the classroom, to the museum, to the library – wherever inspiration strikes.
The familiar illustrations and bright colors are sure to put a nostalgic smile on your face every time you take this one out of your bag, so don't get it twisted: getting adult school supplies doesn't mean you have to take yourself too seriously.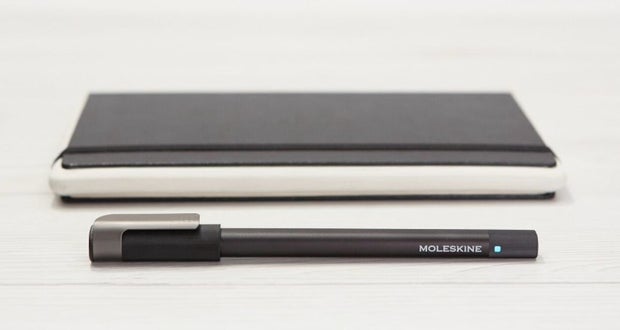 You know when your friend asks for your handwritten lecture notes when they miss class, but all you can offer is a blurry picture of your notebook? The Moleskine Pen+ Ellipse Smart Pen and Paper Tablet are here to change that. At first glance, they look like normal pen and paper, but the Moleskine Paper Tablet's pages have special Ncoded technology, which means that when you write with the Pen+ Ellipse, your notes are both analog and digital. All you have to do is download the Moleskine Notes app, and everything you've written will also appear on your device, ready to be sent and shared wherever you want. Plus, the Notes app can be downloaded for free from the App Store™, Google Play and Windows Store. Bless.
And science says handwriting your notes is better for you than typing them, so this one really is a win-win.
If you're constantly on the go, the Moleskine Nomad Collection was designed with you in mind. This backpack is both fashionable and functional, with room for all your books, a separate pocket to protect your laptop, and a breathable air-mesh back so you'll never get too hot and uncomfortable when you're trekking through the city or across campus.
Since you can fit everything you'd ever need in this backpack, why not go read a book in the park or type up that paper in a coffee shop across town instead of holing up in your dorm? Hey, you might actually be able to leave the campus bubble for once.
The Moleskine Textile Collection takes your books from basic to sophisticated with fabric hard covers in colorful, classic patterns. We think this red herringbone weave is gorgeous, but if it's not your style, there are so many more to choose from in the Textile Collection. These notebooks are large and ruled, so you can fit both class notes and ideas or memories you'd want to jot down at any time of the day.
So, what are you waiting for? Whether you're looking for the perfect planner to organize your busy day of classes and extracurriculars, a journal to keep track of your journeys throughout the city on the weekends, or a stylish bag to take with you when you're on the move, Moleskine products should be your first stop. Let your school supplies reflect your ambitious, creative, sophisticated self and start telling your story.