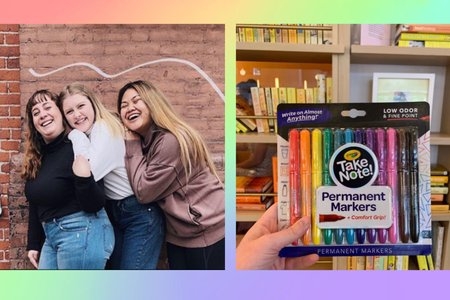 5 Her Campus Editors Write Letters to Their Former Selves About The Importance of Being Bold
This is a sponsored feature. All opinions are 100% our own.
Her Campus editors are creative, expressive, and tenacious. They've moved cross-country, pushed boundaries, and drawn outside the lines to land their current roles. Now, they're reflecting on the BOLD moves that paid off in the end (they always do). Here, the Her Campus edit team writes letters to their plucky former selves about the importance of living and working fearlessly. 
Beauty Editor, Gina Escandon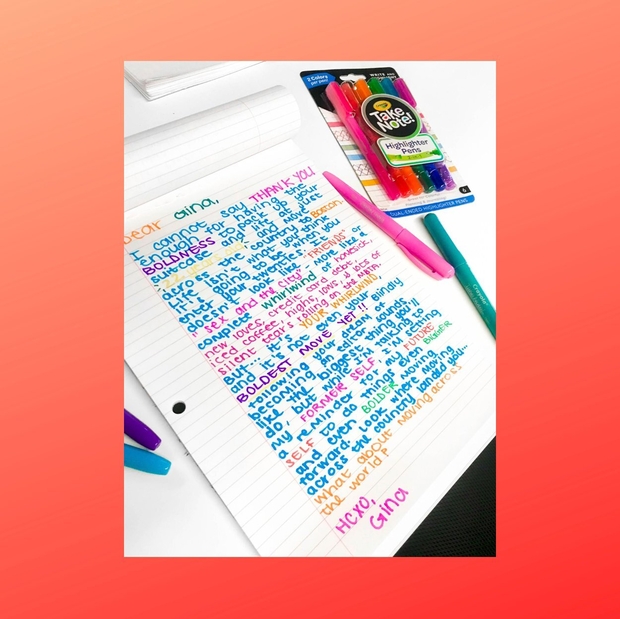 Dear Gina, 
I cannot say thank you enough for having the boldness to pack up your life at 22, fresh from graduating, and move across the country to Boston with just a suitcase. Life isn't what you think it's going to be when you enter your twenties. It doesn't look like Friends or Sex and the City – more like a whirlwind of homesickness, new loves, credit card debt, iced coffee, highs, lows, and lots of silent tears rolling on the MBTA. But it's your whirlwind, and it's not even your boldest move yet. 
Blindly following your dream of becoming an editor sounds like the biggest thing you'll ever do, but while I'm talking to my former self, I'm setting a reminder to my future self to do things even bigger and even bolder moving forward. Look where moving across the country landed you. What about moving across the world?
Assistant Editor, Felicity Warner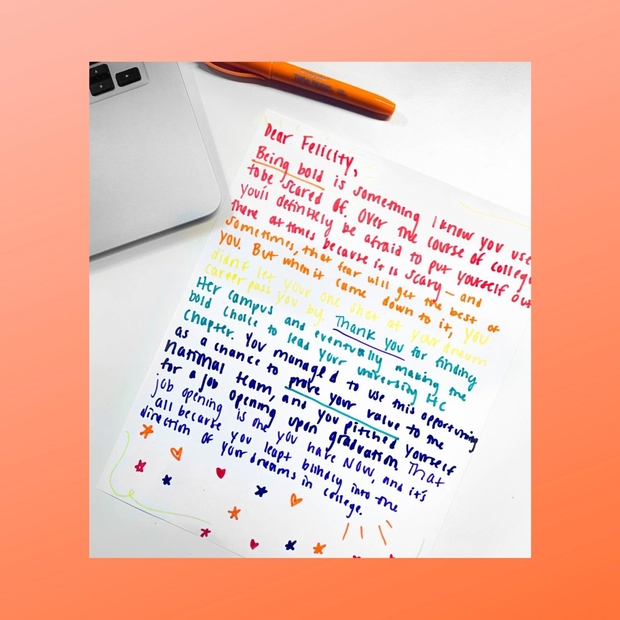 Dear Felicity, 
Being bold is something I know you used to be scared of. Over the course of college, you'll definitely be afraid to put yourself out there at times because it is scary — and sometimes, that fear will get the best of you. But when it came down to it, you didn't let your one shot at your dream career pass you by. Thank you for finding Her Campus and eventually making the bold choice to lead your university HC chapter—even though you didn't know what you were doing *all* of the time. You managed to use this opportunity as a chance to prove your value to the national team, and pitched yourself for a job opening upon graduation. That job opening is the one you have NOW, and it's all because you leapt blindly into the direction of your dreams in college. 
Deputy Editor, Danielle Tullo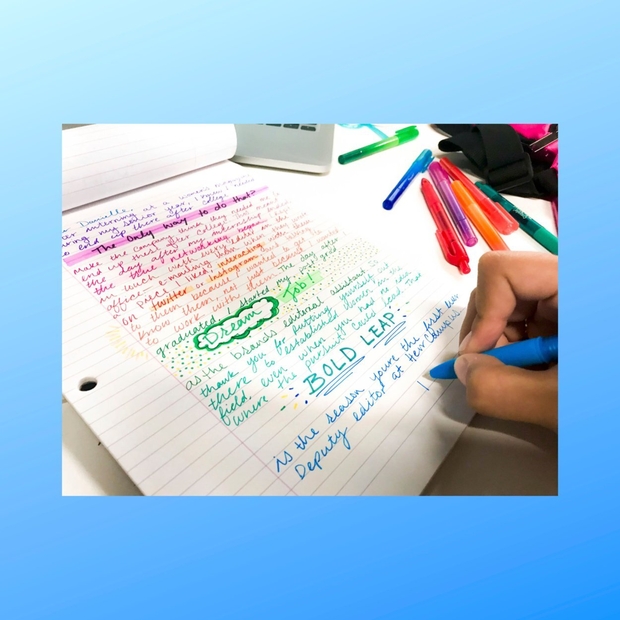 Dear Danielle, 
After interning at a woman's magazine during my senior year, I knew I needed to end up there after college. The only way to do that? Make the company think they needed me to end up there after college. This meant that the day after my internship ended, the true networking began. I kept in touch with every editor in the office—e-mailing them when they wrote a piece I liked, interacting with them on Twitter or Instagram, and talking to them because I wanted to get to know them, not just because I wanted to work with them. The day after I graduated, I started my post-grad dream job as the brand's editorial assistant. So thank you putting yourself out there to established-women in the field, even when you had no idea where the pursuit could lead. That bold leap is the reason you're the first ever Deputy Editor at Her Campus Media.
Crayola Take Note! Collection, shop now
Assistant Social Editor-Video, Edel Rimando 
Dear Edel, 
All I can say is thank you for being BOLD, from the moment you left your hometown and stepped foot on campus. And most importantly, I can't thank you enough for that tweet you liked your senior year. When a former Her Campus editor tweeted that she was looking for a video editor, you didn't hold back. You called attention to yourself on social media, built a Twitter relationship with the editor, applied to, and landed that job. You moved your entire life from your quaint college town to Boston (you'd never even been there before you moved, btw) for that job, and it's all paid off. You're a CREATOR now, speaking to an audience of 100,000+ women through your video content that's spread like wildfire all over the internet. You used to be too shy to even let your friends see your work. Now the world sees it, and it's all because of your tenacious Twitter spirit. 
Branded Content Editor, Holly Rhue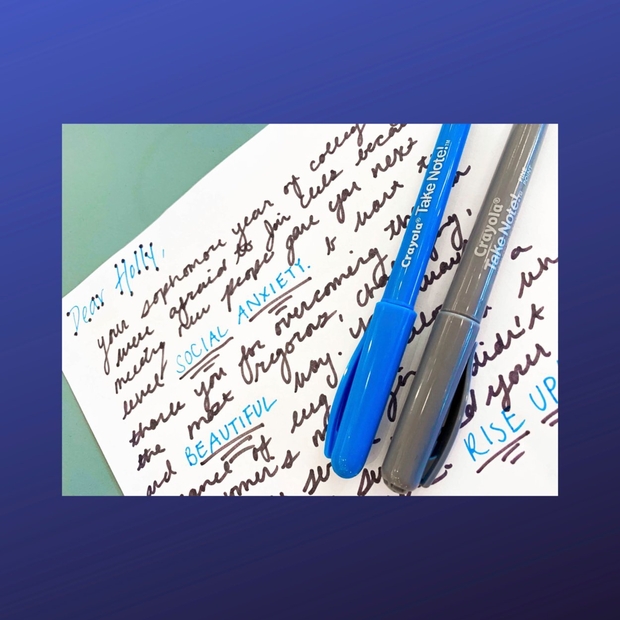 Dear Holly, 
Your sophomore year of college you were afraid to join clubs because meeting new people gave you next-level social anxiety. I want to thank you for overcoming that in the most rigorous, challenging, and beautiful way. You always dreamed of being an editor at a big women's magazine, and when opportunity struck—an IRL job offer at a huge publication just one week after graduation—you didn't hesitate. You swallowed your fear and let confidence rise up. Within six days, you accepted the offer, moved out of your college apartment, packed two suitcases and boarded a train to New York City to start your new life. It's the boldest thing you've ever done, and I can't thank you enough for investing in your future self...me! 
For more inspiration to live life as your truest, boldest, most creative self, follow Crayola Take Note! on Instagram and shop the new Take Note! Collection here (it's the same Crayola you've always loved—all grown up).