4 Tech Innovations for Your Best School Year Yet (& Office 365 Giveaway!)
This is a sponsored feature. All opinions are 100% our own.
Her Campus has been proud to partner with Microsoft as an Office Champion for three years and counting to bring you tools, tips and tech goodies that will keep you at the top of your class. To kick off this year's partnership, Microsoft sent me to Seattle to visit the Microsoft Campus and learn about the latest Windows and Office product updates! Read on for my top tech takeaways for collegiettes and find out how you can enter to win a copy of Microsoft Office for yourself!
For the Perfect Study Guide: OneNote
Question: What's efficient about having a separate document of notes for every lecture and every class? Answer: Nothing. Does that sound a lot like what you're doing with your current note-taking? Stop. Now. Seriously.
Enter OneNote, a note-taking program that lets you organize notes into tabs and folders within a notebook so you can keep all your notes for a certain class together. You can also search across all your notes easily so you can quickly look up something you wrote down in class. No more combing through a million files!
When it comes time to put together a study guide, you can easily see everything you've got at a glance, whether that's notes you've taken or even images or documents, which you can embed right into your OneNote notebook.
For collegiettes who want to make the most of their study time (so you have more time for everything else in your life), OneNote is a must-have tool! Plus, it also exists as an online web app and smartphone app, so even if you're working on a different device, like your phone, you can access your notes and edit them on the go. We'll be doing a comprehensive review and walkthrough of OneNote in the near future on HerCampus.com, so look out for that!
OneNote comes standard with any Microsoft Office bundle, so you don't need to purchase it separately (and the web apps are always free)! Try out the OneNote web app here!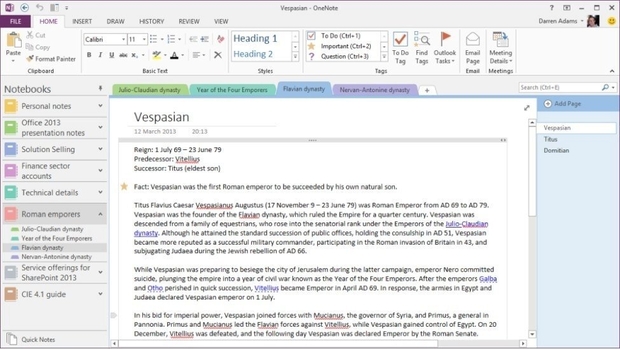 This is a sample notebook. Note that this is one page of notes along with two others (pages on the right) in a section (tabs at the top) within the notebook "Roman emperors" (other notebooks at the left).
Win a Four-Year Subscription to Office 365!
Speaking of Microsoft Office, there's a new cloud-based version of our favorite productivity suite in town. Office 365 University is the same exact full-featured Office we know and love that is specifically packaged for students, with a flexible model and low cost in mind.
What does this mean? Office 365 can be installed on up to two devices and can even be streamed "on demand" to another device (like if you're on a library PC). And priced at only $79.99 for a four-year subscription (that's $1.67 per month!), Office 365 was designed to be affordable for college students. You definitely don't want to be getting any other version of Office! Click here to learn more about Office 365 University!
Guess what? We're giving away one four-year subscription to Office 365 University to one lucky reader! Just enter using the form at the bottom of the page and check next week's Study Breaks to see if you've won!
For Massive Storage (That Won't Fill Up Your Hard Drive): SkyDrive
One of the most essential features of Office 365 is SkyDrive. It's the backbone of all of Microsoft's products, bringing all your documents, all your photos and anything else you choose to save in the cloud across all your devices. With a subscription to Office 365 University, you get 20 GB more of cloud storage in SkyDrive (in addition to the 7 GB that comes free to any SkyDrive user).
I've been a SkyDrive user for a long time, but one of the coolest new things I learned about SkyDrive during my Microsoft campus visit was that SkyDrive (which exists as a folder on your computer, much like Dropbox) doesn't take up as much hard drive space on your computer as the files within it. To put it another way, the whole is less than the sum of its parts (when does that ever happen)! This is a key stunning technological accomplishment of SkyDrive that makes it unique among cloud-based storage solutions. With most laptops having only a relatively small amount of hard drive storage space available, being able to have all your SkyDrive files on hand but not actually taking up that much space is a real game changer! Check out SkyDrive here to get started.
For Your Clearest Phone Pictures Yet: Windows Phone
Finally, I wanted to give a shout out to the brand new Nokia Lumia 1020, the brand new Windows Phone that literally dominates the market in smartphone camera performance. Packing a whopping 41 megapixels, the Lumia 1020's camera is outrageously excellent even when compared to traditional SLRs.
We played around with the Lumia 1020 in Seattle and found that the high megapixel count allowed us to find the "picture within the picture" when we snapped photos. That is, with so many megapixels, you can take a picture of anything and then crop the image to focus on anything within the frame. With the Lumia 1020, you could be at the back of a crowd taking a picture of a famous speaker passing through campus and not worry that once you cropped to the actual person you'd be left with a useless, blurry mess. Or, you could be in the nosebleed section of the football stadium and still get a crisp image of the action on the field. Pixelated zoomed-in pictures? A thing of the past. Check out the Nokia Lumia 1020 here!
I hope these tips were useful to you! Please let me know in the comments below what you're interested in learning more about, and don't forget to enter our Office 365 University giveaway below!