13 Things You Need to Do Before You Die
This is a sponsored feature. All opinions are 100% our own.
It's no secret that the girls at HC love to travel. We suffer from a serious case of wanderlust, just like a lot of you! Our travel bucket list gets longer and longer every day (literally), but we're confident that it can all be accomplished. In case you were wondering what's on our travel bucket list, here it is—and be sure to read through the end to find out how to cross these off your own bucket list!
1. Cuddle with a koala
Come on, is there any animal cuter than a koala? As far as we know, there aren't many places to see these little balls of fluffiness, so to Australia we go! While there, why not surf at Bondi Beach or climb the Sydney Harbour Bridge like the Olsen twins in Our Lips Are Sealed? We can dig it.
2. Eat gelato in Rome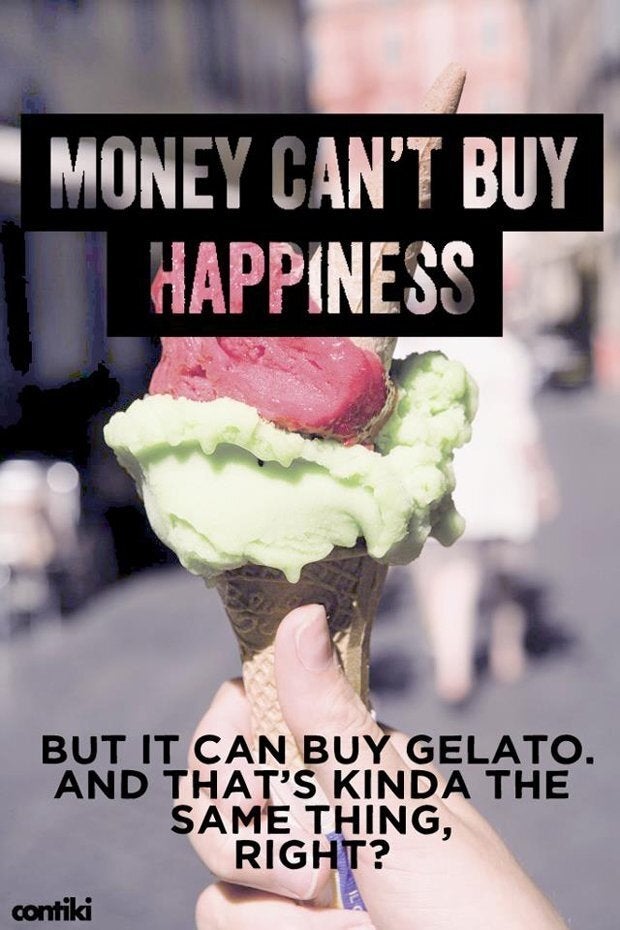 Just imagine sitting on the Spanish Steps, nomming on some delicious, real Italian gelato. Afterwards, a long twilight walk to the Colosseum would top off a perfect day. Maybe a cute Italian boy will ask us to a pasta dinner, if we're lucky.
3. Go to a Full Moon Party in Thailand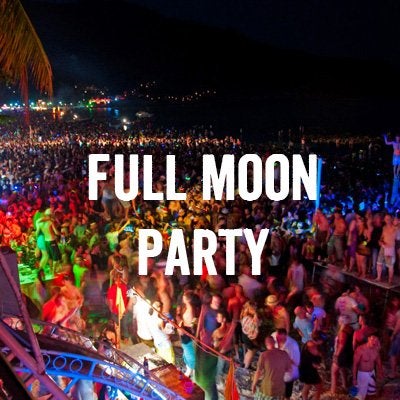 On the night of every full moon, a party takes place on the island of Ko Pha Ngan in Thailand. It doesn't end until the sun comes up, and it can attract as many as 30,000 people. This craziness occurs once a month, and it sounds AWESOME. While in Thailand, other must-sees include the Grand Palace, amazing beaches and the Chiang Mai Night Bazaar. Let's go noooooow!
4. Swim in the Mediterranean Sea at Cinque Terre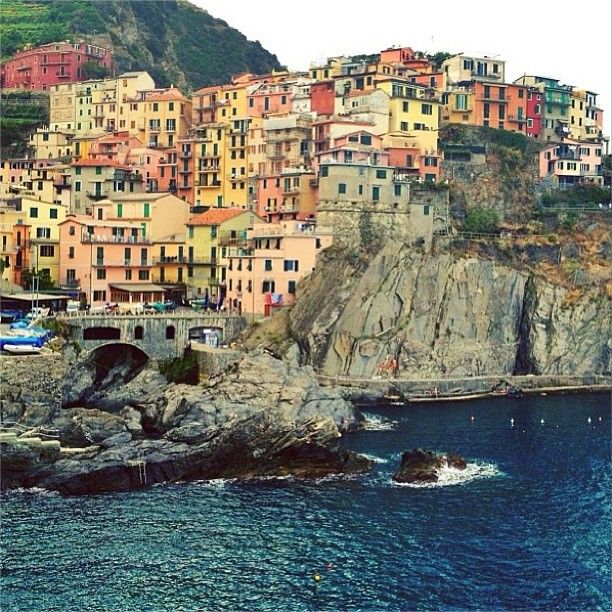 The coast of the Italian Riviera is probably one of the most beautiful areas of the world. Cinque Terre, or "The Five Lands," is full of colorful buildings and pristine, blue Mediterranean water. Swimming in the Mediterranean is definitely bucket-list material, as is eating pesto (which was originally created in Cinque Terre!), drinking the regional wine (which is apparently to die for) and mingling with the locals.
5. Ride bikes through Amsterdam
In Amsterdam, there are more bikes than people. On this bucket-list trip, in between trips to the Rijksmuseum and the Van Gogh Museum (both must-sees), we're dying to bike along the canals… only to stop into Amsterdam's awesome boutiques every now and then. It just seems so romantic (even if we're not sharing the moment with a foreign cutie).
6. Celebrate St. Paddy's Day in Dublin
Is there anywhere in the world more wild on St. Patrick's Day than in Dublin? To get the real Irish experience, it's a no-brainer that Dublin is the place to go on March 17. Since it's a public holiday in Ireland, every man, woman and child is out celebrating, and we want to be one of them!
7. Climb a glacier in New Zealand
Fox Glacier and Franz Josef Glacier in New Zealand are several miles long and basically the perfect places for an adventurer. It's pretty incredible that glaciers exist at all in such a southern climate, but that just means that post-hike we can go lay on the beach. It's the best of both worlds!
8. Watch the sunrise at Angkor Wat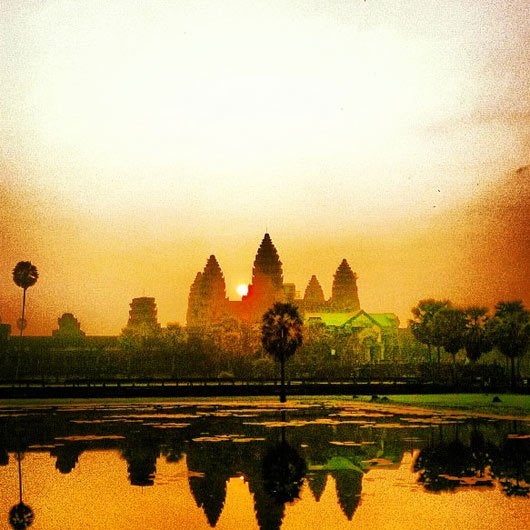 We've heard that the best time to see this Cambodian temple in all its glory (and without thousands of other tourists suffocating you) is at sunrise. How gorgeous does that sound? Sunrise may seem pretty dang early, but it's totally worth it. Plus, that leaves the rest of the day to see all the other amazing things Cambodia has to offer.
9. Go shopping at Istanbul's Grand Bazaar
Winding down 61 blocks, the Grand Bazaar in Istanbul is chock-full of cool trinkets and cheap buys. There are over 3,000 shops that sell everything from spices to shoes. Yep, you read that right—shoes!!
10. Make perfume in Paris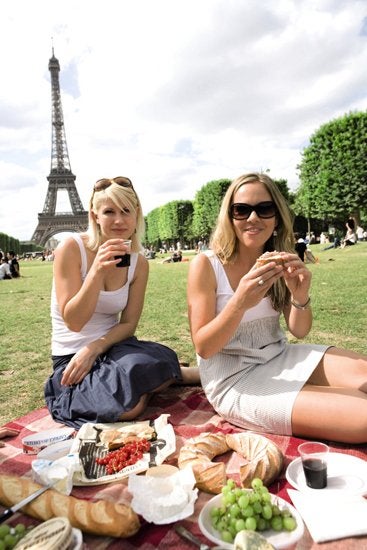 There are several perfume-making workshops in Paris, which is maybe the number one city to visit on our bucket list. After creating our own signature scent, a lunch of baguettes and Brie cheese in front of the Eiffel Tower is basically a necessity. Ooh la la!
11. Ride a donkey in Santorini
Ever since we saw The Sisterhood of the Traveling Pants, our greatest desire has been to go island hopping in Greece. When we make it to Santorini, don't be so silly as to think we won't be traveling everywhere via donkey. And eating our weight in gyros. And searching high and low for our own Kostos.
12. Kayak the Amazon River
The Amazon runs from Peru through Brazil, so we're not sure we have what it takes to kayak the entire river (it takes experts almost a month), but we're not afraid to try it out for a smaller portion of it. Just think of all the animals that can be seen (hopefully no piranhas, though.)!
13. See the Northern Lights in Norway
Nowhere in the world are the Northern Lights more vibrant and glorious than in northern Norway. The best time to go is in the winter, so bundling up in cute sweaters will be a necessity, but we've heard the view is so worth it.
With all these amazing, crazy, waaay faraway places to see, figuring out how to pay for all of these adventures can seem a little, well, impossible. Luckily for HC, our friends at Contiki are always willing to help us out! They have fantastic travel packages and deals for 18 to 35 year-olds, which makes our dreams of seeing the world a real possibility!
Right now, by entering a six-second Vine video into Contiki's #EmptyTheBucket contest, you'll have the chance to win one of six Contiki trips! Life is short, so why not live with #NoRegrets and enter to win? We sure want to!