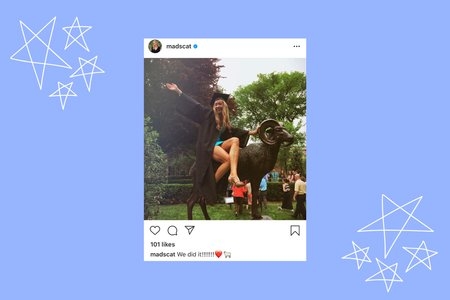 Photo by Madeleine Bokan for Her Campus Media
12 Instagram Captions Perfect For Graduation
Graduating is hard work, and, if I'm being honest, so is writing the perfect commencement Instagram caption. I mean, how do you put the amazing memories into words? I  remember drafting my Instagram caption ahead of my graduation and then when the big day came, I went with the simple "we did it!" And honestly, there's nothing wrong with that. From clever to simple and funny to heartfelt, here are twelve captions perfect for your graduation post.
 
For the 2020 grad...
When you get that emailed diploma from the dean >>>
Cap and gown, but make it a tie-dye sweatsuit.
Pomp and strange circumstances. 
If your wifi went out when your name was called... did you even graduate?
For the entertainment buff...
"What, like it's hard?" — Legally Blonde
"Well, I am not usually one for speeches, so goodbye." — Parks and Recreation
"Did everyone see that? Because I will not be doing it again." —Pirates of the Caribbean
For the music lover...
"I know I'm a queen but I don't need no crown" - Lizzo
"Today is where your book begins. The rest is still unwritten." —Natasha Bedingfield​
"Ain't about how fast I get there. Ain't about what's waiting on the other side. It's the climb." —Miley Cyrus
 
For the punny queen...
The tassel was worth the hassle.
I hope this B.S. pays off!
One degree hotter.
Congrats grad, you really did it!