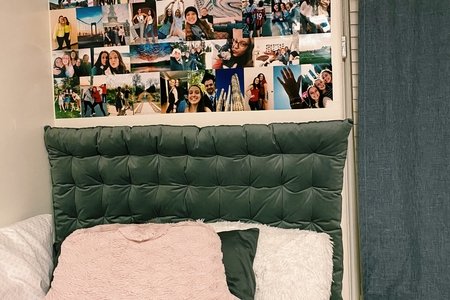 7 DIY Musts for Your Freshman Dorm Room
The end of high school is coming near, no matter what else is happening. Before you know it, summer will be over, and you'll hopefully find yourself in a long car line waiting to unload your whole life into a cramped dorm. As schoolwork winds down and summer plans remain uncertain, it's a great time to start these seven DIY's for your dorm. 
1.

Paintings from friends and family

A good way to keep your friends and family close is to have them make paintings for you. It's an easy project, and they don't have to be artistic to do this. The painting can be meaningful, hold an inspirational quote, or just be something that fits your room theme. Either way, when you look at them you'll be reminded of who is cheering you on back home.

Painted jars can be useful throughout the dorm, but the best part is you can design them just as you want. They can fabulously hold your pens, make-up brushes, and even some faux flowers for your windowsill.

Another painted option to hold all your belongings in a stylish way, crates can be useful to hold your dry food, extra clothes, make a stackable shelf in your wardrobe, or to hold your extra books under your desk. They can also serve as extra shelf space to add more decorations and fill in empty wall space.

Hanging the first letter of your name, or even your whole monogram, is a common decoration, but you can give it some personality by painting it!

Don't spend hundreds of dollars on a headboard for your dorm that you'll only use for one year. Making a headboard is more fit for the budget, and it's relatively easy to make, so you can customize it to fit whatever bedset you choose. 

6.

Handmade yarn hangings

If you're feeling really creative, these DIY tapestries should be a fun way to pass time. With a variety of options, you can make whichever one will fit your space best! Here's one tutorial to get you started. 

7.

Pictures, pictures, pictures

Start printing pictures asap. You can store them to make a collage wall or string them across the dorm with lights. Pictures are the best thing to decorate your safe space with, since they'll remind you of your family and friends, which is great during stressful times.
Planning a dorm room for freshman year is really exciting, but can certainly be overwhelming. Don't feel as if spending a lot of money is the only option; DIY some of your decorations, and those creations just might become the highlights of your new home.