I Moved Back Home in March, & I Never Thought I'd Have so Much to Be Thankful for
At some point back in the spring, my parents mentioned the wedding of a family friend that was scheduled for early October. They wanted me to know they'd be out of town for a few days or so, and that I'd be home alone. And honestly, the first thought that popped into my head was, why do they think I'll still be living here in October?
It's probably because they know me best, because here I am, still living with them in November. But, while it hasn't exactly been the first fall of adult life that I expected last year, so many good things have come from this extra time spent living with my parents since the pandemic started. That's why, while our extended family might not be able to gather at the same table this year (something I look forward to so hard every fall), I still have so much to be thankful for, even if only at a table for three.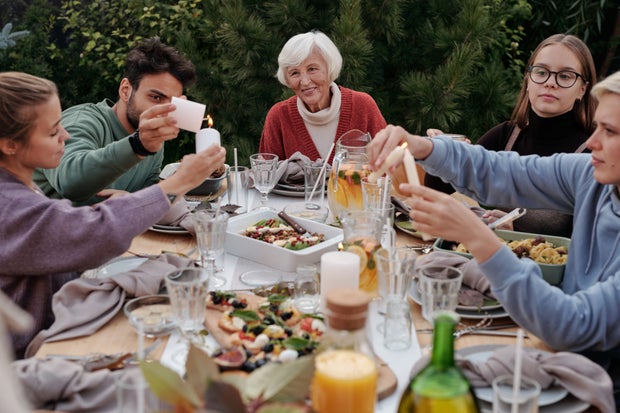 Photo by Askar Abayev from Pexels
Making memories & the most of the pandemic
My parents and I have the best times, and that's one thing that hasn't changed since the pandemic started. Spring quarantine brought us closer together, when we could at least look forward to getting takeout from our favorite restaurants and having more family dinners than we would've had otherwise. This summer saw us having some of the best conversations and game nights on our porch in the beautiful summer weather, where we at least got to sit together outside. Even though these moments became so frequent, I will always cherish the memories of the quality time we spent together when home was the only place we had.
When I first heard that the end of my last college semester was cancelled, I was home for spring break (specifically, watching Sherlock in the basement with my dad). My phone lit and pinged like a firework finale of emails and texts. My parents were the first to comfort me, my mom telling me, "I wish I could fix it," because that's what moms say when they can't fix the problem.
Our generation will always remember this tough period in history, and the people we were with when we had to stay home for months on end. I kept a journal during the worst of the pandemic, and every time I look back at what I was writing about in the spring and this past summer, the most consistent source of joy is my family, and the things we did together. While my mom and I weren't able to enjoy the theater season tickets we get every summer, we did get to spend time together completing a number of puzzles (something neither of us thought we would like doing that much beforehand). Every weeknight, my dad and I look forward to watching Trevor Noah and having a great laugh. My college graduation day was spent at home watching my virtual ceremony on the couch. But my parents and I still made the most of it (with free prosecco and Newsies, of course) and the day was no less significant.
But these are just a few little things. If I hadn't moved back in with my parents, I wouldn't have found my amazing new job at a performing arts center right down the street from our house. I wouldn't be making the same connections with superiors and coworkers. I most likely wouldn't love what I'd be doing as much as I do now. I have my parents to thank for my degree, my current job, my home and my budding confidence.
I love being in the house where I grew up, and I don't want to take my time here with my family for granted. But the truth is, I won't be living with them forever, and my parents know that, too. This extra time spent here appreciating what I have might actually make it easier to move on when the time comes.
My first year after college doesn't look exactly the way I always thought it would. Even since the pandemic started I didn't know how long I would be living with my parents. But there isn't a right or wrong way to go from one stage to another right now. Home has helped me realize that I'm proud of where I am.
Living with adults
That's not to say that moving back home doesn't have its pros and cons. While some things are sure to get on nerves moving back home after living on your own at school (no, mom, I don't know my entire social security number by heart), maybe it's those rules and reminders that are pushing me to remember the milestones I still have left before I call myself an adult. What better way to double check you're ready to call yourself an adult than to live with a few for a while?
Spending so much time with adults might help you realize all the little things about your habits and lifestyle that keep you from becoming a fully fledged adult. Nothing's going to inspire you to memorize your entire social security number like your mom giving you trouble every other day.
I called my parents a lot in college. And I mean a lot. Sometimes it's just easier to be at home with your parents for these conversations that you're hoping will impart some wisdom. Living with friends can be just as beneficial, of course, especially when your friends are in the same boat. But there's nothing like those words of wisdom from parents who have been your age and have advice to offer.
No one is a bigger believer in me than my parents
When you live with your parents, giving up on yourself is never an option. They'll always be able to tell if you're shying away or not doing your best. Every day they remind me, whether I need it or not, that I should never give up on being myself and feeling most comfortable with who I am, and with what makes me the most comfortable. The most happy. The most proud of myself and what I'm doing. Because I didn't always feel that way with everyone I was around when I was living with friends at school. No one has taught me self-respect better than my parents. Whether your relationship with your parents is completely different since you've graduated, or the same as it's always been, they'll always be a major part of your life.
If your parents are exceptionally selfless like mine, make sure they know how much you appreciate them. With the year we've had, it's especially important to celebrate and be thankful for what you have. Whether that's one roommate and a one-bedroom apartment, a minimum wage job, your quarantine puppy, or Hamilton on Disney Plus. Let's toast to the good that has come out of 2020.