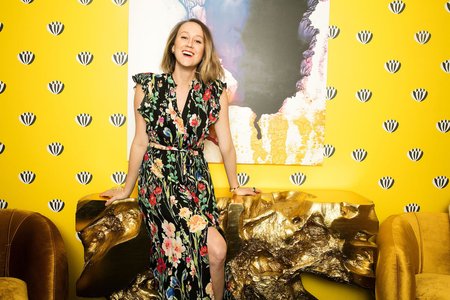 Got The Job: How Rosa Heyman Secured Her Role at 'Cosmopolitan' as Deputy Editor
This is Got The Job, where we talk to successful women in their twenties on not just what it takes to do their job—but what standout steps they took to get it. 
For Rosa Heyman, a ruthless work ethic is only one part of landing a highly coveted position in the magazine industry. The Deputy Editor at Cosmopolitan believes there's another way to stand out, starting with looking at your work from every angle. "As much as I can grind, I'm always trying to understand the bigger picture and think deeper about what we're doing," she says.
After graduating from Washington University in St. Louis in 2013 (where she was the president of HC Wash U), Rosa went on to hold positions at People and Marie Claire. Here, Rosa explains the exact steps she took to get her job. 
What was your first job?
My first job out of college was the executive assistant to both the editor in chief and the general manager of PEOPLE.com. It was definitely a "foot in the door" situation. I knew I wanted to work in magazines but wasn't particularly jazzed about working on the administrative side. I figured that if I could wow the EIC, then maybe she'd let me get my hands dirty with some editorial work—and I was right! 
How did you first get involved in the media industry?
My first media internship was in New York City the summer after my sophomore year of college. I worked as an editorial intern at BlackBook Magazine, a small arts and culture magazine, mainly writing copy for their city guides and doing the occasional interview. When I went back to school that fall, I got involved in my college's chapter of Her Campus (hi!), picked up an internship at St. Louis Magazine writing for their website, did some freelance fact-checking for Sauce Magazine (a culinary magazine in St. Louis), and then scored a summer internship at Redbook Magazine in New York City after my junior year. 
Funny story, actually. On the first day of my internship at BlackBook, the woman who had hired me and who was supposed to be my supervisor all summer announced she was leaving. Cue a decent amount of panic for 20-year-old me. Luckily, Victor Ozols, the senior editor overseeing BlackBook's guides at the time, agreed to take over as intern manager. He was great and I stayed in touch with him throughout the school year, and he eventually connected me to his wife (#mediapowercouple) who was the general manager of the women and teens digital network at Hearst (in other words, she ran sh*t for Cosmo, Redbook, and Seventeen). She put me in touch with the site director of redbookmag.com, who was looking for a summer intern. I know people talk about "networking" all the time, but not all networking has to be awkward events and cold DM-ing people on LinkedIn. You never know who people may know! Or who people may be married to. 
How do you think your work at Her Campus while you were in college helped you in your career?
I got a lot of clips thanks to Her Campus, plus some experience managing a small team of writers when I was the president my senior year. It was definitely helpful to be plugged into the HC network, and to be on the receiving end of all the email blasts about internships and job openings from HC alums. 
Oh, also, I knew that I wanted to pursue magazine journalism, rather than a career at a traditional broadsheet newspaper, so working on Her Campus instead of my school newspaper made that distinction on my resume clear. 
Do you have a role model whose career you looked up to whilst working your way up? 
Am I allowed to say my current boss? I'm going to say my current boss. Jess Pels hired me to be the social media editor at Marie Claire when she was the digital director. It was only my second job (well, technically, I had gotten promoted a couple times when I was at People, but Marie Claire was my second place of employment) and Jess's give-everything-your-all attitude made a huge impression on me. It still does. 
What do you think you did that made you stand out to get your job?
I don't think it's ever just one thing. I've always been willing to go the extra mile, put in the extra effort, or the extra hour. I think my coworkers and my boss can rely on me. I'm pretty relentless in my work ethic. But as much as I can grind, I'm always trying to understand the bigger picture and think deeper about what we're doing. 
Can you think of one extra step that helped you get to where you are today, that you think others can learn from?
Always be willing to learn a new skill and go beyond your job title. Digital media is rapidly changing and if you want to work in this world, then you need to be game to stretch yourself. The concept of "staying in your lane" doesn't really apply to an industry that is constantly evolving. 
Which job in your life has helped you the most in terms of personal growth?
Honestly, all of my jobs have been meaningful and stimulating and demanding as hell. At every point, I've felt outside my comfort zone. Only now am I realizing that it's okay to feel extremely challenged and sometimes scared and that you're learning every single day and maybe that's just called being employed. If you feel comfortable in your job, you're not growing. 
What advice would you give young women today trying to break into the media industry? 
Don't fixate on having a linear path. Be open to lots of opportunities. Cobbling together a whole bunch of skills—writing, editing, content strategy, social media marketing, visual storytelling—means you will always be valuable, and therefore will always be employable. And keep an eye out on how the industry is changing and what skills are in-demand. Be the person that the industry needs.

Is there a key takeaway piece of advice from your resume that you thinks others can learn from/practice?
And this is advice I should be better about following myself. Update your resume in real time!!! Whenever I sit down to update my resume, I can hardly remember all the amazing projects I've lead or the major milestones I've helped the brand achieve. On a monthly basis, try to jot down some of your new skills and accomplishments so that when you eventually sit down to update your resume ahead of a huge job interview, it'll be a breeze.