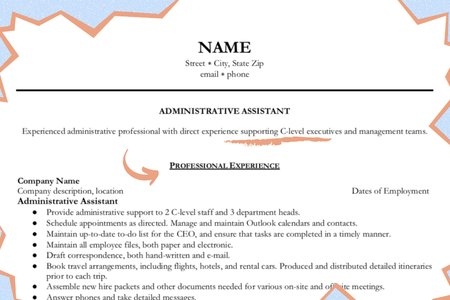 An Expert Reveals the Secrets to Getting Your Entry Level Resume Noticed
Simply put, the purpose of your resume is to secure you an interview. You want the hiring manager to read it and think, "I want to learn more about this person!" But how do you get their attention, especially when you're fresh out of college and looking for your first "real" job?  
First, forget everything you've been taught in school about job seeking. These five tips (from the real world of hiring) will instantly give you a major edge over your competition:

Remember back in English class when your professor would say, "Don't tell me. Show me." Same concept applies with resumes. Hiring managers won't know you're a fit until you show them – and you need to do it explicitly. Pay close attention to job descriptions, and the clues they contain. If "strong leadership skills" is a preferred qualification, emphasize the student organizations you ran in college. If the employer wants "a team player," highlight the sports you've played. You get the idea. Also, avoid canned phrases like, "I'm detail oriented." Such generic terms are painfully overused on resumes. Rather than stating that you're detail oriented, show it by referencing the data entry work you've done, or the intense proofreading you were responsible for during your internship. Paint the picture to get your point across.

This is huge. The objective on your resume can make or break you. Given its placement at the top of the page, it will stand out – and hiring managers will always read it. Don't allow that first impression to be an instant disqualifier! If you apply for a sales position but your objective states your desire to do administrative work, that's a head scratcher.  The hiring manager will think, "If this person truly wants to be an admin, why would I hire her for sales? The skill sets are totally different. She's not well-suited for this role." And just like that, your candidacy is toast. Matching your objective to each position sounds so basic, but it's crucial. If you ever find yourself struggling to come up with the right objective, exclude it. You're always better off not having one at all than including one that doesn't fit.

Where you live matters, and employers factor location into their hiring decision. They don't want an employee who will quit in six months when they get sick of the drive. (If candidate #1 lives within walking distance and candidate #2 has an hour commute, candidate #1 will always be favored.) Apply for positions within realistic commuting distance. Also, never list an address in a different location altogether than the employer. Companies hire local whenever possible, especially for entry-level positions. If you apply for a job in New York but your resume indicates that you live in Florida, your odds are not good. If you plan to relocate but haven't yet, list "New York, NY" (your future city, with no street address) as your location. If you have a friend or family member in the area whose address you can use, that's even better.

Your professional experience (internships, summer jobs, and other actual employment you've held) should be front and center on your resume. Most hiring managers don't care where you went to school, what courses you took, and how high your GPA was. (Seriously.) All they want to know is whether you have a degree, and if so, what you majored in. Entry level candidates often lead with college-related information followed by work experience, but a better strategy is to flip that sequence. Keep your education section brief, and place it below your employment history. Emphasizing your experience in the real world (outside of school) will help you present as a young professional, as opposed to "college kid."

Keep your resume formatting clean and simple. You can never go wrong with this strategy. The document should be concise, easily digestible, clear, and easy-to-follow. Keep written content minimal and focused. No frills, no pictures, no colored text, no fancy fonts. No emojis! Again – clean and simple. I know some candidates are drawn to more elaborate templates, but it's best to avoid them because they can really be a distraction. Some hiring managers will like them and some won't, whereas a simple format is universally palatable. Why take the risk? "Boring," maybe. But effective – and that's what matters most.  Let your content speak for itself.
Take this advice to heart, apply these tips, and you'll be well on your way to standing out from the pack – and landing a fabulous new job!
For more practical, insider tips on how to land the job of your dreams, check out Jackie's Amazon #1 Bestselling book, Almost Hired: What's Really Standing Between You and the Job You Want.