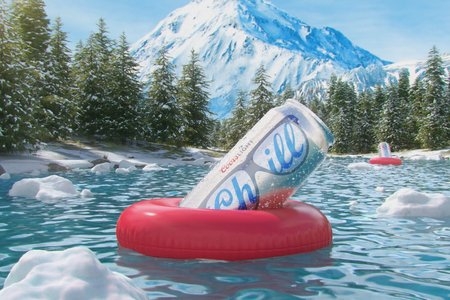 You Could Win A Pair of Ray-Bans, Courtesy of Coors Light
In these times of high anxiety, one company is trying to encourage us all to take a few moments for ourselves as the weather warms up. To celebrate their new, limited-edition #taketimetochill packaging, which features a pair of chill sunglasses and a temperature controlled color-changing can, Coors Light is giving away a pair of Ray-Bans to 1,000 lucky winners.
You can enter through Monday, May 25 at 11:59pm CT, and doing so is easy. All you have to do to secure your chance to win is be of legal drinking age, get your hands on one of the new cans, and post a photo of yourself holding the can's sunglasses over your eyes with the hashtags #TakeTimeToChill and #sweeps on either Twitter or Instagram. Oh, and you have to follow Coors Light on your chosen platform, of course. There's also an option to enter without posting a picture, but you still have to be 21 (and are decidedly less cool. Sorry, but I do make the rules!). 
You can click here for official rules if you need them. Now, get to snappin'!