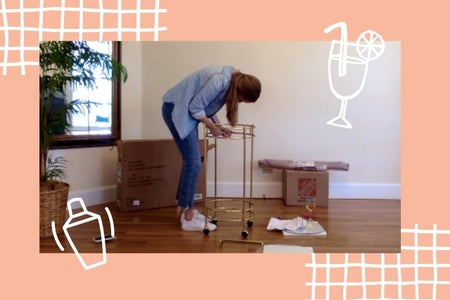 The Perfect Bar Cart For Small Spaces Only Takes 20 Minutes To Assemble
This is a sponsored feature. All opinions are 100% our own.
I don't know who needs to hear this, but a small space does not mean you have to give up on big bar cart dreams. Trust me when I say where there's a will, there's a way to make the Instagram-worthy accessory work — I know, because I did it. With an overwhelming amount of bar carts on the market, I researched all of the options to find one of the best in size, quality, price, and assembly (you're welcome). Meet Bella, of The Home Decorator's Collection "Bella Gold Leaf Metal and Glass Rolling Bar Cart." She's my new best friend, and my favorite home decor accessory, well, ever.  
Standing 3 ft. tall and 1.5 ft wide, she is perfect for any corner nook or even beside your bed (access to wine has never been easier!). Believe me, when I say I have never ever had a simpler, and dare I say fun, time putting together a piece of furniture. With the only tool you need included in your shipment, a mini Allen wrench, and easy step-by-step directions, your bar cart will be set up and ready to entertain in under 20 minutes. Don't believe me? Watch the video below and see for yourself. 
Once you're set up and ready to go, don't forget to add some of the essentials:
Set the stage with a patterned mini rug, like this 3' circular one from The Home Depot (linking a similar one, here)
A statement accessory to set your bar cart's theme, like a golden pineapple or cocktail shaker
A fun display of your favorite candy, because I'm a true believer that candy and wine pairings are a real thing
Cocktail napkins, whether you choose recycled paper or fabric ones, these add to the visual display of your bar cart and are practical, too
And last but obviously not least, a wide variety of champagne and wine! From classic faves like prosecco to canned rosé, you'll be sure to have something for everyone and every occasion. (Psst. don't forget wine glasses, too!)
Happy bar-carting!