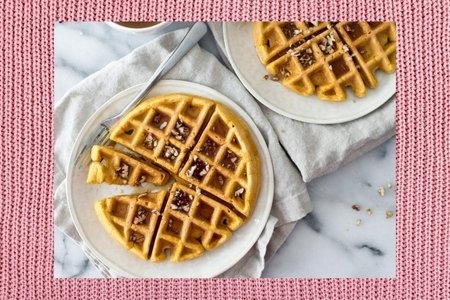 5 Pumpkin Spice Recipes You Need In Your Life RN
This is a sponsored feature. All opinions are 100% our own.
A glance at my Instagram feed will show you that my favorite part of fall is being able to order a PSL every single day. Inspired by my obsession, I decided to try a bunch of pumpkin spice themed recipes to find the best ones. I used the Food Network Kitchen app to guide this project, and there are so many recipes it was hard to choose. Interested in joining me on this pumpkin spice cooking journey?! Download the app here, and try the below five recipes to get started. Happy fall, y'all!
 crumble is my most absolute fall dessert. This recipe from James Briscione uses pears and cranberries for the filling. But the best part is the pumpkin spice whipped cream. (I'm drooling just thinking about it!) This dish is a little move involved, but thanks to Food Network Kitchen, you can follow the steps and generate a shopping list all in the app, here.

 Like me, you've probably spent hundreds of dollars ordering these in coffee shops, and now you can learn how to make your own at home! When you join the FNK app with a premium subscription, you can take this class with Catherin McCord to become a PSL pro.

Cinnamon rolls are great until you try these pumpkin spice buns. They are the most perfect recipe for an autumn brunch. You'll want to prep these the night before since the dough needs around 5 hours to rise and proof in the refrigerator. But trust me, the wait is worth it.

Never have I ever met a waffle I don't like. And nothing says good morning quite like these ones. A dollop of fresh whipped cream and a drizzle of maple syrup...sign me up! This is a pretty quick and easy recipe, but make sure you have a waffle iron on hand, and if you don't I highly recommend this adorable mini one!

Every cookie lover needs this recipe in their life. These cookies only take 30 minutes to make and they yield 2 dozen, so you'll be set for a week's worth of fall study snacks. Check out the recipe here on the Food Network Kitchen app, and you can thank me later.
If you're looking for more fall recipes, you can find tons of inspo with step-by-step recipes, tutorials, on-demand classes and more in the app.