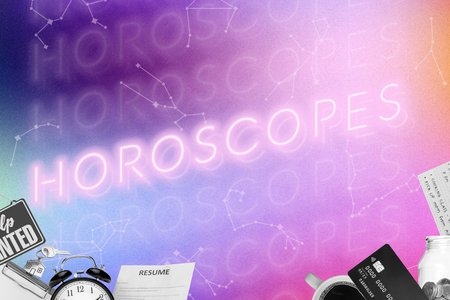 Your Graduation Horoscope: What to Expect From the "Real World" Based on Your Sign
If you're getting your diploma this spring, chances are you're wondering what the first few months of post-grad life will look like. Whether you're totally obsessed with astrology or are just curious about the power of the planets and your zodiac sign, checking up on the planets' movements can be majorly empowering — especially during times of transition like going from college to the "real world." Here's what the next few months of 2019 have in store for you as a new grad, based on your sign. You'll get on-point insight on upcoming career ops and relationship twists and turns. Read on for what to expect in the weeks ahead, and if you know your rising sign/ascendant, you're going to want to take that in, too.
Aries

While Mars moves through your romance zone from July 1 to August 17, you'll be even more motivated than usual to make a move on the object of your affection or, if you're attached, step up your love game with your current partner. You'll feel like because you give your all at work, you deserve to play with the same amount of intensity, and you'll be all about getting your S.O. and/or friends onboard with that philosophy. In terms of hitting professional goals, you'll feel a major shift in the days around July 16, when the full moon and partial lunar eclipse light up your career zone. That interview, promotion, or opportunity you've been gunning for—perhaps since early January—will be within reach. Believe in yourself, step up to the plate, and you'll get the result you've been dreaming of.
Taurus 

If you've been wanting to network and make an impression on influential contacts, take advantage of the days around July 2, when the new moon and solar eclipse are in your communication zone. You'll have opportunities to express your passions and have game-changing conversations. Combined with a clear vision and hard work, ideas will become your reality by summer 2020, when this eclipse cycle wraps up. You'll also be reflecting on your most intimate relationships, while Mercury is retrograde in your home zone from July 7 to 31. The theme of your personal life around this time will be revisiting and perfecting long-held dreams while reconnecting with your roots. You'll do well to spend time with supportive loved ones who remind you where you came from and where you're going in the weeks and months ahead.
Gemini 

Landing that first major paycheck and figuring out the best way to bring in cash with your ultimate hustle are undoubtedly at the front of your mind, especially in the days around July 2 when the new moon and solar eclipse are in your money zone. You know that you won't be content doing just any job for the sake of your bottom-line, so you'll be driven to dive right into a gig that matches your interests. Your best bet is to balance chasing down your bold dream with enacting a pragmatic plan for earning and saving. By early next year, and especially July 2020, you'll see the results of all your hard work. Around July 16, the full moon and partial lunar eclipse in your intimacy zone fuels your craving to get even closer with your existing partner or a new love interest. You'll be figuring out how to best strike the balance between their needs and your own, in order to have a truly fulfilling and reciprocal connection.   
Cancer
You'll feel a sense of urgency when it comes to getting a move on your most ambitious goals around July 2 when the new moon and solar eclipse fall in your sign. Whether you're doing interviews or starting a new job, you'll want to make an impression and present your most confident side to colleagues and higher-ups. You'll also want to take chances and get outside your comfort zone, jumping on professional opportunities and pitching your passion projects. Continually checking in with your inner compass to make sure you're staying true to yourself can make for a truly productive start. Stay tuned for downstream effects in January and July 2020. While Mercury is retrograde in your money zone from July 7 to 31, miscommunications or tech glitches could affect your income, so you'll do well to stay on top of and double-check all the details. If something feels off, don't hesitate to speak up.
Leo

From July 7 to 31, Mercury will be retrograde in your sign, and it's the perfect time to finesse your image and ~personal brand~. You'll want to get clear on how to best present yourself to potential employers and, if you're single, romantic connections. Set intentions and polish up your resume, social media, app profiles, and you'll see success in the weeks and months ahead. That said, if you've been stuck or unsure of what direction to move in, you'll likely have a breakthrough in the days around July 16, when the full moon and partial lunar eclipse is in your routine zone. You'll feel inspired and compelled to completely makeover your existing daily grind. Making sweeping changes to your current hustle, mind-body wellness approach, healthy eating plan, or all of the above now could translate to feeling more empowered and ready to hit long-term goals.
Virgo 

Send off resumes, schedule those interviews, and get the ball rolling on major projects you're amped to start ASAP from now until July 7, because from then until July 31, your ruling planet Mercury will be retrograde—first in your spirituality zone (until the 19th) and then in your networking zone (from the 19th to the 31st). You'll be reflecting on exactly what you want, the best approach for making it a reality, and who you want to work with to hit your goals. Around July 16, the full moon and partial lunar eclipse lights up your romance zone, inspiring you to share how you feel with your partner or a potential S.O. Being true to your heart and leaning into your most creative impulses can set you up for even more joy in the weeks and months ahead.
Libra

From May 15 to July 1, Mars will be moving through your career zone, making you even more of a go-getter. Then, from July 1 to August 17, it moves through your networking zone, which breathes new life into team projects and meeting influential colleagues, as well as off-the-clock fun with friends and romantic interests. And no matter how quickly—or not—you've been diving into your post-grad life, the days around July 2 will have a vibe that fuels your focus and determination to get on track professionally. This energy is thanks to a new moon and solar eclipse in your career zone, which is perfect for going all out making moves.  What you envision and act on now could have you feeling like you're on your A game come early and mid-2020.
Scorpio 

You're generally unstoppable and razor-focused on your goals, but you may still have a bit of skill-honing to do before you right into work life, given that Mars moves through your higher learning zone from May 15 to July 1. Soaking up new, inspiring information serves you best at this time. In fact, you could be hitting the road or using a shiny new passport—with old or new friends or a partner—to literally broaden your horizons. Although you'll have opportunities to forge ahead, Mercury retrograde strikes from July 7-31, moving from your career zone back into your higher learning zone, and further encouraging you to do your homework, retrace certain steps, and reconnect with old mentors in order to be fully prepared when opportunity strikes—and oh, it will!  
Sagittarius

If you've been itching to travel (and let's be real, you always are!) with family, your S.O., and/or BFFs, it could all fall into place while Mars moves through your adventure zone from July 1 to August 17. But with Mercury retrograde in that same zone from July 7-19, you could be returning to a location you've previously visited or getting a second shot at nailing down lessons that will help you take your career goals to the next level. The days around July 16 will be majorly intense, as it's a full moon and partial lunar eclipse in your money zone. You'll want to throw yourself into your next chapter full-throttle, but realize you might need to modulate how much you're giving (think switching up your schedule or working on your time management) if you're feeling like you started out at a pace that's just not realistic or sustainable. The realizations you have and actions you take at this time will have a reverberating effect you'll feel well into next year.
Capricorn 

The pace of life is sure to feel frenetic until May 15, given that Mars is moving through your routine zone. You have the desire and energy to say yes to all of the invitations and opportunities coming your way, but your schedule is going to be jam-packed. Leaning on your partner or BFF will be key once it shifts into your partnership zone from May 15 to July 1. But stay tuned for major changes in the days around July 16, when the full moon and partial lunar eclipse are in your sign. You're beyond ready to break free of old patterns and ways of expressing who you are and what you stand for. You'll be reflecting on the past while enthusiastically envisioning your future. This the beginning of launching a whole new campaign for your ~personal brand~ and career goals.
Aquarius 

While Mars moves through your routine zone from May 15 to July 1, you'll be extra motivated to polish up and make the most of your post-grad daily grind. Whether you're hitting the gym, spending time with your S.O. and/or friends, or putting in serious work on your first job or the hunt for it, you'll be in an awesome flow, feeling ready to take on whatever curveballs lie ahead. In the days around July 2, when the new moon and solar eclipse fall in that same zone, you could have an epiphany about how to best balance your work and wellness. Whatever moves you make now can set you up for feeling your best while making your dreams real.
Pisces

Just as you're starting to get some momentum with setting up your day-to-day schedule this summer, Mercury will retrograde from your routine zone from July 7 to 19 and then back into your romance zone from July 19 to 31. The slowdown could throw occasional minor wrenches into your hustle. Also, don't be surprised if exes start blowing up your DMs, or you have to readdress relationship issues you thought were handled. Thankfully, around July 16, the full moon and partial lunar eclipse lights up your networking zone, and a group effort could easily morph into a team win. This is a turning point, too, as collaborations you devote yourself to now set you up for the kind of success you've been working toward. You'll see even more results in the year ahead!