The 10 Best Girl Power Moments from the Emmys
Don't get us wrong; we love TV. But we're glad something else stole its spotlight at the Emmys. We're, of course, raving about the endless amounts of positive female energy that simply radiated throughout the evening's telecast. In fact, we're so thrilled that we're counting down the 10 best girl power moments from the show below.
10. Amy Poehler and Amy Schumer, together at last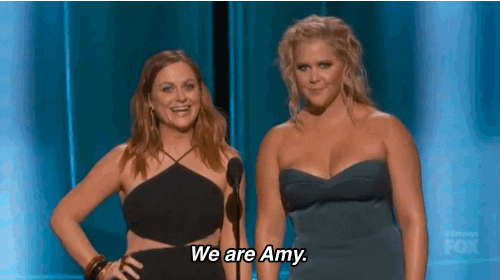 The two Amys set the precedent by presenting the first award of the night together. Equipped with their own glam squads—for touch-ups, duh—and those perfectly sassy jokes they're known for, they stole the show, as was to be expected. Take these two truth bombs, for instance.
Poehler: "What an exciting two to four hours for women."
Schumer: "And let's not forget what tonight is really about: celebrating hilarious women and letting the Internet weigh in on who looks the worst."
They know all.
9. Tatiana Maslany eats live on television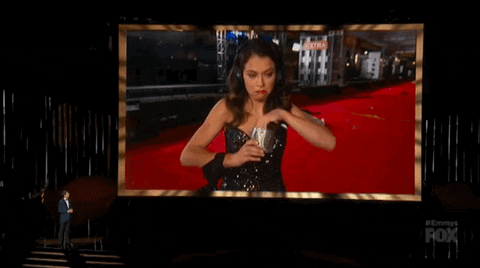 As host Andy Samberg seemed to have a unique knowledge of, red carpets can get a little dull once the show's guests are inside. Good thing Orphan Black star Tatiana Maslany was out there to clean up and eat that old can of beans she found. Because girls eat, too. Mind. Blown.
8. Jimmy Kimmel asks the tough questions
Who knew Jimmy Kimmel could be so insightful? We have to admit we doubted it, especially after we saw him shove that piece of paper in his mouth. But he made a great point when presenting the Lead Actor in a Comedy award: "Maybe it's time a woman won this. You know a woman has never even been nominated for Lead Actor?"
7. Jeffrey Tambor dedicates his award to the transgender community
He's said it before, but it's so worth saying again. Further prompting the conversation that escalated every time his show Transparent took home another statue, Jeffrey Tambor selflessly dedicated his performance and Emmy win to the transgender community for their patience, courage and inspiration.
6. Julia Louis-Dreyfus's shout-out to the females in her category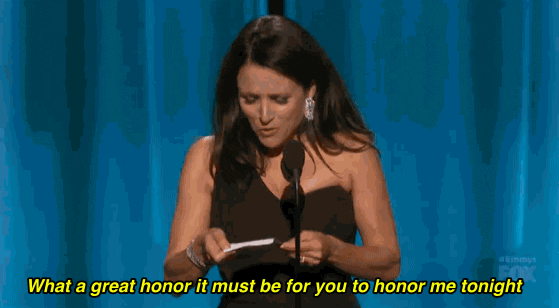 Although we were super bummed that Amy Poehler didn't win in the Lead Actress in a Comedy category, Julia Louis-Dreyfus couldn't have been more gracious. As she closed out her speech, she offered a wonderful shout-out to her fellow nominees: "I love powerful, funny women." So do we, JLD. So do we.
5. Amy Schumer does what she wants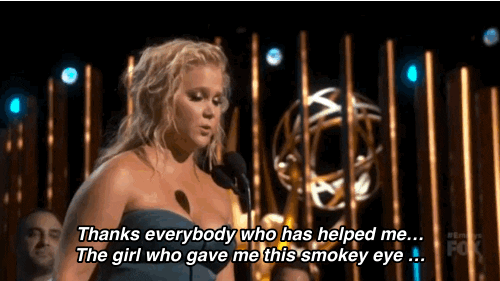 Amy Schumer may not have bested JLD for the acting win, but she came out on top in the Outstanding Variety Sketch Series category for her show, Inside Amy Schumer. Her speech left us with this heartfelt gem: "This show fights for what we believe in." And she thanked the girl who gave her that flawless smokey eye—a thing that all classy actresses do.
4. Uzo Aduba loves being her sister's sister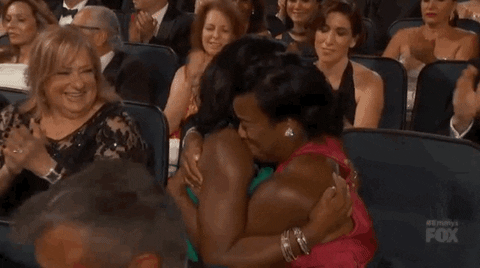 Uzo Aduba already had a special place in our hearts before her Emmys acceptance speech, but her compassion toward her sister only made us love her more: "You are my very best friend. I am humbled to call myself your sister. I love you so much." So sweet!
3. Taraji P. Henson can't contain her excitement when Regina King wins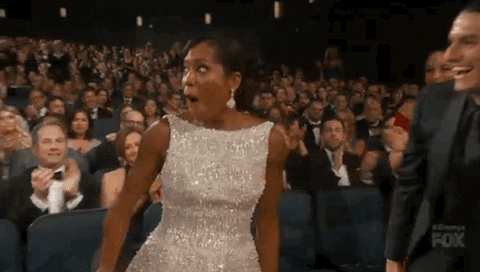 Empire actress Taraji P. Henson had the pleasure of presenting a statue to her pal, Regina King, for her work on American Crime. And it was the cutest thing ever. Taraji screamed as Regina came up to accept her award and continued to beam during Regina's time at the podium.
2. Taraji also cheers on Viola Davis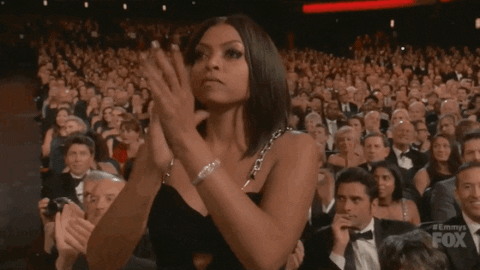 If you were expecting to see any shade from the Lead Actress in a Drama nominees when Viola Davis was named the winner, you were probably disappointed. Taraji—who we found out tonight is, like, the best friend a girl could ask for—leapt up to applaud Viola's win for How to Get Away with Murder. We never get tired of seeing women support each other!
1. Viola becomes the first black woman to win in her category
As if there wasn't already reason enough to celebrate, Viola Davis was the first black woman to ever win in the category of Lead Actress in a Drama. And she used her speech to champion women of color—Taraji and Kerry Washington among them— while evoking their right for more opportunities.
Which of these moments was your favorite, collegiettes?