My First Apartment: What $1,580 Will Get You in London
Location: London, England
Square-footage: 482
Bedrooms: 1
Bathrooms: 1
Monthly Rent: £1400 (roughly $1,580 USD)
Emilie, a recent graduate who now lives in London with her boyfriend, has a pretty incredible setup. Her goal when decorating the flat was to show her authenticity with diverse pieces from all over, a sentiment she grew up knowing. "[My boyfriend and I] both grew up in houses that weren't perfectly curated but more eclectic, which made them feel unique and cozy." Emilie highlighted her living room here and shared some of her secrets with us to creating her safe haven.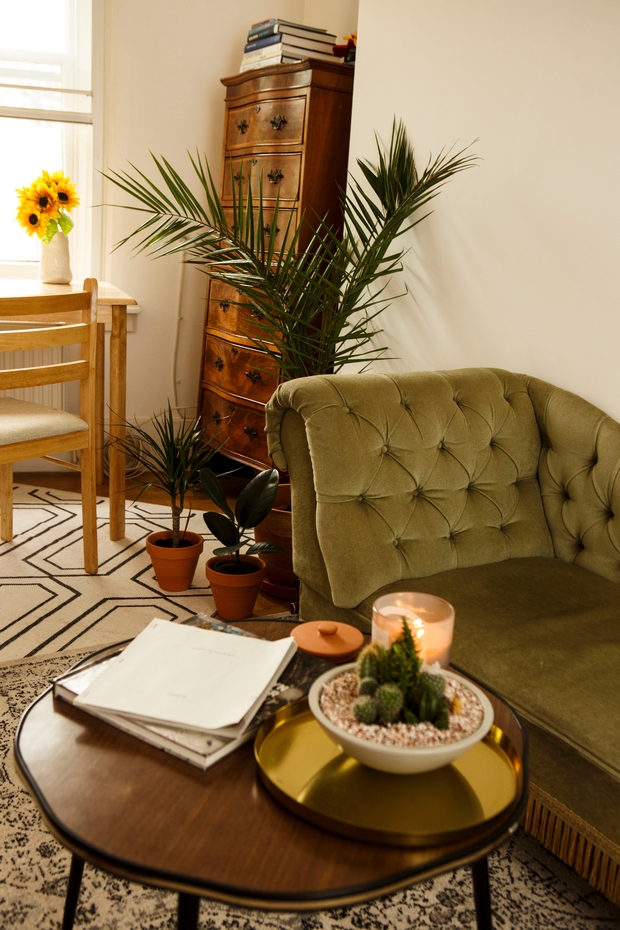 They explored a handful of different stores, H&M Home, Wayfair, and Made.com, to find the basics: the sofa, rugs, pillows, etc., and then discovered some of the more novel pieces to bulk up the rich history and complexity of their living space at "independent secondhand shops." They seem to not want an art gallery for their home either. Emilie says, "Some homes look incredible but untouchable in the way where you could mess them up by just moving one throw pillow out of place and that doesn't suit our lifestyle."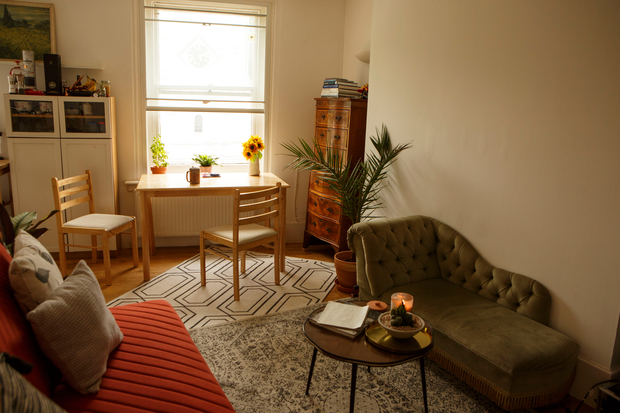 Once they had a basic neutral and earthy color palate figured out, they made it sing with, "mixing patterns and textures, with a few pops of color, and lots of plants and candles. In the end, the space wound up being a mixture of Scandinavian, bohemian, and mid-century styles." Her budget wasn't huge either, so don't worry if your bank account is a little tight right now—you should spend money on the main basics and then taper down from there. She said that they spent the most on the sofa bed, which was £275 (about $310).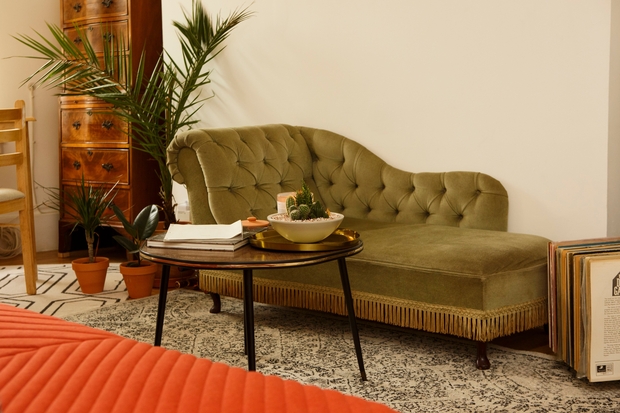 Their proudest piece has to be the mini French chaise lounge. It's green, velvet, and yes, there's fringe. What more could you ask for? Emilie's best advice is to get creative when searching for just the right stuff. Ask family members, comb your local thrift stores, and refer to Pinterest to create your most authentic style. 
Follow @prettydorms on Instagram for more decor inspo and submit your apartment here to be featured! 
All photos courtesy of Cinsy Tam @cinsytam on Instagram