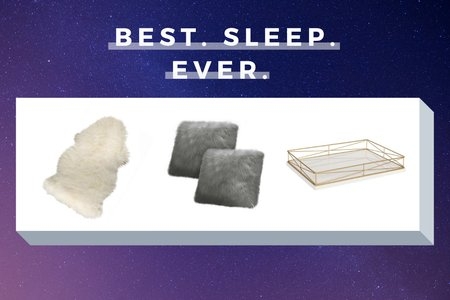 Her Campus + The Home Depot
I Gave My Bed an Insomnia-Friendly Makeover and I've Never Slept Better 
This is a sponsored feature. All opinions are 100% our own.
As tired as I am literally all of the time, sleep isn't something that comes easy to me. I shut off all of my technology an hour before bed time, take the time to unwind with tea and my skincare routine every night, and spray lavender on my pillows—and I still have a hard time falling asleep. I can't seem to get work out of my head, and sometimes I have a hard time even leaving my desk to get *into* bed. So when I found out The Home Depot has all of these cozy, plushy, insomnia-friendly bedding items that would actually make me excited to get into bed at night, I totally splurged. Here, what's been living on my bed and giving me the best sleep of my life.  
1.

This super soft cotton duvet cover 

Her Campus + The Home Depot

Admittedly, I probably washed my comforter twice last year. I know, I know, I'm gross! But having a duvet cover means my bedding is easy to wash so I can have that fresh-out-of-the-dryer scent on my comforter all the time.  

Her Campus + The Home Depot

I'm convinced there's absolutely nothing softer. These throw pillows are PEAK coziness and make my bed look super warm and inviting at all hours of the day.  

3.

A sheepskin area rug that doubles as a plushy throw blanket 

Her Campus + The Home Depot

4.

Sleepytime mood lighting

Her Campus + The Home Depot

These geometric candle votives create a soft, warm wash of light in my room perfect for a bedtime read or cancelling out those blue light waves from my phone and laptop.  

5.

This bedside vanity tray  

Her Campus + The Home Depot

My lavender room sprays, sleeping masks, and nighttime facial rollers officially have a home they deserve. When everything has a home, I sleep better knowing that everything is in it's place exactly where I can find it.