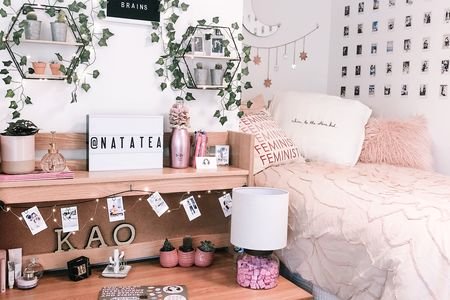 How to Collaborate with Your Roommate on Dorm Decor
Decorating your dorm can be an overwhelming process — especially when you're staring at blank walls, needing inspiration, running on a budget, and hoping to make the space an accurate reflection of you. You want to make sure you have everything you need, and that you'll invest in items that will last into future dorm rooms and apartments.
Knowing where to start can be difficult, but I've got you covered! I recently won Boston.com's Boston Dorm Contest, and in an interview I spilled all my tips and tricks about how I designed my humble abode. However, what I failed to mention is how to coordinate with your roommates and suitemates on making your room a fun, inviting, and respectful living space.
Here are five easy tips on how to collaborate on your dorm decor for a super trendy and personalized living space you all can enjoy.
The hardest part is overcoming the mental barrier of where do I even start? I find the most helpful way to overcome this is by seeking out inspiration from your own life and searching for it in others. Sit down with your roommate and make a list of all your passions, hobbies, and interests. From there, you can start to craft ideas of how you can make those reflections come to life! Create a Pinterest board together or even utilize Instagram's saved images tool to find ideas. 

The best part of this creative process is that you get to work together and put fun, new twists on other people's ideas. For example, my roommate and I both really liked the idea of floating shelves. We put our spin on this idea by having uniquely shaped shelves we could place plants on.

2.

Set color schemes and draft out your ideas

"Life is so much easier when you just pick a color" says Shifa Rajwani, a sophomore at Boston University living in an on-campus dorm.

When you're unsure of where to start, choosing a color palette is a great way to know what you're looking for. My roommate and I both really love the color pink, so we knew right away we wanted to coordinate our pink items to make the room really pop.

Once you've gotten the creative juices flowing, start drafting out what ideas could go where. Do you have enough wall space? Can you move furniture around for the illusion of more space? Can you elevate certain pieces to stand out? Once you've started to plan, figure out how you can work together to create a cohesive decor design. 

3.

Pick a budget — and stick to it

Budgeting is so important when it comes to decorating any kind of space. Always look for sales, discounts, and cheaper duplicates of expensive items. One of my favorite places to shop is Five Below. I bought a felt letter board, two hexagonal floating shelves, and string lights all for $5 each! It's a great place to shop on a budget while still being able to get creative and inspired.

Make sure you talk with your roommate on setting a budget so you don't break the bank. You can either budget together or separately, depending on how you want to collaborate.

4.

Work with what you have

Sometimes, the best home decor is the personal items from home. Whether it's photos of your family, friends, or dog, bringing personal and meaningful memories into your space is the best kind of decor. 

You and your roommate can also coordinate what items you both already have and that can add to the space. Instead of buying new tapestries, throw rugs, or wall art, bring what you can from home and work out what goes where.

I've always been super fortunate to live with culturally diverse roommates. This makes the holiday season all the more fun because we get to celebrate multiple holidays together! One of my favorite bonding activities with my roommates has been door decorating. It's a great way to bond while learning about each other's holidays. Last year, my roommates and I did Halloween, Day of the Dead, Christmas, Hanukah, and Valentine's Day just to name a few.
Hopefully these tips help you and your roommate on your dorm decorating process. Remember, this doesn't have to be a stressful or costly endeavor! It can be a really fun way to bond and make a living space that feels like home to everyone.
Be sure to follow Natalie on Instagram @natateaaa for dorm room inspiration posts!