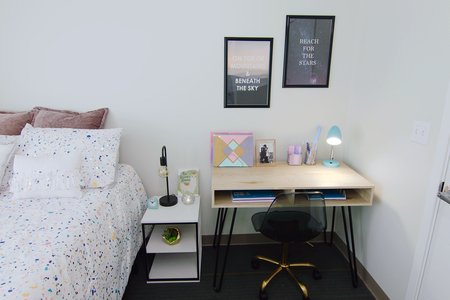 Dorm Style Guide: Sleep & Study Zone
This is a sponsored feature. All opinions are 100% our own.
I promise dorm life is going to bring you some of your favorite college memories EVER—all-nighters with your roommate, movie marathons on rainy days, and the general hilarity of trying to balance that perfect bedroom/study zone balance within the tiniest space you've ever inhabited.  But it's possible! Below, we roundup the essentials for making sure your dorm room is your own personal sanctuary for sleep and study.
Got it? Good. Now here's exactly how to style your new dorm goodies.
Hairpin Computer Desk, Shop Now
Terrazzo Microfiber Comforter Bedding Set, Shop Now
Solid Shag Area Rug, Shop Now
Canvas Art, Shop Now
6 Drawer Dresser, Shop Now
Rose Gold Wall Clock, Shop Now
Acrylic Rolling Chair, Shop Now
Faux Fur Throw Pillow, Shop Now
3 Shelf End Table, Shop Now
Visionary Prints, Shop Now
Marble Finish Floating Frame, Shop Now
Prisma Picture Frame, Shop Now