What Time Polls Close in Each State (to Plan Your News Cycle)
We have no clue how long "Election Night" will last, and we recommend being skeptical about any sweeping claims that you hear this evening – whether from President Trump or on social media. Of course, we're all invested in the outcome and don't *want* to wait to hear the results.
That's why from battlegrounds to Senate races, we've listed the most important times of the evening so you can plan your watch sessions and mental health breaks. Follow along with when the polls close in each state to get the earliest meaningful results.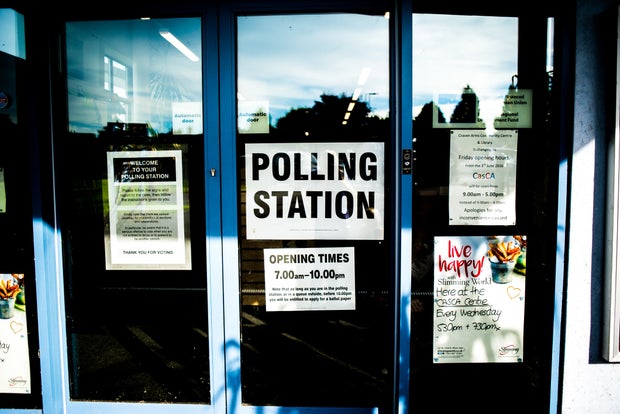 Unsplash
When do the last polls close in key battleground states?
7 p.m. ET - Georgia, which also has a key Senate race. 
7:30 p.m. ET - North Carolina and Ohio. North Carolina has a tight Senate race.
8:00 p.m. ET - Florida and Pennsylvania. Maine has a key Senate race.
9:00 p.m. ET - Arizona, Michigan, Minnesota, Texas and Wisconsin. There are also significant Senate races in Arizona, Michigan, Colorado and Texas.
10:00 p.m. ET - Iowa and Nevada
What time the polls close in every state
7 p.m. ET/4 p.m. PT
Georgia
Indiana
Kentucky
South Carolina
Vermont
Virginia
7:30 pm. ET/4:30 p.m. PT
North Carolina
Ohio
West Virginia
8 p.m. ET/5 p.m. PT
Alabama
Connecticut
Delaware
Washington D.C.
Florida
Illinois
Maine
Maryland
Massachusetts
Mississippi
Missouri
New Hampshire
New Jersey
Oklahoma
Pennsylvania
Rhode Island
Tennessee
8:30 p.m. ET/5:30 p.m. PT
9 p.m. ET/6 p.m. PT
Arizona
Colorado
Kansas
Louisiana
Michigan
Minnesota
Nebraska
New Mexico
New York
North Dakota
South Dakota
Texas
Wisconsin
Wyoming
10 p.m. ET/7 p.m. PT
11 p.m. ET/8 p.m. PT
California
Idaho
Oregon
Washington
Midnight ET/9 p.m. PT
1 a.m. ET (Wednesday)/10 p.m. PT (Tuesday)
Follow along with Her Campus's 2020 Election coverage and latest news here.