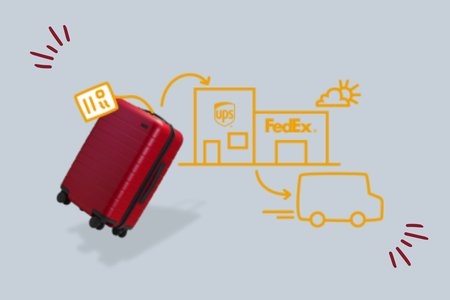 This Service Is The Easiest Way To Move Out Of Your Dorm
This is a sponsored feature. All opinions are 100% our own.
When you left campus for spring break, it was assumed that you would be returning after the week-long vacation. But, as the COVID-19 pandemic has escalated in the last month, you might find that your school has shut down campus entirely until next semester. With most students still having a slew of items left behind, I found the stress-free shipping solution that will save you money and time. Say hello to your new best friend, Lugless. And even better, Her Campus readers can redeem $10 off when they sign up here. Here's how it works:
1. Pack up your belongings.
Whether you enlist the help of a residence hall staff member or even a friend that lives nearby, all you need to have them do is pack up your belongings using luggage and boxes. Don't worry about stuffing everything into as few bags as possible, since Lugless has the best rates around. Starting at $15 per bag or box, this will save you so much more than shipping a weighed box or adding additional luggage to your airline ticket. 
2. Print your bag's "tickets."
You'll need to label each bag or box separately. Fill out the information on the website and then print and securely attach to each of your items. Check out some helpful tips & tricks here.
3. Schedule a pick-up or drop off.
You can now choose to pay for a scheduled pick-up or opt for a free drop off at a nearby FedEx or UPS location, depending on what labels you've chosen. Please note that on most campuses, pick-ups must be done at your school's mailroom. 
4. Avoid the airport.
Another benefit of Lugless is skipping the dreaded airport baggage claim as your luggage will be delivered directly to your destination address. 
I hope this helps you stay home and get reunited with all of your things quickly and safely. It truly is the most stress-free way to move out and move back onto campus this fall.