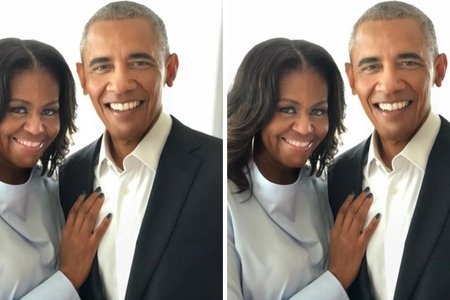 The Obamas' Smithsonian Paintings Brought A Record-Breaking Crowd To The Portrait Gallery & It's Literally Iconic
Two iconic pieces of art are bringing a massive crowd to the capitol. The Washington Post reported on Tuesday that Obama portraits at the Smithsonian National Portrait Gallery brought in over a million visitors, breaking a record for the museum. 
Both portraits of former president Barack Obama and first lady Michelle Obama were revealed in the Smithsonian gallery on Feb. 12, 2018. Since then, the venue has had a record-breaking 2.3 million visitors to the gallery in 2018. That is close to a million more people since 2017.
"They have brought in so many people," National Portrait Gallery volunteer Mary Francis Koerner said to The Post. "After 4:30 there's an uptick of the younger generation, and that's who they come to see." 
A New Yorker named Justin Philip told The Post that, "It's the only reason I'm here. [Obama] was the first president I ever cared about." 
The former president's portrait, painted by Kehinde Wiley, hangs in "America's Presidents" gallery at the Smithsonian, which displays every U.S. presidents portrait except for one, Huffington Post reported. Michelle Obama's portrait, painted by Amy Sherald, was originally located on the first floor in the 20th Century Americans exhibition. Due to its overwhelming popularity, The Hill reported that the museum decided to move it to a more spacious gallery on the third floor, where she hangs close to portraits of Beyoncé and Toni Morrison.
Wiley painted Obama casually leaning forward in a chair, dressed in a suit, and surrounded by green leaves and colorful flowers.
"When you look at the background, you'll see that there are flowers from Indonesia, flowers from Kenya, Hawaii, the state flower of Chicago," Wiley said to The New Yorker about why he depicted Obama in such a colorful scene. "And it all kind of gives you a sense of space and place and [Obama's] trajectory." 
In Sherald's portrait of Michelle, she showed the former first lady in a black-and-white gown with geometric, multi-colored designs, sitting cross-legged in front of a pale blue background. One hand is placed under the chin, while the other arm is over her knee. 
"She looks regal, and yet soft," visitor Kamilah Chambers said to The Post.
Since the Obama's are so beloved, it doesn't seem like the hype over their portraits will die down anytime soon.