New College Grads Expect to Make $60,000, But Study Shows They Actually Earn Less
Recent college graduates with higher salary expectations might find themselves a bit disappointed when their first paycheck comes in.
According to a new study released Tuesday from LendEDU, a personal finance website, most new college graduates expect to make around $60,000 when they get their first job after entering out into the "real world," but the PayScale data showed that graduates with zero to five years of experience actually only make around $48,000.
Using data from a College Pulse survey of 7,000 college students from 62 colleges and universities, LendEDU compared the average response for expectations for salary from the college students to average salary statistics from PayScale for workers with zero to five years of work experience, Fox Business reports. The National Association of Colleges and Employers (NACE) calculates that the average beginning salary for 2018 college graduates is about $50,004.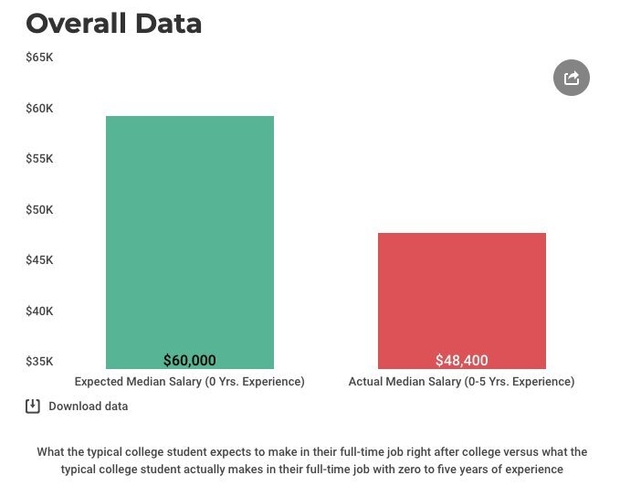 According to LendEDU's study, on average, college students will make about 81 percent of what they anticipate to make. With these figures, LendEDU recommends that college graduates keep their expectations in check to allow for realistic financial planning.
Despite these statistics, however, there is reason for college graduates to still be optimistic. Recent NACE figures show that employers intend to hire 16.6 percent more graduates from the class of 2019 than the previous year's class, which is the biggest increase among graduates since 2007, CNBC reports. And workers' wages are beginning to rise again.
"If you're graduating from college now, you've timed it perfectly," Brian Kropp, vice president at research firm Gartner, told CNBC. "It's hard to think of a better labor market that you could go into."
Overall, though, research has shown that a college education still pays off in the long run. The Bureau of Labor Statistics reports that individuals with bachelor's degrees have median weekly earnings of $1,173, whereas those with a high school diploma only earned $712.
The United States Social Security Administration calculates that men and women with bachelor's degrees make approximately $900,000 and $630,000 more, respectively, over the course of their lifetime than high school graduates.