The Morning Scroll: Japan Knife Attack Leaves Two Dead, 12 Injured & Taylor Swift Says New Music Will Have 'Political Undertones'
Morning! While you were sleeping (or staying up to binge-watch Friends for the tenth time, or pulling an all-nighter in the library), a few things went down that you'll probably want to know about. So grab a cup of coffee, settle in, and get scrolling.
What in the World
At least 16 people, including 13 schoolchildren, were stabbed in a knife attack in a city just south of Tokyo on Tuesday morning as the children waited at a bus stop, according to police. Authorities have confirmed that one of the schoolchildren has died in the attack. The attacker has also died, reportedly from a self-inflicted injury.
A spokesman for the Kawasaki Fire Department told AFP news agency that an emergency call was received at 7:44 a.m. local time on Tuesday stating that a number of schoolchildren had been stabbed, BBC News reports.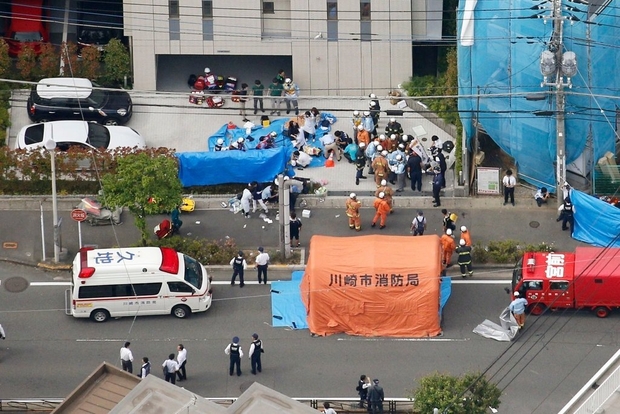 Image via Kyodo News / Associated Press
A school bus driver told NHK, Japan's public broadcaster, that he saw the suspect approach the group of schoolchildren as they were waiting for their bus to Caritas, a private Catholic school in Kawasaki, Japan.
According to The New York Times, eyewitness Toshichika Ishii was sitting on a park bench near the area of the attack when he heard a child scream, "I'm scared," and heard the attacker shouting in Japanese, "I'm going to kill you!"
NHK reported that all of the schoolchildren were girls between the ages of 6 and 7.
After carrying out the attack, the suspect, a man in his 50s, reportedly stabbed himself in the neck and later died from his injuries, officials told NHK. The attacker's motives are unknown.
"I saw a man lying near a bus stop bleeding," a male eyewitness told NHK. "I also saw elementary schoolchildren lying on the ground... It's a quiet neighbourhood, it's scary to see this kind of thing happen."
Following the attack, streams of students were escorted from Caritas as parents received a message from the school on Line, a Japanese messaging service, asking parents to pick up their children.
Japan has one of the world's lowest rates of violent crime, but there have been a handful of knife attacks in recent years.
In 2016, 19 people at a center for people with disabilities were stabbed by a former employee, The New York Times reports. The man reportedly wanted those with disabilities to "disappear."
Tuesday's attack comes on the last day of President Donald Trump's state visit to Japan. The president offered his "prayers and sympathy" to the victims.
Rumor Has It
Taylor Swift has shared some more insight into her new music! The pop singer, who has shied away from publicly discussing politics in the past, has revealed that there will be some "political undertones" in her new music, ELLE reports.
"The album is very different from the last album I released (Reputation)," Swift said. "The last album really got to the bottom of dark emotions, and I think it can be complex and interesting to get its own," adding, "this new album feels like heaven looks like a storm – colorful, calm and peaceful, but somehow better."
Swift, who made her first public political stance last October when she endorsed two Tennessee Democratic for Congress, told German broadcaster "RTL" that "there are definitely political overtones in the new music that I have made," ET Canada reports.
"I'm not about to stop making young people vote and trying to get young people to do it to have a say in what's going on in our country, I think that's one of the most important things I could do," Swift added.
In a lengthy Instagram post just before the 2018 election, Swift wrote, "I'm writing this post about the upcoming midterm elections on November 6th, in which I'll be voting in the state of Tennessee. In the past I've been reluctant to publicly voice my political opinions, but due to several events in my life and in the world in the past two years, I feel very differently about that now."
"As much as I have in the past and would like to continue voting for women in office, I cannot support Marsha Blackburn," she continued, announcing that she would support Phil Bredesen for Senate and Jim Cooper for House of Representatives. "Her voting record in Congress appalls and terrifies me. She voted against equal pay for women. She voted against the Reauthorization of the Violence Against Women Act, which attempts to protect women from domestic violence, stalking, and date rape. She believes businesses have a right to refuse service to gay couples. She also believes they should not have the right to marry. These are not MY Tennessee values."
Swift's Instagram post later caused a drastic spike in voter registration, Buzzfeed reports.
But fans will have to wait and see what "political undertones" Swift is talking about when her new album drops.
During her interview, Swift reassured "I'll tell fans first" when the next album is coming out. "I'm just trying to find the right moment to tell them and explain it to them, but I'm really looking forward to it."
News You Can Eat
A whole pride of new treats inspired by The Lion King is making their way to Disney's Animal Kingdom Theme Park to celebrate our favorite characters from Disney's beloved tale, Good Morning America reports.
The items, which debuted on Friday, will be available throughout the summer, Disney Parks Blog reports. Honestly, they look so delicious, our stomach is roaring for the scrumptious treats.
Start off your day right with these adorable Simba and Nala Waffles, which are available for breakfast at Tusker House.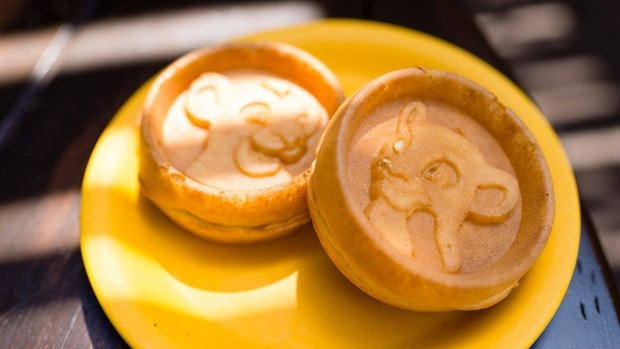 Pair those delicious waffles with the Lion's Latte, which features a decadent blend of espresso, white chocolate and coconut. The latte comes either hot or iced and has the cutest latte art featuring Simba. You can pick up your latte at Joffrey's Coffee & Tea Co.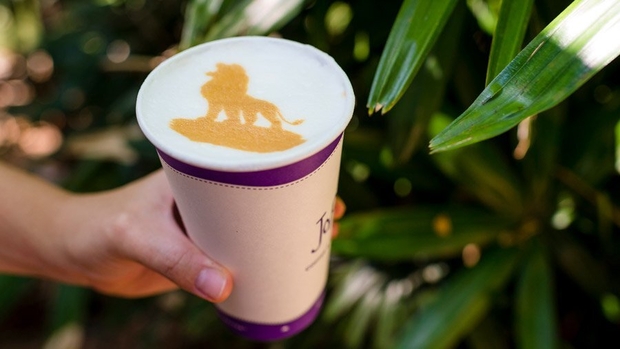 The Lion King Novelty Sipper and Popcorn Bucket are perfect for a midday pick-me-up snack. You can grab yours at various Outdoor Vending Locations throughout the Park. However, they are only available while supplies last.
For a refreshing treat, try the Asante Slush from the Shave Ice Cart near Harambe Market. The shaved ice is topped with watermelon and passion fruit-mango syrup. Yum! There's also a Serengeti Sangria.
There are also some new The Lion King ice cream treats, too. The Simba Ice Cream Sandwich, which is available at Tamu Tamu, comes with vanilla ice cream sandwiched between two chocolate chip cookies and is decorated with a chocolate lion's tale and Simba's face. Also available at Tamu Tamu is Simba's Sunset Dole Whip, a Pineapple Dole Whip topped with a red syrup made up of watermelon and coconut.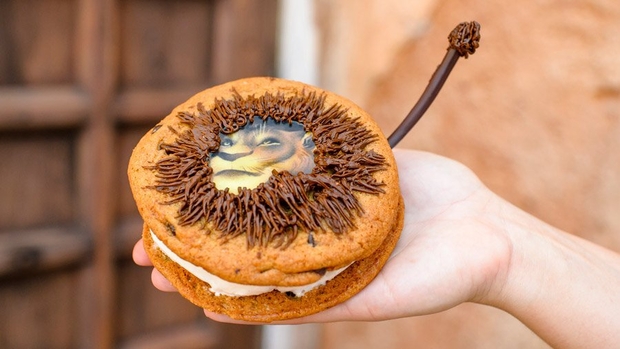 The Bugs 'n Grub Waffle Cone from Anandapur Bus and Trilo-Bites will have you singing Hakuna Matata. This ice cream treat features chocolate soft-serve ice cream in a green cone with "dirt" crumbles, gummy worms and a chocolate beetle.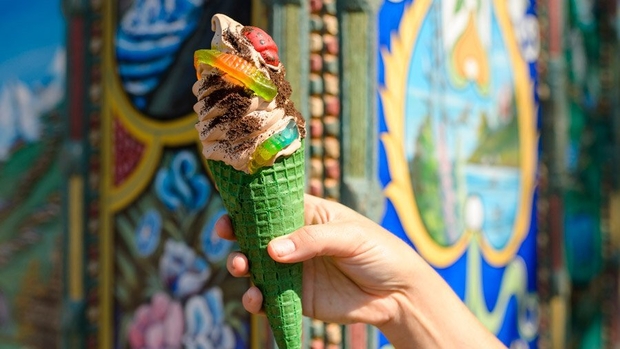 Lastly, end the day on a sweet note with the Simba Cupcake from Pizzafari. This yellow vanilla cupcake is filled with white chocolate mousse and topped with buttercream, and decorated with an edible piece featuring Simba's face and an orange and yellow icing mane.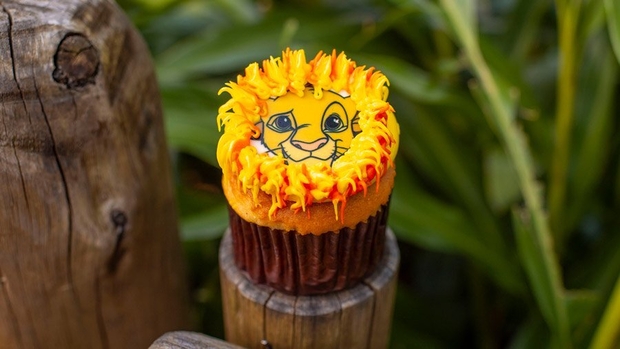 Time to book a trip to Disney's Animal Kingdom Theme Park to try all of these treats!
Happy Thoughts
Happy National Burger Day!