The Morning Scroll: Facebook Unveils 'Secret Crush' For Dating & Trump, Dems Agree to $2 Trillion Insfrastructure Plan
Morning! While you were sleeping (or staying up to binge-watch Friends for the tenth time, or pulling an all-nighter in the library), a few things went down that you'll probably want to know about. So grab a cup of coffee, settle in, and get scrolling.
What in the World
Venezuela's opposition leader Juan Guaidó, who declared himself interim president in January, took to the streets with protesters Tuesday to call on the military to rise up and end the "usurpation" of socialist leader Nicolas Maduro.
Clashes between protesters and soldiers loyal to Maduro took place near the La Carlota airbase in Venezuela's capital city of Caracas. According to Buzzfeed News, Guaidó posted a video at dawn on Tuesday to Twitter, in which he appeared alongside opposition politician Leopoldo López and was surrounded heavily by armed men in military uniforms.
En el marco de nuestra constitución. Y por el cese definitivo de la usurpación. https://t.co/3RD2bnQhxt

— Juan Guaidó (@jguaido) April 30, 2019
López, who had been detained since 2014 for leading anti-government protests, said he had been freed by members of the military loyal to Guaidó.
According to Politico, Guaidó said troops had taken to the streets to support Venezuela's constitution. He said that in the coming hours he would release a list of top commanders supporting the uprising.
"The armed forces have taken the right decision," Guaidó said. "With the support of the Venezuelan people and the backing of our constitution they are on the right side of history."
Video footage showed armored vehicles driving into crowds of protesters on a bridge near La Carlota airbase.
A video showing the moment Pro-Guaido protestors were run over by a GNB vehicle near La Carlota airbase#Venezuela pic.twitter.com/xOEFgcKnSh

— CNW (@ConflictsW) April 30, 2019
As protesters gathered on a highway overpass and listened to opposition activists and leaders speak, soldiers loyal to Maduro also fired tear gas at the protesters from inside the nearby airbase to clear the bridge. The crowd of a few hundred civilians, some of them wrapped in Venezuelan flags, fled from the tear gas.
Taking to Twitter, Venezuelan Defense Minister Vladimir Padrino rejected what he called an attempt by a "subversive movement" to generate "panic and terror." Socialist party chief Diosdado Cabello said most of Caracas was calm and called on government supporters to take to the presidential palace to defend Maduro from what he claimed was a U.S.-backed coup attempt.
"We're going to Miraflores palace to defend the revolution, to defend Nicolas and to defend the legacy of Hugo Chavez," Cabello said in a phone call to state TV.
In a tweet, Maduro said he had spoken to the commanders of the military who had allegedly pledged loyalty to "the people, the constitution and the fatherland."
¡Nervios de Acero! He conversado con los Comandantes de todas las REDI y ZODI del País, quienes me han manifestado su total lealtad al Pueblo, a la Constitución y a la Patria. Llamo a la máxima movilización popular para asegurar la victoria de la Paz. ¡Venceremos!

— Nicolás Maduro (@NicolasMaduro) April 30, 2019
Guaidó, however, spoke of the "irreversible process of change" in Venezuela in a tweet Tuesday, and called on his supporters for more #OperationLiberty street demonstrations on Wednesday.
Mañana continuamos con la ejecución de la #OperaciónLibertad. Iniciamos la fase final y estaremos de forma sostenida en las calles hasta lograr el cese de la usurpación.

¡Vamos con todo, con más fuerza y determinación!#ConTodoPaLaCalle https://t.co/ep1vC824j6

— Juan Guaidó (@jguaido) May 1, 2019
U.S. Secretary of State Mike Pompeo tweeted Tuesday that the United States fully backed Guaidó.
Rumor Has It
Facebook unveiled Tuesday new features for its wide array of apps at F8, its annual conference for announcing new products, including a new feature for Facebook Dating called "Secret Crush."
Facebook Dating, which launched last year, will have a new, Tinder-like feature called "Secret Crush," where users can "explore potential romantic relationships within their own extended circle of friends."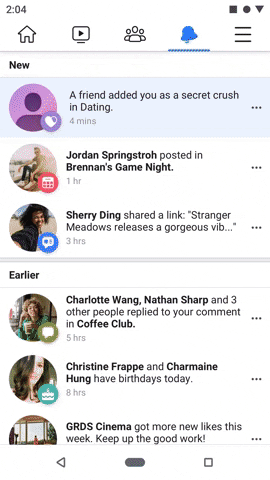 Users of Facebook Dating who opt into "Secret Crush" can select up to nine friends that they are romantically interested in, and, if one of your crushes has added you to their "Secret Crush" list, the app will match the two of you up, HuffPost reports.
Facebook Dating is currently available in Colombia, Thailand, Mexico, Argentina and Canada, and will expand to 14 additional countries on Tuesday. The United States, however, will have to wait until the end of 2019, ABC News reports.
Considering that Facebook has received a firestorm of criticism over their history with data breaches and sharing of private information, it's good for users to know that all activity in Facebook Dating will remain in the app and will not be shared externally, Wired reports.
Meanwhile, Facebook will also be launching a slew of other new features, like a "Meet New Friends" feature and a new feature in buy and sell groups to ship directly through the app and track shipping. According to the company, Facebook will also begin to look different as it shifts from focusing on its "News Feed" feature towards "Groups." The mobile app will also be simpler and faster.
Changes are coming to Instagram as well.
Starting on May 9th, users will now be able to buy items directly through the app as opposed to searching for items outside of the app on the internet. The camera is also being redesigned, where, through "Create Mode," users will now be able to post without having to share a photo — instead, posts can feature stickers, polls and other media.
Then This Happened
Democratic leaders emerged from a "constructive" meeting at the White House with President Donald Trump Tuesday, reaching an agreement Tuesday to pursue a $2 trillion infrastructure package to tackle U.S. infrastructure in a "big and bold way."
House Speaker Nancy Pelosi (D-CA) and Senate Minority Leader Chuck Schumer (D-NY) expressed of their hour-and-a-half long meeting with Trump, with Pelosi telling reporters it was "very productive." White House Press Secretary Sarah Sanders also expressed this sentiment, adding, "We have to invest in this country's future and bring our infrastructure to a level better than it has ever been before."
Fireworks have sparked in past meeting between Trump and the Democratic leaders, including when Trump and the congressional leaders engaged in a heated exchange on December 11th before the White House press corps in the Oval Office and in a subsequent, closed-door meeting when Trump stormed out only after 15 minutes since Democrats refused to budge on his demands for a border wall.
But there was "goodwill" during Tuesday's meeting, according to Schumer.
NEW: Senate Minority Leader Chuck Schumer says Democratic leaders and Pres. Trump agreed on spending $2 trillion on infrastructure.

"There was good will in this meeting, and that was different than some of the other meetings that we've had." https://t.co/NAfdBOMXk3 pic.twitter.com/dWdf8tjMH2

— ABC News (@ABC) April 30, 2019
"There was goodwill in this meeting, and that was different than some of the other meetings that we've had, which is a very good thing," Schumer told reporters.
When asked by ABC News Chief White House Correspondent Jonathan Karl if Democrats could both investigate Trump and work with him to legislate at the same time, Schumer expressed optimism that both could be done.
"In previous meetings the president said if the investigations continue, I can't work with you. He didn't bring it up," Schumer said. "I believe, we can do both at once."
"In previous meetings the president has said if these investigations continue, I can't work with you. He didn't bring it up ... I believe we can do both at once," Chuck Schumer tells @jonkarl when asked if Democrats can work with Trump amid investigations https://t.co/CrfM0jAY0I pic.twitter.com/ky7xk8aBWv

— ABC News Politics (@ABCPolitics) April 30, 2019
"We can come up with some good ideas on infrastructure and we want to hear his ideas on funding," Schumer added. "That's going to be the crucial point in my opinion. And the House and the Senate can proceed in its oversight responsibilities. The two are not mutually exclusive, and we were glad he didn't make it that way."
Schumer said the plan isn't short term, but rather something he hoped would have an impact for "25 years." Plans to improve roads, bridges, highways and water systems were discussed, according to Schumer, as well as broadband and the power grid "so we could bring clean energy from one end of the country to another."
Democratic lawmakers are not expected to propose their own funding plan as they expect Trump to create funding ideas to foot the bill, according to a senior Democratic aide who was in the meeting on Tuesday.
A senior White House official, however, disputed that claim, saying it was expected that both sides would come to the table with funding ideas and discuss them, The Hill reports.
The two sides are set to meet again in three weeks, in which the next discussion would focus on "specific proposals and financing methods," according to Sanders.
Meanwhile, acting Chief of Staff Mick Mulvaney expressed skepticism over the infrastructure plan while speaking at the Milken Institute conference in California, ABC News reports.
"Let me put it this way, you and I agree that we need to do infrastructure, OK, you're a Democrat, I'm a Republican. There are certain things we agree on that could form the basis of an agreement. Here's where it breaks down, and it's not on the basis of how do you pay for it," he said.
"Why go ahead and commit to an infrastructure deal now but we're not going to change the environment under which it gets built?" Mulvaney asked rhetorically. "That's not acceptable to this president … he's not interested in sending a trillion dollars now for something that won't get built until 2029."
Trump and congressional members from both sides of the aisle have long agreed on the need to spend more to update the nation's infrastructure, but disagreements on what type of projects should be worked on and how to pay for those projects has greatly hindered progress.
Happy Thoughts
Happy first day of May!