The Morning Scroll: Director John Singleton Dies at 51 & Deputy AG Rod Rosenstein Resigns
Morning! While you were sleeping (or staying up to binge-watch Friends for the tenth time, or pulling an all-nighter in the library), a few things went down that you'll probably want to know about. So grab a cup of coffee, settle in, and get scrolling.
Rumor Has It
Director John Singleton, the first African-American to be nominated for best director, has passed away at the age of 51.
"It is with heavy hearts that we announce that our beloved son, father and friend, John Daniel Singleton passed away today due to complications from a stroke he suffered last Wednesday," Singleton's family wrote in a statement, according to PEOPLE.
"John Singleton was a prolific, groundbreaking director who changed the game and opened doors in Hollywood, a world that was just a few miles away, yet worlds away, from the neighborhood in which he grew up," the statement continued. "In his private life, John was a loving and supporting father, son, brother and friend who believed in higher education, black culture, old school music and the power of film. John's confidence in his place in Hollywood was only matched for his passion for the sea. John kayaked in Marina Del Rey every morning. His greatest joy, when not on set, was sailing on his boat, J's Dream, up and down the Pacific Coast."
The family had announced Monday that they had made the decision to take the director off of life support. The singer had suffered a major stroke after arriving in the United States from a trip to Costa Rica. According to TMZ, Singleton had checked himself into the hospital after he began experiencing weakness in his legs.
"This was an agonizing decision, one that our family made, over a number of days, with the careful counsel of John's doctors," the family had said in a previous statement. "It is, for us, heartbreaking ... We are grateful to his fans, friends and colleagues for the outpouring of love and prayers during this incredibly difficult time."
According to his family, the director suffered from hypertension, ABC News reports.
Singleton made his directorial debut in 1991 with his film Boyz n the Hood, which earned him two Oscar nominations, becoming the first African American and the youngest person to have earned a nomination for best director.
He went on to direct Higher Learning, Rosewood and Poetic Justice. Singleton also directed 2 Fast 2 Furious and Four Brothers and served as a producer on the 2005 film Hustle & Flow.
The director was outspoken about race issues in Hollywood, In 2014, Singleton told The Hollywood Reporter that studios weren't "letting the black people tell the stories" when it came to films depicting the African American experience.
Samuel L. Jackson, who had starred in Singleton's film Shaft, wrote about the loss on Twitter.
"He blazed the trail for many young film makers, always remaining true to who he was & where he came from!!! RIP Brother. Gone Way Too Soon!"
Mourning the loss of a collaborator & True Friend John Singleton. He blazed the trail for many young film makers, always remaining true to who he was & where he came from!!! RIP Brother. Gone Way Too Soon!

— Samuel L. Jackson (@SamuelLJackson) April 29, 2019
Singleton is survived by his mother and father, Sheila and Danny, as well as his six children.
News You Can Eat
If you've been looking for some more meatless options at some of your favorite fast food places, you're in luck. Burger King has announced that their Impossible Burger — a burger made with 0 percent meat — will soon be made available nationwide.
On April 1st, the burger chain had just started a trial run for the vegetarian burger in 59 of its restaurants in the St. Louis area, but the test "went exceedingly well" so the company plans to make the product available nationwide by the end of the year, according to Vox.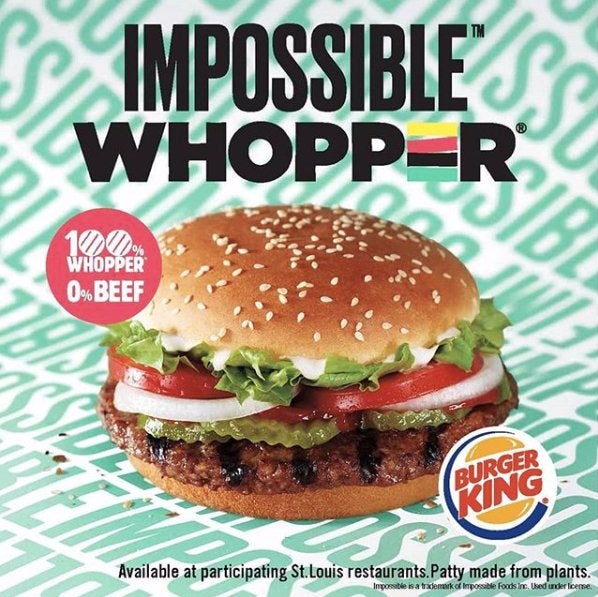 The new product is designed to "give somebody who wants to eat a burger every day, but doesn't necessarily want to eat beef everyday, permission to come into the restaurants more frequently," Chris Finazzo, president of Burger King North America, told CNN Business when discussing the Impossible Burger's initial test.
According to CNN Business, the burger is supposed to taste like Burger King's regular Whopper, and unlike other vegetarian burgers, it's designed to mimic the look and texture of meat when cooked.
The Impossible Burger is a partnership with the startup company Impossible Foods, which supplies patties made with heme, a protein cultivated from soybean roots, Vox reports.
Burger King's announcement to add the vegetarian burger to its menu nationwide comes as other companies have been trying to introduce more meatless options, Del Taco's partnership with Beyond Meat to offer meatless tacos and Qdoba's decision to offer Impossible Foods' plant-based meat substitute.
Then This Happened
Deputy Attorney General Rod Rosenstein, who endured criticism from President Donald Trump after appointing special counsel Robert Mueller to investigate Russian interference in the 2016 presidential election, submitted his letter of resignation on Monday, setting May 11th as the end date for his lengthy career at the Justice Department.
"I am grateful to you for the opportunity to serve; for the courtesy and humor you often display in our personal conversations; and for the goals you set in your inaugural address: patriotism, unity, safety, education, and prosperity," Rosenstein wrote in his resignation letter to Trump.
Here is Deputy Attorney General Rod Rosenstein's resignation letter to Trump today — he'll officially leave on May 11.

"We keep the faith, we follow the rules, and we always put America first." pic.twitter.com/4DrfQcNFjq

— Zoe Tillman (@ZoeTillman) April 29, 2019
Rosenstein's future in the administration was cast into doubt in 2018 after reports surfaced in multiple outlets that the deputy attorney general, who was overseeing the Russia investigation at the time, once raised the idea of secretly recording Trump or having members of the cabinet invoke the 25th amendment to remove him office, ABC News reports.
Rosenstein reportedly called the president to dispute the reports, and Trump ultimately came to the conclusion to have him stay on board to finish the investigation.
The deputy attorney general has also faced criticism from both sides of the aisle, with House Republicans threatening to impeach him for obstructing their efforts to obtain confidential documents that would expose the corrupt origins of the Russia investigation and Democrats raising concern over Rosenstein's role in the creation of the memo that Trump used to justify former FBI Director James Comey's firing, ABC News reports. Democrats have also recently raised concern over Rosenstein's joining Attorney General William Barr's decision that Trump should not be charged with obstructing Mueller's investigation.
Though Rosenstein didn't reference any of the controversies in his resignation letter, he did state that he hoped the Justice Department would remain free of the contentious political atmosphere in Washington.
"We enforce the law without fear or favor because credible evidence is not partisan, and truth is not determined by opinion polls," Rosenstein wrote. "We ignore fleeting distractions and focus our attention on the things that matter, because a republic that endures is not governed by the news cycle."
Since Barr assumed the attorney general position in February, Rosenstein has assisted Barr in the conclusion of Mueller's investigation and the release of Mueller's final report.
In a statement Monday, Barr praised Rosenstein for serving the Justice Department "with dedication and distinction for nearly thirty years," adding that his "devotion to the Department and its professionals is unparalleled."
Barr also called Rosenstein an "invaluable partner" and that he had "relied heavily on his leadership and judgment over the past several months," as the Mueller investigation came to a close.
According to HuffPost, Trump has nominated Jeffrey Rosen to succeed Rosenstein, but Rosen has not yet been confirmed. 
Happy Thoughts
Starbucks is bringing back the S'mores Frappuccino and introducing all new drinks just in time for summer!