The Morning Scroll: Democratic Congresswomen Respond to Trump's 'Go Back' Remarks & IHOP is Selling 58-Cent Pancakes For Its Birthday
Morning! While you were sleeping (or staying up to binge-watch Friends for the tenth time, or pulling an all-nighter in the library), a few things went down that you'll probably want to know about. So grab a cup of coffee, settle in, and get scrolling. 
Rumor Has It
The identity of the next James Bond in the upcoming, yet-to-be-named 25th installment in the franchise has been kept tightly under wraps, but fans have been guessing who the next Agent 007 might be. While some have suggested that actor Idris Elba should be the next Bond, others have pushed to have a female take over the role. Well, it looks like British actress Lashana Lynch will be taking over Bond's code name, and we couldn't be more excited. 
The Daily Mail reports that Lynch, who played Maria Rambeau in Captain Marvel, has been cast as Agent 007, which is a big change for the iconic franchise. A source told the Daily Mail that her character will be revealed to have Bond's spy number in a "popcorn-dropping moment."
In the film, Daniel Craig remains the titular character, who is said to come out of retirement for one final mission. Lynch's 007 will be an entirely new character who takes over the code name after Bond leaves MI6. 
According to Buzzfeed, the film is set to take place in Jamaica, which is where Bond retreated at the end of Spectre. After he gets the call to return to the spying world, he learns that someone else has adopted his spy number in his absence. 
In addition, Phoebe Waller-Bridge, who brought us Killing Eve, has been recruited to co-write the forthcoming Bond movie. The Guardian reported in April that Craig brought in Waller-Bridge to "liven up" the film's script, making her the second female writer to work on the franchise. The Daily Mail also hints that she was behind Lynch's game-changing role. 
"There's been a lot of talk about whether or not Bond is relevant now because of who he is and the way he treats women. I think that's bollocks. I think he's absolutely relevant now," Waller-Bridge told the Daily Mail. "[The franchise] has just got to grow. It has just got to evolve, and the important thing is that the film treats the women properly. He doesn't have to. He needs to be true to his character."
We can't wait to see Lynch as the next 007. We know she's totally going to rock the spy game. 
News You Can Eat
Let's be honest — IHOP is an American treasure. I mean, who doesn't love all of those fluffy pancakes? Today, Tuesday, July 16, also happens to be IHOP's 61st birthday (Happy birthday, IHOP!), and in honor of its birthday, the pancake chain is offering a pancake deal that you won't want to miss. That's right: IHOP is selling 58-cent short stack pancakes. 
Honestly, with IHOP treating us all to a proper breakfast for less than $1, it might as well be our birthday, too.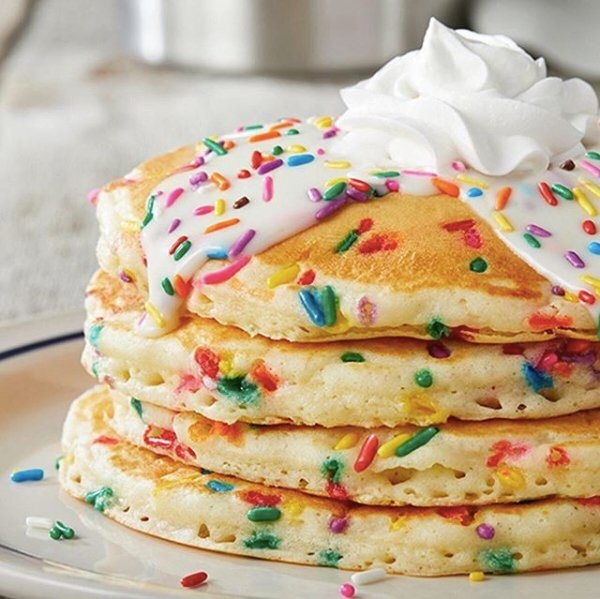 "This has been another incredible year for the IHOP brand and we're celebrating by giving our loyal guests a can't-beat deal on the pancakes that made us famous," Alisa Gmelich, Vice President of Marketing at IHOP, said in a press release. 
"For more than six decades we've focused on innovation across our menu and as well as how we can bring the best all-day breakfast foods and more to millions of guests every day," she added. "Whether guests visit us at an IHOP restaurant or choose to order takeout and delivery, they'll get the same incredible dining experience we've been known for since 1958."
In order to score your delicious stack of three Original Buttermilk pancakes today, there are a few things you need to know. 
The 58-cent pancake discount is only valid for people who dine inside the restaurant (sorry, no delivery), according to Delish. In addition, you'll only be able to order one 58-cent short stack — but hey, that's still a pretty good deal considering that a short stack usually costs $5.79. 
According to Elite Daily, you'll have to visit your local IHOP restaurant between 7 a.m. and 7 p.m. in order to partake in the pancake deal, but that means you can still totally have breakfast for dinner. 
So, round up your spare change, hit up your squad and head over to IHOP to treat yourself to some delicious pancakes. 
Then This Happened
The four Democratic congresswomen whom President Donald Trump told to "go back" to their home countries held a press conference Monday evening to respond to the president's criticism, calling his attacks "blatantly racist."
In a series of tweets Sunday morning, Trump referred to the congresswomen as foreign-born — even though only one of them is foreign-born — and wrote for them to "go back and help fix the totally broken and crime-infested places from which they came from." 
"Why don't they go back and help fix the totally broken and crime infested places from which they came. Then come back and show us how it is done. These places need your help badly, you can't leave fast enough," he added.
While Trump did not specifically name anyone in his tweets, he appeared to be referring to four high-profile lawmakers — Reps. Alexandria Ocasio-Cortez of New York, Rashida Tlaib of Michigan, Ayanna Pressley of Massachusetts and Ilhan Omar of Minnesota.
The president doubled down on his remarks Monday, saying the congresswomen hate America, HuffPost reports. 
"If you hate our country, if you're not happy here, you can leave," Trump said. "You can leave. You can leave right now. Come back if you want. Don't come back, that's OK too. But if you're not happy, you can leave."
"When people say, 'If you say a negative thing about this country, you hate this country, to me, it sort of speaks to the hypocrisy, Omar said, referring to comments Trump made earlier in the day. 
Rep. Ilhan Omar: "We have to take action when a president is openly violating the oath he took to the Constitution of the United States and the core values we aspire to" https://t.co/hk4AhBuYRc pic.twitter.com/tIJv1icmKm

— ABC News Politics (@ABCPolitics) July 15, 2019
Noting that the president spent much of his campaign pointing out what he felt was wrong with the country, Omar added, "And so for him to condemn us and to say we are un-American for wanting to work hard to make this country be the country we all deserve to live in, it's complete hypocrisy."
Tlaib, who also joined in the press conference, said the president's attacks were "simply a continuation of his racist and xenophobic playbook."
Rep. Rashida Tlaib says Trump's attacks are "simply a continuation of his racist and xenophobic playbook."

"Sadly, this is not the first, nor will it be the last time we hear disgusting, bigoted language from this president. We know this is who he is" https://t.co/hk4AhBuYRc pic.twitter.com/vHYN9Xf9p2

— ABC News Politics (@ABCPolitics) July 15, 2019
"We cannot allow these hateful actions to distract us from the critical work to hold this administration accountable," she added. 
Ocasio-Cortez had a message for American children, "No matter what the president says, this country belongs to you and it belongs to everyone."
Rep. Alexandria Ocasio-Cortez shares a message to children in the United States following Trump's attacks on the Democratic congresswomen of color: "No matter what the president says, this country belongs to you and it belongs to everyone" https://t.co/hk4AhBuYRc pic.twitter.com/F6SbngGnSN

— ABC News Politics (@ABCPolitics) July 15, 2019
"We'll stay focused on our agenda and we won't get caught slipping," Ocasio-Cortez said. "Because all of this is a distraction. It is a distraction from what is most important and from our core values as American citizens."
Pressley sent a clear message regarding the president's attacks: "to not take the bait."
"I encourage the American people and all of us in this room and beyond to not take the bait," Pressley said in her opening remarks. "This is a disruptive distraction from the issues of care, concern and consequence to the American people."
Rep. Ayanna Pressley responds to President Trump's attacks: "This is simply a disruption and a distraction from the callous, chaotic and corrupt culture of this administration, all the way down. We want to get back to the business of the American people" https://t.co/hk4AhBuYRc pic.twitter.com/HK9OK3IopL

— ABC News Politics (@ABCPolitics) July 15, 2019
"We are more than four people," Pressley added at one point, taking a subtle shot at House Speaker Nancy Pelosi (D-CA), who recently remarked in a New York Times article that the "squad" is just "four people."
"We ran on a mandate to advocate for and represent those ignored, left out and left behind. Our squad is big. Our squad includes any person committed to building a more equitable and just world and that is the work that we want to get back to. And given the size of this squad and this great nation, we cannot, we will not be silenced," Pressley continued. 
While the congresswomen were speaking, the president was posting messages to Twitter, writing, "We will never be a Socialist or Communist Country. IF YOU ARE NOT HAPPY HERE, YOU CAN LEAVE! It is your choice, and your choice alone. This is about love for America. Certain people HATE our Country...."
According to ABC News, Democrats introduced a resolution Monday night, condemning Trump for his comments Sunday. 
Happy Thoughts
Don't forget to get your 58-cent pancakes at IHOP!