The Morning Scroll: The 2019 Emmy Nominations Are In & Democratic Lawmaker Introduces Articles of Impeachment Against Trump
Morning! While you were sleeping (or staying up to binge-watch Friends for the tenth time, or pulling an all-nighter in the library), a few things went down that you'll probably want to know about. So grab a cup of coffee, settle in, and get scrolling. 
Rumor Has It
The 2019 Emmy nominations are in! 
Comedian Ken Jeong and "The Good Place" star D'Arcy Carden unveiled the Emmy nominations Tuesday morning ahead of the awards ceremony in September, in what could be a historic Emmy awards show. 
"Game of Thrones" led the pack for the 71st Emmy Awards with 32 nominations overall for its final season, the most for any show in a single season, ever.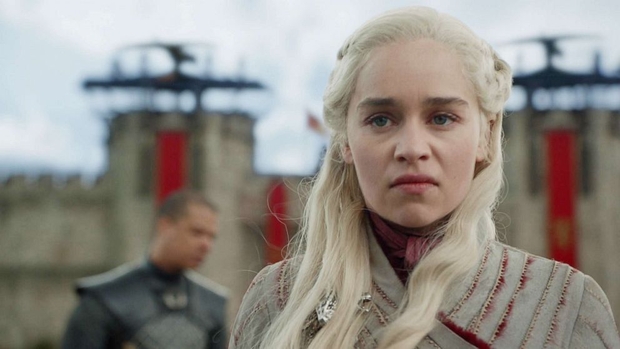 Political satire "Veep" is also pining for some Emmy gold after airing its final season as well. Julia Louis-Dreyfus, who stars in the show, could very well be on her way to make more Emmy history. She is currently tied at eight wins with Cloris Leachman for the most trophies won by a performer at the awards show, but could very well set a new record, HuffPost reports. 
"The Marvelous Mrs. Maisel" sits behind "Game of Thrones" with 20 nods across major categories. Meanwhile, "Chernobyl" received 19 nominations and "Saturday Night Live" ended up with 18 nods.
2019's nominees also feature the most first-time performer nominees since 2011, ABC News reports. 
Check out the nominations below:
Outstanding Drama Series
"Better Call Saul"

"Bodyguard"

"Game of Thrones"

"Killing Eve"

"Ozark"

"Pose"

"Succession" 

"This Is Us"
Outstanding Lead Actor in a Drama Series
Jason Bateman, "Ozark"

Sterling K. Brown, "This Is Us"

Kit Harington, "Game of Thrones"

Bob Odenkirk, "Better Call Saul"

Billy Porter, "Pose"

Milo Ventimiglia, "This Is Us"
Outstanding Lead Actress in a Drama Series
Emilia Clarke, "Game of Thrones"

Jodie Comer, "Killing Eve"

Viola Davis, "How To Get Away With Murder"

Laura Linney, "Ozark"

Mandy Moore, "This Is Us"

Sandra Oh, "Killing Eve"

Robin Wright, "House of Cards"
Outstanding Comedy Series
"Barry"

"Fleabag"

"The Good Place"

"The Marvelous Mrs. Maisel"

"Russian Doll"

"Schitt's Creek"

"Veep"
Outstanding Lead Actor in a Comedy Series
Anthony Anderson, "Black-ish"

Don Cheadle, "Black Monday"

Ted Danson, "The Good Place"

Michael Douglas, "The Kominsky Method"

Bill Hader, "Barry"

Eugene Levy, "Schitt's Creek"
Outstanding Lead Actress in a Comedy Series
Christina Applegate, "Dead To Me"

Rachel Brosnahan, "The Marvelous Mrs. Maisel"

Julia Louis-Dreyfus, "Veep"

Natasha Lyonne, "Russian Doll"

Catherine O'Hara, "Schitt's Creek"

Phoebe Waller-Bridge, "Fleabag"
Outstanding Limited Series
"Chernobyl"

"Escape at Dannemora" 

"Fosse/Verdon" 

"Sharp Objects"

"When They See Us"
Outstanding Television Movie
"Black Mirror: "Bandersnatch"

"Brexit"

"Deadwood"

"King Lear"

"My Dinner With Herve"
Outstanding Lead Actor in a Limited Series or Movie
Mahershala Ali, "True Detective" 

Benicio del Toro, "Escape at Dannemora"

Hugh Grant, "A Very English Scandal"

Jared Harris, "Chernobyl" 

Jharrel Jerome, "When They See Us"

Sam Rockwell, "Fosse/Verdon"
Outstanding Lead Actress in a Limited Series or Movie
Amy Adams, "Sharp Objects"

Patricia Arquette, "Escape at Dannemora"

Aunjanue Ellis, "When They See Us"

Joey King, "The Act"

Niecy Nash, "When They See Us"

Michelle Williams, "Fosse/Verdon"
To see the complete list of nominations, head over to Emmys.com.
News You Can Eat
Pizza crust is arguably the best part of the pizza. It's got that remnant of cheese and pizza sauce, and honestly, it's just so delicious. Well, pizza chain Villa Italian Kitchen obviously knows what's up, because they are offering a "Just The Crust" dish, which features — you guessed it — just pizza crusts. 
"Highly coveted and a hot commodity, pizza crust is often saved as the last delicious doughy bites after a hot, fresh slice by carb-lovers everywhere," Villa Italian Kitchen says in their announcement. 
The chain continues, "After receiving a record number of consumer inquiries regarding Villa Italian Kitchen's crust and just what makes it so delicious, Villa Italian Kitchen decided to give the people what they want and serve up an order of crust all on its own!" 
That's right — give us all the crust!
Image via Villa Italian Kitchen
So exactly what do you get when you order this delectable dish? Villa Italian Kitchen serves up pieces of crust from its "famed Neapolitan pizzas" that are lined up in a single-serve slice box into the shape of a piece of pizza.
"To make the crust, we use our handmade, fresh dough and create the outline of our famed Neapolitan pizza," Mimi Wunderlich, Director of Communications and Digital Marketing at Villa Italian Kitchen, told Food and Wine Magazine via email. "Our staff of crust experts delicately position splashes of sauce and cheese around the outline, which is then baked to golden-brown perfection. We wanted to provide an authentic crust experience, which is why it is done this way."
"We are huge pizza crust fans at Villa Italian Kitchen," Wunderlich added. "We know that the crust is everyone's favorite part of the pizza, so skipping straight to selling pizza crusts only seemed like the perfect idea."
The "Just the Crust" dish will arrive on menus (permanently!) on Thursday, July 18, and will sell for $2.75 per order, Delish reports. 
Yum! Can't wait to get some!
Then This Happened
Democratic Rep. Al Green of Texas introduced articles of impeachment against President Donald Trump on Tuesday evening, which will force the House to take up the matter later this week. 
Green, who has pushed to impeach Trump since 2017 and unsuccessfully pushed the House to vote on impeachment numerous times during the last congressional session, introduced the impeachment articles moments after the House voted to condemn the president's Twitter attacks against four Democratic congresswomen. 
.@RepAlGreen: "What do you do when the leader of the free world is a racist? What do you do? Well, here's what you do. You file a resolution condemning the president for racist comments directed at Members of Congress. What do you do? You file Articles of Impeachment." pic.twitter.com/vUkUWL0mki

— CSPAN (@cspan) July 16, 2019
This is the first time, however, that the Democratic congressman has forced the vote with the Democrats in control of the House. 
The Texas Democrat said the president's tweets this past weekend, as well as his previous comments about immigrants and his remarks following an attack in Charlottesville after a white supremacist rally in 2017, prompted him to introduce the measure, ABC News reports. 
Reading from his impeachment resolution on Tuesday evening, Green said Trump "has, by his statements, brought the high office of the president of the United States in contempt, ridicule, disgrace and disrepute."
"I believe we must check him now or we might find somebody harmed," Green said on MSNBC Tuesday evening.
While his resolution is unlikely to lead to an actual vote on impeachment in the House, Green could force a vote on the floor within two legislative days since the resolution is privileged, CNN reports.
Green said Tuesday that he wants an up-or-down vote on articles of impeachment, and it would be up to Democratic leaders to decide to take up the articles of impeachment, table the measure indefinitely, or refer the matter to the House Judiciary Committee. 
House leaders didn't say how they would handle the resolution on Tuesday before Green formally introduced it. 
"That will be up to our leadership team to decide," House Speaker Nancy Pelosi said when asked about Green's push for a vote. 
"We haven't really discussed how to dispose of it," Majority Leader Steny Hoyer said. "I'm not gonna try to discourage him, you know, he has to do what he thinks is right."
Democrats said Tuesday that they understood Green's belief that introducing impeachment articles was necessary, but questioned his timing since Democrats remain divided on the subject, and because special counsel Robert Mueller is only a week away from testifying before Congress.
Happy Thoughts
"The Lion King" hits theaters this Friday, June 19!