91% of College Women Will Vote for Joe Biden in the Election
Joe Biden is the top candidate for college women heading into the November 3 presidential election, according to Her Campus's 2020 pre-election survey. 
The survey, which polled over 700 students, found that 91% of college women are planning to vote for Biden right now, and 6% for President Trump. 2% report that they do not plan to vote, and 1% indicate that they will write in a candidate (most named the Green Party's Howie Hawkins). 
The data represents a significant shift from Her Campus's pre-primaries survey during February in which 11% of college women said they planned to vote for Trump, compared to only 9% that said they would vote for Biden. However, it's important to consider that the poll took place before the coronavirus pandemic, which many say was gravely mishandled by the Trump administration, and before protests against racial injustice rocked the country.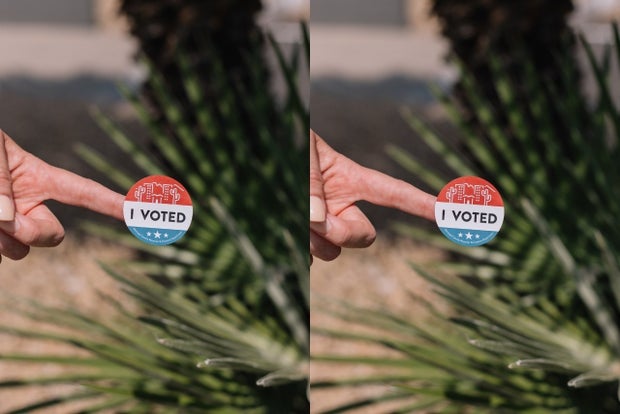 Photo by Phillip Goldsberry on Unsplash
Though not without some complicated feelings, most college women have clearly unified behind the Democratic candidate – while some believe Trump will do big things if reelected. We asked college women to explain the reasoning for their vote, and below is what they had to say. 
"Although I findbipartisan government problematic and the source for a lot of problems, I refuse to allow my vote to go to Donald Trump in any way, shape or form."
"Biden has obtainable ideas that will help the environment and economy. These ideas can range from his environmental to his plan to make community college free. As a young Black woman who comes from a poor background, this can really help people in my area get an education."
"I'm voting for Biden because he's simply the lesser of two evils."
"I have moral clarity, am not a white supremacist, climate denier, pathological liar, misogynist, or would vote for someone who is."
"Both candidates are awful, but Biden is still far better than Trump."
"I'm more left leaning and I would have voted for Bernie, but Biden will do."
"I oppose everything about the Trump and believe he will destroy our country."
"Donald Trump has failed this country time and time again. He is terrible for immigrants, women, people of color, etc. He cannot remain in office."
"I value someone who values the people, not profit. I think Biden will show empathy and work for the best of the group and not the best for himself."
"No matter what your opinions are of the candidates, I take into account what policies they're advocating for, and what they have done for the United States or plan to do while in office. Trump may not have a personality you favor, but what he's done so far is astounding. He's a businessman and gets things done. And although he doesn't have that perfect persona, I'll take action over personality."
"Joe Biden and Donald Trump are both owned by corporations, billionaires and lobbyists. I'm voting Green because I refuse to be told every four years to 'settle' for a lukewarm neoliberal hack paraded out by the Democratic party. I'm tired of being told to wait four more years for real progressive change."
"I want a president who actually believes in science and has a true political career."
"I fear the direction that the country is going, regardless of the candidate that wins – neither is equipped to deal with this. However, I fear the volatility of President Trump more than whatever happens with Biden as our president. I don't want to vote for Biden, but if I were to vote for a third party candidate, I see that as voting for Trump because it would be taking a vote away from Biden. This is a vote against Trump."
"Trump is the reason for decay in American democracy. I believe that Biden will take climate change, women's rights, LGBTQ+ rights, and everything else that protects humans seriously and democratically."
"Trump did an excellent job this past term and I think he will continue to do a great job if he is reelected. He has improved our economy, created tons of jobs, created peace with Korea when everyone else wanted a war, and so many other things."
"Biden represents our country fairly well and has good morals. Biden isn't my first pick, but I look forward to having him as our future president! I believe that his policies will help get America back on track to what it's supposed to be."
Follow along with Her Campus's 2020 Election coverage and latest news here.