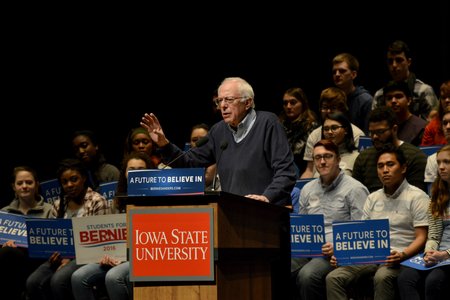 HC Wake-Up Call: Bernie Announces 2020 Presidential Run, USA Gymnastics Names New President & CEO, & Covington Catholic Student Sues The Washington Post
Good morning Her Campus! With a break-neck news cycle, there is no possible way for you to stay on top of every story that comes across your feeds — we're all only human, after all. 
But, life comes at you fast. So grab a cup of coffee and settle in for this quick and dirty guide to stories you might've been sleeping on (like, literally. It's early.) 
Bernie Sanders Is Running For President Again & People On Twitter Already Have Some Feelings
Vermont Sen. Bernie Sanders officially confirmed that he will be running for president again in the 2020 election. This is Sanders' second presidential run after he first ran for office in 2016; he campaigned on a democratic socialism platform. 
"I am asking you to join me today as part of an unprecedented and historic grassroots campaign that will begin with at least a million people from across the country," Sanders said in an email to supporters, CNN reported.
Sanders posted a video to Twitter on Tuesday morning that focused on his progressive values. It also focused on how his values have remained consistent and has pushed the Democratic Party more to the left. Based on the video, his 2020 campaign will feature many of the same foundations as his 2016 campaign—including higher minimum wage, fighting climate change, and free college. 
I'm running for president. I am asking you to join me today as part of an unprecedented and historic grassroots campaign that will begin with at least 1 million people from across the country. Say you're in: https://t.co/KOTx0WZqRf pic.twitter.com/T1TLH0rm26

— Bernie Sanders (@BernieSanders) February 19, 2019
"Real change never takes place from the top on down, but always from the bottom on up," Sanders said in the video. He ends it, saying, "If we are prepared to stand together, there is no end to what the great people of our nation can accomplish." 
According to The Guardian, Sanders has said on multiple occasions that he would run for president again if he thought he was the best candidate to beat President Donald Trump. And it looks like he has decided that he's the man for the job. 
Sanders will compete in a crowded pool for the Democratic nomination. He will face fellow Democratic Sens. Elizabeth Warren of Massachusetts, Kirsten Gillibrand of New York, Amy Klobuchar of Minnesota, Kamala Harris of California, and Cory Booker of New Jersey. He will also run against in the Democratic Primary former Secretary of Housing and Urban Development Julian Castro and Rep. Tulsi Gabbard of Hawaii.
According to CNN, the Democratic National Committee announced in December that there will be dozens of Democratic debates due to the crowded field. There will be six in 2019 and six in 2020.
Li Li Leung Announced As The New USA Gymnastics President & CEO 
On Tuesday, USA Gymnastics named Li Li Leung as president and CEO. Following the Larry Nassar alleged assault of more than 350 girls, the organization has had four leaders in 23 months. 
Leung previously worked as the vice president at the National Basketball Association. According to Indianapolis Star, she has had experience in gymnastics and competed at the collegiate level. Leung was a three time All-Academic All-Big Ten conference gymnast at the University of Michigan and won the school's academic achievement award for athletes twice. 
"I am honored to be the next CEO of USA Gymnastics and to lead an organization that plays an important role in a sport that I care deeply about and had so much positive influence on my life," Leung said in a statement released by USA Gymnastics. 
Li Li Leung has been appointed president and chief executive officer of USA Gymnastics following an extensive search conducted by the Board of Directors.

Full story: https://t.co/FiXVv6ufDL pic.twitter.com/5rHI13Wq8L

— USA Gymnastics (@USAGym) February 19, 2019
"Like everyone, I was upset and angry to learn about the abuse and the institutions that let the athletes down," she continued. "I admire the courage and strength of the survivors, and I will make it a priority to see that their claims are resolved. I look forward to collaborating with the entire gymnastics community to create further change going forward."
Leung will have multiple problems to solve, which include having filed bankruptcy in December to combat lawsuits from Nassar's accusers. She told USA Today that she would work to reach settlements with survivors, but Leung will still have to work on having no major sponsors for sources of income. 
Another problem Leung will tackle is the attempt by the U.S. Olympic Committee to have USA Gymnastics decertified as the sport's governing body in November. At the time, many welcomed the decision. 
To the gymnastics community 💗 pic.twitter.com/JQZKsWrVyl

— Alexandra Raisman (@Aly_Raisman) November 6, 2018
Leung will work to change the decision, telling USA Today, "both sides are committed to work closely to resolve decertification." 
Covington Catholic Student That Went Viral Sues The Washington Post For $250 Million 
Covington Catholic Student Nicholas Sandmann is suing The Washington Post for $250 million. He accuses the publication of falsely describing him as racist and an instigator of a confrontation with a Native American man at a Washington D.C. protest. 
Sandmann and his parents filed the defamation lawsuit in federal court on Tuesday, alleging that The Post failed to verify the context of the video. According to The Hill, he claimed in the suit that The Post's coverage "directly and proximately caused substantial and permanent damage to Nicholas," and that Sandmann hurt his reputation.
"Washington Post recklessly ignored basic journalist standards because it was eager to advance its biased agenda against @realDonaldTrump by impugning individuals perceived to be his supporters," attorney Lin Wood said in a statement, The New York Post reported. "Nick Sandmann was perceived as an easy target. He is 16. Inexcusable on every level."
A spokesperson for the Post told The Hill that they're reviewing the lawsuit and plans "to mount a vigorous defense." 
The Covington Catholic High student claims the newspaper has "caused permanent damage to his life and reputation." https://t.co/YdQeygtRZk

— HuffPost (@HuffPost) February 20, 2019
What To Look Out For….
This is an S.O.S. because Nick, Kevin, and Joe might be planning a reunion under the name "JONAS."