Bernie Sanders Just Dropped Out of the Presidential Race
Vermont Senator Bernie Sanders officially ended his presidential campaign today. Sanders said he did not make the decision lightly, describing it as a "very difficult and painful decision." This exit comes after a string of losses to former Vice President Joe Biden in the primary election, and the COVID-19 pandemic making it impossible to hold large rallies.
"I wish I could give you better news, but I think you know the truth, and that is that we are now some 300 delegates behind Vice President Biden, and the path toward victory is virtually impossible," Sanders said during a livestream announcement. "So while we are winning the ideological battle and while we are winning the support of so many young people and working people throughout the country, I have concluded that this battle for the Democratic nomination will not be successful. And so today I am announcing the suspension of my campaign."
Sanders was the top candidate for college women heading into the primary election, according to Her Campus's 2020 pre-election survey released in February. The survey, which polled over 500 students, found that 28% of college women planned to vote for Sanders, while 9% said they would vote for Biden.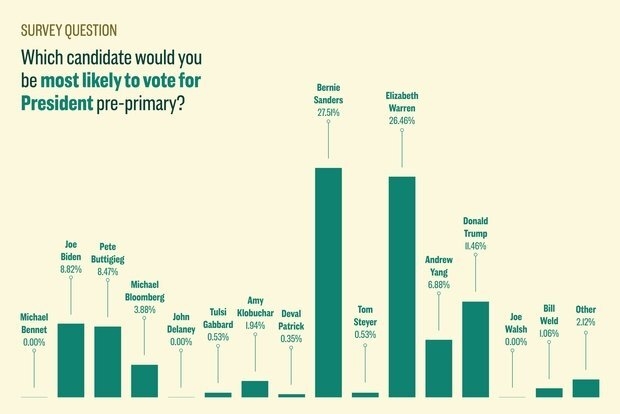 Sanders dropping out gives Biden a clear path to the 2020 Democratic presidential nomination. In his livestream remarks, Sanders called Biden a "decent man" who he plans to work with to "move our progressive ideas forward." Though the senator did not explicitly endorse Biden, he congratulated him on being the Democratic nominee who will face off against President Donald Trump in November. 
Despite coming in as a runner up for the second time in an election, Sanders promises to push forward the progressive movement he has championed since the 2016 election. "Let us go forward together, the struggle continues."