We Already Know Gossip Girl's Identity in the Reboot & We Didn't See This One Coming
A "Gossip Girl" reboot is officially in the works, but ever since the news broke that the iconic show was getting a reboot, fans have been wondering who the new Gossip Girl would be. Would Kristen Bell be offering up her voice again for the show's narration? Who, if anyone, could the gossip blogger be after the identity of the all-knowing spy was revealed at the end of the series in 2012? Well, "Gossip Girl" creator Josh Schwartz recently revealed that the gossip blogger won't be quite the same this go-around. In fact, Gossip Girl's identity won't even be a mystery at all, and we never saw this one coming. 
Talking with E! News about the next iteration of the show, Schwartz revealed that we are all Gossip Girl now. 
Yes, you read that right. We are all Gossip Girl.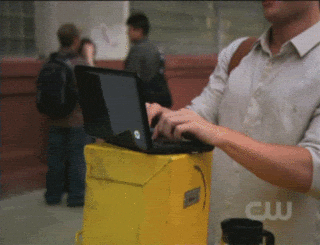 "We felt like a version that was just our cast grown up…it didn't really feel like a group of adults who were being controlled by Gossip Girl would make a lot of sense, so it felt like there was something really interesting about this idea that we are all Gossip Girl now, in our own way, that we are all purveyors of our own social media surveillance state, and how that's evolved, and how that has morphed and mutated and telling that story through a new generation of upper east side high school kids felt like the right time," Schwartz told E! News.
It also sounds like the new show might not have our favorite frenemies, Serena van der Woodsen and Blair Waldorf. Schwartz said the team reached out to the show's original cast about the reboot, but said they won't be a part be a part of the show unless they want to be involved, Entertainment Tonight reports. 
"I mean, if they want to be involved in some way, we reached out to all of them to let them know it was happening and that we would love for them to be involved if they want to be involved, but we certainly didn't want to make it contingent upon them," Schwartz said. "And you know, they played those characters for six years and if they felt like they're good with that, we wanted to respect that but obviously any time anybody wants...it'd be great to see them again."
Even if Gossip Girl's identity won't be a secret, we still can't wait to return to the Upper East Side to see what the show has in store. And, since we're all Gossip Girl now, we'll be practicing our best "XOXO, Gossip Girl" impression.