Taylor Swift's New Christmas Single Is Literally Everything I Never Knew I Wanted
So here's the thing: I'm, admittedly, a little bit of a grinch, but don't freak out on me just yet, okay? One of my favorite things to do is to carefully pick out presents for everyone close to me. I like cheesy Christmas movies as much as the next guy, and I love stringing the house up in fairy lights. Eggnog? Sounds great! Nine hours straight of baking? I'm there. Holiday music? Well... 😬
I'm sorry to say it but after all these years, I'm just so tired of hearing the same twelve songs being redone over and over again.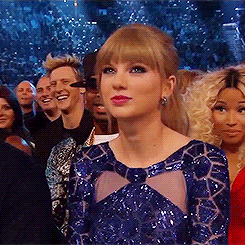 Sia gave the people what they wanted when she dropped Everyday Is Christmas in 2017. Ten brand new Christmas tracks? Do you know how significantly these tracks beefed up the holiday setlist? I don't, but it feels like a lot. And now, in this,the hell year 2019, Ms. Taylor Alison Swift not only graced us with a full-length album earlier this year, but she just surprised us by dropping a brand new Christmas track. Bestill my Taylor-stanning-Christmas-music-averting heart. 
Christmas Tree Farm, which she wrote less than a week ago according to GMA, is a picturesque holiday bop. The haunting intro echoes alongside almost suspenseful strings, with Taylor lamenting the stresses of the holiday season (retweet), before morphing into an upbeat melody, filled with both nostalgia and hope for Christmases past and future, just like magic, and the music video is filled to the brim with home videos of the tree farm she grew up on, bringing the sparkling lights and icy blue lanscapes to life. It's like I'm a whole new, Christmas-musically inclined person. 
You guys. She crafted this masterpiece in less than a week. Written, recorded, produced, released, Number One. Mariah Carey could never.