Kristen Bell & Dax Shepard Just Redefined Relationship Goals
What did Kristen Bell and Dax Shepard do before they became parents? You know, besides stealing scenes in hit TV shows and films. Apparently, they made tribute videos for songs based on their vacation spots.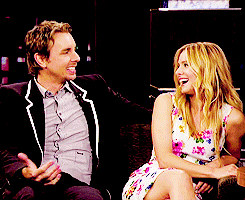 The couple traveled to Africa before their two daughters, Lincoln and Delta, were born, and man, did they do it right. Because if you're going to travel all the way to another continent—that continent being Africa—you better honor Toto's classic '80s hit of the same name.
Shepard shared the "Africa" video on his YouTube channel: "This was our last trip before having kids. Our sole objective was to rage hard and honor Toto properly. Hope you enjoy."
Warning: you're probably going to have this on loop for the rest of your day. You're welcome.