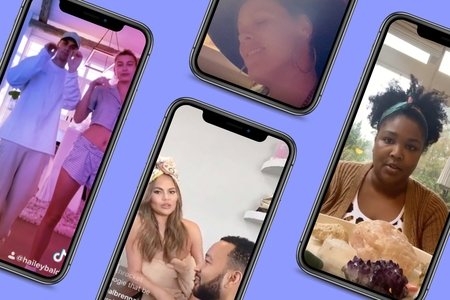 Emily Veith / Justin Bieber / Hailey Baldwin Bieber / Pink / Lizzo
Here's How These 10 Celebrities Are Entertaining Themselves While Still Practicing Social-Distancing
ICYMI: Social-distancing is the new going out. Like the rest of us, celebrities aren't exempt from the coronavirus pandemic and they've found ways to entertain themselves — and all of us — why they all stay inside. Here are a few gems of our favorite celebrities practicing social distancing that you will be obsessed with. 
Chris Martin
Chris Martin performed a mini-concert from home on Instagram Live, calling it #TogetherAtHome. The Coldplay frontman even took song requests from fans who were tuned in. "I thought what would be nice would be to check in with some of you out there and see how you're doing," he said at the beginning of his performance. 
John Legend
John Legend also took part in the #TogetherAtHome concert series, writing on social media, "Social distancing is important, but that doesn't mean it has to be boring." The singer-songwriter added that he hoped his mini-concert helped uplift his fans' spirits. But honestly, we were mainly here for Chrissy Teigen, because Chrissy sitting on the piano in a towel, pouring a giant glass of rosé is #goals. 
Justin Bieber & Hailey Baldwin
Celebrity couple Justin Bieber and Hailey Baldwin have been dancing their way through their self-quarantine time at home. The couple posted a video of them doing the popular "Why is Everything Chrome" TikTok dance challenge. TBH, their dance was pure gold. 
Keith Urban
Keith Urban also did his own half-hour concert, accompanied by his wife, actress Nicole Kidman, and performed a number of his hits with his "Insta Band." "Even though we can't be in front of all of you guys tonight, I want to be able to play some songs and bring some entertainment to wherever you guys are watching," Keith said during his performance. 
Lizzo
Forget ASMR and any relaxation music you may have, because Lizzo playing the piccolo is the only soothing track you'll need while you're home. The singer also hosted a meditation session during her Instagram Live video, helping fans to cope with any fear they might have about what's going on in the world. 
Pink
Pink also shared a video on Instagram of her "free concert slash piano lessons" by performing "To Make You Feel My Love" for fans. The pop singer's vocals were absolutely angelic and her piano skills were stellar, despite claiming that she had just "finally learned the piano once and for all."
Tinashe
Singer Tinashe has also been entertaining us on social media, writing, "Thankful for tiktok at a time like this." We are too, because Tinashe's moves are fire. 
Miley Cyrus
Miley Cyrus has been hosting a livestream on social media, where she has highlighted what she calls "bright-minded stories" and feel-good news with fans. On Tuesday, Miley was joined by fellow singer Demi Lovato and the two stars interviewed each other. We'll get to see much more of Miley on Instagram Live, though, as she will be streaming on Instagram Live with other celebrities Monday through Friday. 
Charlie Puth
Charlie Puth also hopped on Instagram Live to ease our minds with a #TogetherAtHome virtual concert. The singer encouraged fans to keep practicing social-distancing but added, "Why not have some fun and listen to music while you're doing that?" 
Megan Thee Stallion
Megan Thee Stallion took to TikTok during her quarantine and chill at home, taking part in the "Savage" dance challenge. The singer wrote that it was "Take # 552," but regardless, the video was so much fun to watch. 
We hope you enjoy these fun videos made by our favorite celebrities while you continue to practice social-distancing!