5 Reasons Why Logan Could Be Returning to 'Gilmore Girls'
When Gilmore Girls ended its final season, fans were distraught with how Logan and Rory's relationship was left. So, naturally, when the reboot was confirmed to air on Netflix, our first thoughts were about whether the two former lovebirds would reconnect.
So far, the characters that will for sure be in the four 90-minute episodes are—of course—Lorelai and Rory, as well as Emily Gilmore, Luke, Lane, Kirk and now Logan! Amy Sherman-Palladino, the creator of the show, has confirmed that Rory has not yet tied the knot and has been exploring the dating world since we last saw her. We wonder how Rory and Logan will meet up in the revival—here are our best guesses!
1. Logan needs a good writer he can trust for his company
We're figuring that Logan has made it big and has his own sucessful company now. He might need a good writer for his team, and he can only think of one girl. He calls Rory up and they decide to grab coffee (he knows she needs her caffeine!). The meetings start off as strictly business, but things quickly heat up and they rekindle their old relationship!
2. Rory runs into Mitchum Huntzberger
When Rory and Logan were dating, she and his father were definitely not best pals, but he did know that she was the best thing to happen to his son. Years later after Mitchum is done with the business world, he might use his old connections to look up Rory and tell her that he thinks the two were meant to be from the start. Logan and Rory might grab dinner just to shut Mitchum up but end up acting just like college kids again…and maybe even steal a boat!
3. Lorelai meddles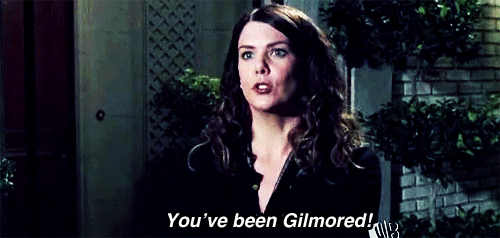 Who knows Rory better than her mom? Although Lorelai was pretty relieved that Rory and Logan didn't get married, time might have changed her opinion. Rory has probably dated a few lucky men since the show ended, but Lorelai could tell that none have made her as happy as Logan did. So, doing what she does best, Lorelai gets a hold of Logan and sets the two up to "run into each other" and they pick right back up from where they left off.
4. Logan comes back
Logan Huntzberger was the king of grand gestures. From flying across an ocean to see Rory for a weekend to proposing to her at her graduation party, he knew he had an amazing girl worth it all. So, after never being the same since being with Rory, maybe he tracks down the one that got away. He would appologize to Rory for pressuring her and giving her an ultimatum and give her some wild, unthinkable gift. The two would be back and better than ever!
5. Rory makes the next move
If we know anything about Rory, it's that she is not about waiting around for some boy to fix things. She takes life by the reigns and is in total control. Maybe Rory will be the one to seek out Logan, and she'll let him hear what's been on her mind for so long—since the day Logan left her with no choice but to say goodbye. Logan, having a soft spot for the Gilmore girl, will be all for starting again. 
So collegiettes, which scenario do you think is most likely to happen when the revival is finally available to binge? Let us know!