The 15 Best Feminist Characters on TV
One of our favorite things about TV shows is that we get fabulous female characters to make gifs of, quote and aspire to be in every way. They range from funny to deadly serious and from shy to boldly outspoken - and we love them all the same. Beware, because by the end of this list, you're going to want to go re-watch every season of every show that these women are a part of...
1. Leslie Knope (Parks & Recreation)
Ovaries before brovaries, uteruses before duderuses...and waffles. 
2. Claire Underwood (House of Cards)
The Ice Queen of TV is the definition of a strong female character. Oh, and she has an INCREDIBLE wardrobe. 
3. Mindy Lahiri (The Mindy Project) 
Dr. Lahiri's feminist values and stellar sense of humor make us all wish we could work under her.
4. Rachel Green (Friends)
Rachel was a feminist before it was cool, which makes us love her even more.
5. Olivia Pope (Scandal)
No explanation needed. None whatsoever.
6. Miranda Bailey (Grey's Anatomy)
This particular masterpiece of a Shonda Rhimes character is famous for proving that women can be bossy and NOT be labeled with the other b-word.
7. Jessica Day (New Girl)
Jess has baby farm animals on her checks and is also a hardcore feminist. So HA.
8. Temperance Brennan (Bones)
One of the many reasons we love Brennan: She's completely ignorant to any idea that she wouldn't be equal to her male counterparts. We guess you could say feminism is in her Bones.
9. Piper Chapman (Orange is the New Black)
While almost all of the women from OITNB could have easily made this list, we love how Piper is never afraid to call out her superiors on their unending sexism and misogyny.
10. Olivia Benson (Law and Order: SVU)
Olivia spends her time kicking ass and taking names, and we only wish we could be half as strong as her as the episodes go on.
11. Cristina Yang (Grey's Anatomy)
We couldn't leave another of Shonda's leading ladies off of this list, especially seeing how we always loved Cristina for making academic success - above all - seem cool.
12. Jessa Johansson (Girls)
Not only does Jessa have a free spirit and a super body-positive attitude - but she tries to always encourage others to love themselves just as much.
13. Amy Fowler (The Big Bang Theory)
Amy's wit and brilliance makes her commentary on just about everything seem so much better.
14. Liz Lemon (30 Rock)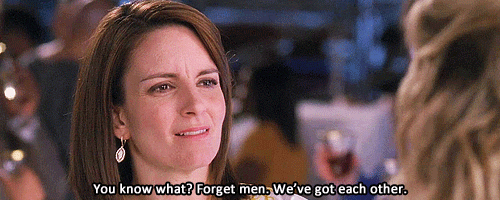 Tina Fey's genius character introduced a lot of people to feminism - and for that, we will be forever grateful.
15. Daenerys Targaryen (Game of Thrones)
Mother. Of. Dragons.