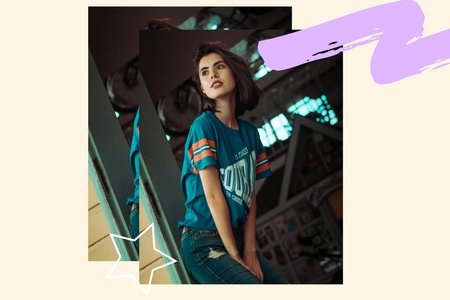 Photo by Wesley Souza from Pexels
6 Ways to Style Short Hair Right After Cutting It
My sophomore year of high school, I made a drastic hairstyle change. I chopped off my long, thick hair, which at one point, fell to halfway down my back, opting for a collarbone-length bob—and I've never looked back. There's something effortlessly classy and chic about short hair. It's quick to wash, easy to manage, and I can just brush my hair and run out the door.
However, on more than one occasion, when I went to the hair salon for a trim, I'd end up with a haircut a bit shorter than what I'd asked for. Other times, I'd purposefully get my hair cut a bit too short for my personal preference, just so that my hair wouldn't become too awkwardly overgrown and shaggy before the next time I knew I'd be making a hair appointment.
If you love the length of your locks but want to try a fresh look, or if you're just waiting for your slightly-too-short hair to grow out to your optimal length, there are so many great ways to style your hair to take that bob from a haircut to a full-on look.
Just because you might not be able to do an intricate fishtail braid or throw all of your hair up in an Ariana-level high pony doesn't mean that short hair isn't fun or can't be styled.
If your hair is too short for any type of updo, but you want it out of your face, utilize barrettes, butterfly hairclips, or a hair scarf! Bonus: not only do they tame your 'do, but glitzy hair accessories pull your whole outfit together and make it look like you tried much harder than you really did.

If you really want to be extra, coordinate your hair baubles with some statement jewelry. Earrings look especially impactful with a bob or pixie cut, since they're not hidden by your hair.

When my hair is cut too short, the ends will usually flip up and look like something out of the '50s. I personally am not a fan of this look, so I'll straighten my hair to get rid of that dreaded flick. Straightening your hair is also a great way to give the illusion of more length to a too-short haircut. If I'm in a rush, I'll only straighten the ends of my hair, rather than my entire head.

This one's another great way to pull your hair out of your face in a chic way, but bonus: it's effective at hiding the greasy look of second or third day hair. Section off a decent portion of the top of your hair, and pull it back into a ponytail or bun. For even more style, you can leave out a couple of face-framing strands in the front to add texture to the look. 

4.

Add some texture for an undone look

One of my favorite hacks for styling my hair is to literally do my hair while I sleep. After a shower, I'll braid my wet hair into two braids before I go to bed, and wake up to slight waves throughout my hair. It's a great way to add volume and texture to your hair without having to spend time full-out curling it, and in my experience, this trick still works even if some of your hair is too short to be in the braids.

If you want to add structure through defined curls, there are ways to do so without looking like Shirley Temple. Keep your curls somewhat loose by using a curling iron with at least a one-inch barrel. Alternate the direction in which you curl each section of hair, then finish off with texturizing spray.

A deep side part looks super edgy and rocker-chic on short hair! This can be an especially fun style switch-up if your haircut doesn't have any layers or angles to it – this is a great way to feign that aesthetic. With such a deep side part, remember that hairspray will be your best friend, lest your stands fly away and get stuck to your lip gloss (the worst!).
Short hair doesn't have to be boring! While a classic long bob looks great on its own, these are definitely some styling tricks to try out that will take your 'do to the next level.