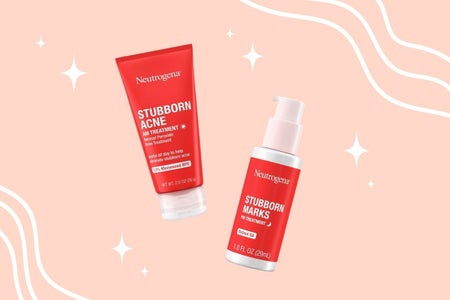 These Two New Products Will Help You Say Goodbye to Stubborn Acne and Post-Acne Marks
This is a sponsored feature. All opinions are 100% our own.
I've struggled with breakouts and post-acne marks most of my life, but this year especially has been a skincare roller coaster. With all of the stress that has characterized 2020, my skin has shifted and I've been on the hunt for a new routine that will help calm my concerns. Well, thank you, Neutrogena® for answering my prayers and creating a pairing that works for both my morning and nighttime routines. When used together, the product line addresses the whole spectrum of acne (we love to see it!), from the annoying breakouts to the more long-term effects on your complexion, such as tone and post-acne marks. The collection features Benzoyl Peroxide and Retino SAl, a duo inspired by the #1 dermatologist acne prescription.* Simply order online or visit your local drug store and buy this over the counter — no appointment necessary. Read on below for more info and to shop these *brand new* products.
Neutrogena® Stubborn Acne AM Treatment™ 
This product is proven to show improvement in your pimples and in the redness of acne in as little as four hours. Four hours! You can head to two classes with a pimple and return home with it looking better than when you left. The 2.5% Micronized Benzoyl Peroxide formula works all day to fight stubborn acne, killing the acne-causing bacteria.
Neutrogena.com, $9.99, shop now
Neutrogena® Stubborn Marks PM Treatment™ 
In this product, the Retinol SA works nightly to help reduce the look of post-acne marks. In just one week, this product improves the look of post-acne acne marks and evens skin tone. When used with Neutrogena® Stubborn Acne AM Treatment, Retinol SA helps remove dead skin, clearing the way for Benzoyl Peroxide to kill acne-causing bacteria. 
Neutrogena.com, $17.99, shop now
Here's to not letting 2020 get the best of your skin, and clearing up stubborn breakouts. 
*Measured by number of prescriptions of branded acne topicals annually.