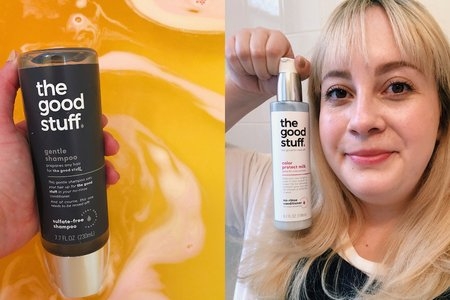 I Have to Talk About This $8 Conditioner That Saves My Color-Treated Hair from Getting Brittle & Crispy
Last month, I went through a major hair transformation: I took my coppery brown hair to a complete pearl-toned blonde. The change makes me look like a serious cool girl, and you can regularly catch me shouting into the sky about how powerful and deadly I feel as a blonde. The catch is that going blonde requires a lot of maintenance. I don't just mean frequent touch-ups at the salon, but investing in products that help to manage the damaging effects of bleaching my 'do.
After I dyed my hair, there was an immediate and super noticeable difference in the texture. It went from soft and silky to straw-like and coarse, which I expected, but still. After having dainty, frizz-free hair my whole life, it was an adjustment to run my fingers through it and touch the foreign-feeling strands.
So, I set out on a mission to discover the holy-grail hair care combo that my mane will love drinking up, restoring it as close to the original texture as possible. Protein treatments and custom masks for blonde hair are easy to find – but a nourishing everyday shampoo and conditioner to use while washing? Not as simple. I also have specific requirements for my hair care products, because I'm a little sustainability obsessed (like to the point of carrying around glass straws in my purse). I want everything to be vegan and free of parabens, in addition to coming in recyclable bottles.
With that tall order in mind, I did some digging on beauty influencer Instagram, and that led me to The Good Stuff. I opened to the account's profile and read: "You wouldn't rinse off your moisturizer, so why your conditioner?" Hooked, instantly.
Here's what you need to know
The Good Stuff creates conditioner so good you don't want to rinse it off. Literally, the brand's main product line is six types of No-Rinse Conditioner (and one really incredible shampoo). The idea is that when you go no-rinse, you save over a minute and half showering, and you conserve precious water and greenhouse gasses by skipping the conditioner step in your routine. Basically, it's an all-around win.
How this changed my shower routine
I excitedly DMed The Good Stuff and the team sent me the Gentle Shampoo ($8) and Weightless Protection Mist ($8) to try, alongside Color Protect Milk ($8) which is specifically formulated to give color-treated hair like mine strength and protection. I happily tucked my drugstore brand conditioner away under the sink and unwrapped The Good Stuff to put near my tub instead.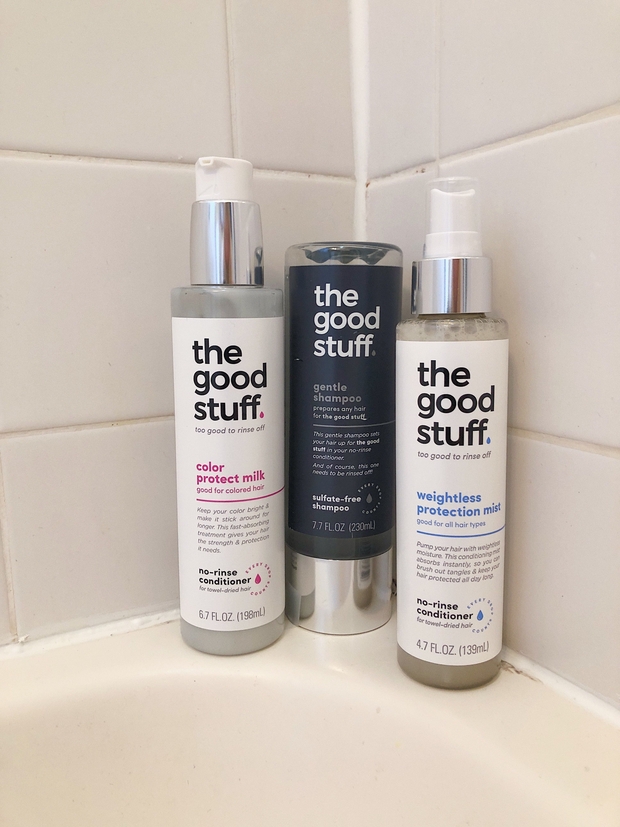 The biggest primary difference with this product is that it felt weird applying the conditioner after I got out of the shower, but my time spent standing around in the tub was cut in half when I didn't have to wait for the conditioner to take effect. Instead I dried off, then worked the formula through my damp strands and combed through. I could sense The Good Stuff working its magic, like, precisely when I rubbed it all over my head?
It noticeably sunk in, but the texture was so lightweight that it didn't feel heavy or greasy. The more appropriate way to describe it would be that my hair felt truly moisturized since my dye job, and almost like it was ~styled~. Plus, my post-shower color was glossy, as if I just had my hair washed with those fancy salon products in a sink chair.
And to be quite honest, every use after that moment has my hair feeling just as good.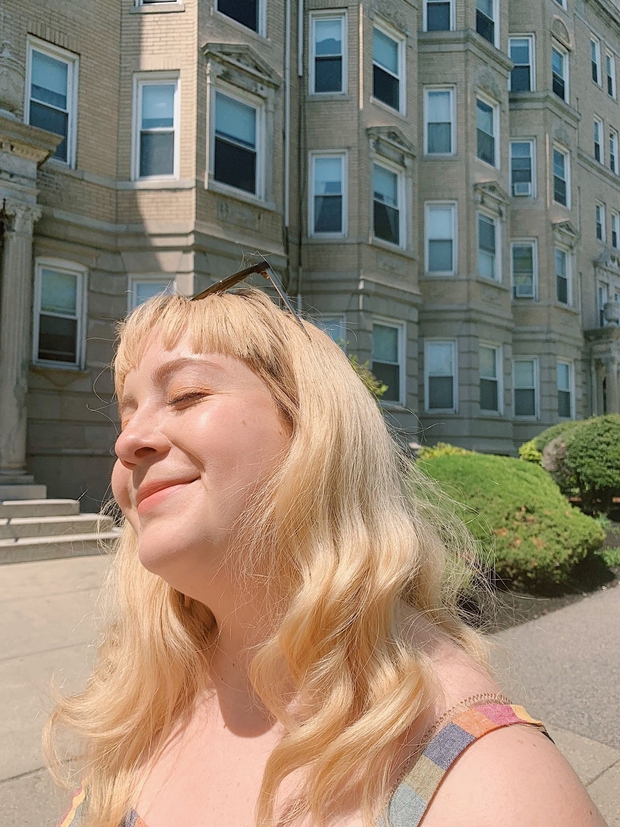 I have to admit that the environmentally friendly aspect of these products is what made this hair care switch so enjoyable for me. The Good Stuff's website let's you know that 120 gallons of water could be saved with every bottle of no-rinse conditioner, which is about one person's drinking water for seven months. The bottles are 100% recycled and recyclable as well.  
If you're ready to get hooked on this too, there are conditioner options for volume, frizz control, hydration, repair, and more – so you can find your custom fit no matter your hair type. And with each product coming in at $8, this is more than reasonable for a college budget. After using (and loving) these products for a full month in my two-step shower routine, I will happily give The Good Stuff my backing.
TL,DR: This is the ultimate opportunity to get better hair and do better for the planet all at the same time.