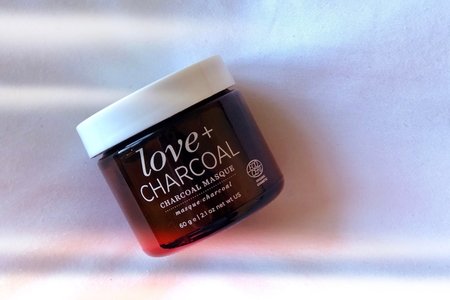 Her Campus / Gina Escandon
Everything to Know About Charcoal Skincare (& Which Products We're Using RN)
We've all heard about the magical effects charcoal has on skin, but how many of us have actually taken the dive? The thought of smothering your face with a burnt, black goop might not be the most tempting concept for some, but we want to change that! So, let's chat about charcoal, shall we?
Why choose charcoal?
Charcoal is a natural anti-inflammatory, and it's the ultimate toxin evacuator. Many people use charcoal for things like digestive issues, face masks, to teeth whitening! According to Medical News Today, charcoal has several benefits. For starters, it's an antiviral, antibacterial, and antifungal agent. You can find activated charcoal in several different over the counter forms, like powder, tablets, and pills. It's super easy to access, so we wouldn't suggest grinding up whatever is left over in your fireplace.
Most activated charcoal is made of burnt wood, peat, and coconut shells, and isn't diluted with any chemicals or additives when bought in powder form. Charcoal powder can be used to make several different types of DIY facemasks and home remedies.
Charcoal skincare has become one of the biggest trends of the late 2010's, and you can benefit from it too.
Skin types are best-suited for charcoal care
The fact of the matter is, charcoal can really be used for all skin types. However, those of us with oily skin tend to reap more benefit of the charcoal than those of us with dry skin. Why? Well, when you have oily skin, your pores tend to clog more easily than others. Charcoal is a perfect vacuum for your pores. It penetrates deep into the skin, and draws out all of the toxins and oil clogging them. Charcoal also easily soothes redness and irritation that occurs. However, if you're someone who suffers from sensitive skin, it's always best to use charcoal products labeled as "gentle" to avoid any mishaps. Better safe than sorry!
Dry-skinned girls can apply charcoal into their regimen to help reduce pore size, and it's a great cleanser! Charcoal cleans your face without stripping away natural oils that aid in softening your skin, if used appropriately. If you have dry skin, limit your use of activated charcoal to once or twice a week to avoid irritation.
And the charcoal products we're loving rn
Charcoal products can come in all shapes and sizes. Here are some of the best quality products that won't bust your budget.
SHEAMOISTURE Green Coconut & Activated Charcoal Cleansing Bar Soap
Looking for an all over cleanse? This charcoal body soap is perfect for all skin types. It's gentle, moisturizing, and smells like coconut. No complaints here!
BIORÉ Deep Pore Charcoal Cleanser
This cleanser is perfect for in-shower use! The steam works to enlarge your pores, which allows the charcoal to really get in and work its cleansing magic! The best part? It's $8 at Ulta Beauty.
BOSCIA Luminizing Black Charcoal Mask
This is the priciest product on our list of faves, but it honestly works wonders! This jet black mask looks like liquid latex when applied to the skin, and it digs deep into your pores as it dries to take hold of black heads. So, when you peal it off your face, you get to see all the gunk that comes out! It's pretty awesome…
SHEAMOISTURE African Black Soap and Bamboo Charcoal Gelee Moisturizer
This product might not be the best suited for those of us with dry skin, but it does some pretty great stuff for acne-prone, oily-skinned girls. This moisturizer isn't greasy, absorbs quickly, and is lightly scented for sensitive skin. It's an overall win.
GARNIER Online Only SkinActive Super Purifying Charcoal Sheet Mask
Who doesn't love a sheet mask? This little guy works to extract pores and delivers up to 24 hours of hydration. Skin feels soft and supple after 15 minutes. Amazing!
How will you include charcoal in your skincare routine?