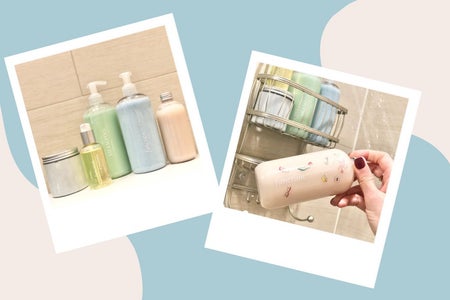 I'm In An Exclusive Relationship With This Custom Shampoo
This is a sponsored feature. All opinions are 100% our own.
Real talk: have you ever been in a hair rut when no matter how you style your hair, something about it just isn't working for you? Well, that was me, until I tried Function of Beauty. I realized what I needed was something personalized to listen to my hair grievances and create a custom formula to get me back to loving my locks. And let me tell you, the process was genuinely fun and three simple steps!
To start, I took a short quiz about my hair type and hair goals. I was looking to volumize, increase shine, lengthen, soothe my scalp, and deep condition. In short, I was looking for products that could multi-task and totally put in work. Next, I chose a scent, from options like rose and peach, and even picked the color (!!) of my shampoo and conditioner. (Psst the quiz can formulate over 54 trillion possible combinations, so it is truly formulated with you in mind!)
There was an option to add additional personalized products to your routine depending on your budget and hair goals, like a hair mask, leave-in treatment, and serum. I went all in and got the whole product line because it was time to invest in my relationship with my hair. Fast forward to a few weeks later, and I am ~obsessed~ with my routine, something that I never thought would happen. Read on below for five of my favorite things about using Function of Beauty.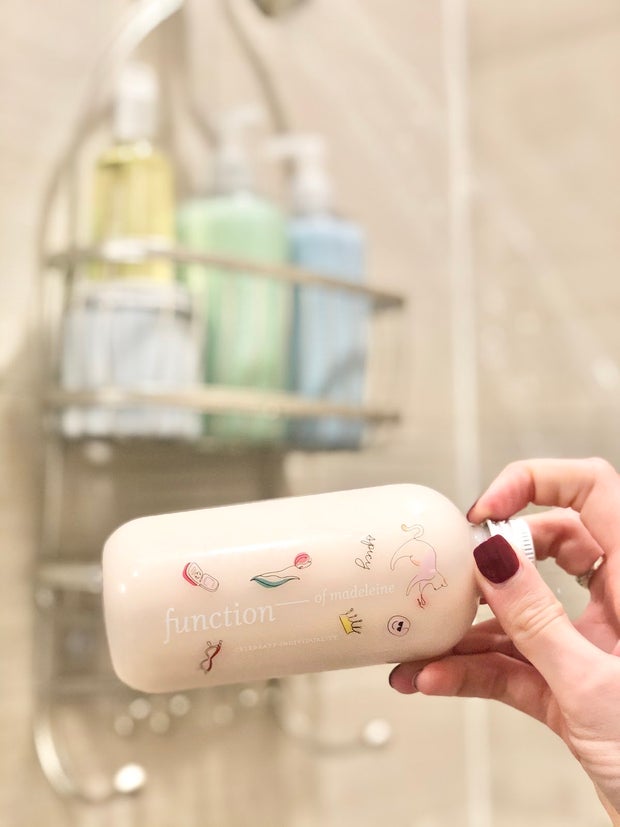 Original photo by Madeleine Bokan
1.

My Personalized Fragrance

During your customization process, you can choose a scent and the scent's strength. Eucalyptus is basically the exclusive scent of my apartment, from candles to my diffuser, so the scent choice was a no-brainer. But the real game-changer for me was the scent strength option. I'm not a fan of unscented products, but when something is too fragrant, I find myself sneezing all day. I chose medium strength, which was perfect for me. Not only did the scent smell incredible while washing, but when I blew out my hair, the scent stayed all day long enough without being too intense. I even caught myself smelling my hair on the subway, weird but true!

I don't know about you, but spa days are one of my favorite kinds of days. But since I can't afford to make that a part of my daily routine, washing my hair is now a close second. From the spa-quality scents to the relaxing mask treatment and styling serum, doing my hair no longer feels like a chore but instead something I look forward to every day.

I have a lot of fine hair, which is the perfect recipe for tangles (as every hairdresser likes to tell me while brushing through my endless knots). The conditioning mask has genuinely changed my life--making brushing through my hair after a shower now easy and pain-free. The hard-working ingredients that make up my formula (and every bottle!) are free of sulfate and paraben and thoughtfully selected for actually solve our hair problems. 

4.

Feeling Perfectly Conditioned

My hair's scalp moisture is confusing even to me--it will be dry and flakey one day and greasy the next. Well, Function of Beauty listened to my hair goals and got it right because every day since starting this routine my hair feels perfectly conditioned without feeling greasy at all!

I'm obsessed with all personalized products, like anything you can have monogrammed, I have to have it. So getting my name printed on every bottle is so up my alley. Finding products that look Insta-worthy in my shower wasn't a goal going into this, but it surely is an excellent plus. Each box also comes with super cute stickers (think, cats, hearts, sunglasses) so I could customize them even further. 
But will all of this personalization finally stop my boyfriend from using my hair products instead of buying his own, doubtful, but I'm happy to share because I've never loved my hair more!
The 33,000 5-star reviews clearly don't lie! Find your perfect formula here and use code HERCAMPUS for 20% off your first order.