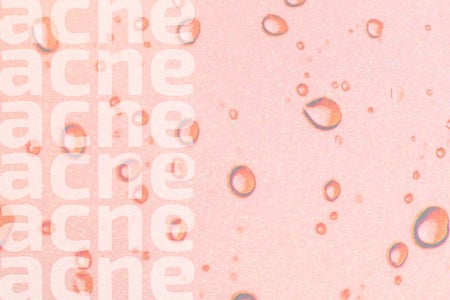 Original Illustration by Megan Charles for Her Campus Media
College Beauty Awards: Our 7 Favorite Beauty Products for All Things Acne
We talk a lot about acne here at Her Campus. It's not just a beauty issue, it's a health issue too, which means that caring for skin can get really granular. Acne-prone skin goes beyond just having blemishes. Sometimes skin is oily, or ultra-sensitive. Some days you may have trouble keeping your skin balanced, and even the lightest products feel super cakey. Maybe you've got a sudden smattering of flaky patches, or you're trying to cover scarring and discoloration from years of acne treatments gone wrong. Basically, there's no treatment that's one-size-fits-all when it comes to acne, but you don't need that kind of stress in your life!
 If you're feeling disillusioned with skincare and makeup for acne-prone skin, we hope these awards reinvigorate your routine, because we've sought out the best beauty that fights and soothes breakouts in all their forms. The results speak for themselves, with tons of gold stars from college women. Once you try these products, you can't stop because your skin looks that good. They yield results quickly and gently, so get ready to have your world rocked (and when in doubt, talk to your dermatologist!).
1.

Pore-Balance Facial Sauna Scrub

Ole Henriksen, sephora.com, $28; shop now

If you've ever gone to a spa for a facial and extraction, this product mimics the same post-treatment feeling. Even for college women with sensitive skin, this doesn't make you red or patchy — but instead keeps your skin clear and breakouts under control.

OSEA, oseamalibu.com, $48; shop now

We cannot hype this moisturizer enough. It so lightweight that it doesn't feel like much when you put it on, but after using it twice daily, your skin will completely clear up. 

Banish, banish.com, $39; shop now

Banish, a brand entirely dedicated to acne and skin issues, dreamed up this formula of pumpkin enzymes, AHAs and glycolic acid to improve skin clarity. It's a hall-of-famer, and after you try it, you'll understand why. 

4.

Adapalene Gel 0.1% Acne Treatment

Differin, walmart.com, $24; shop now

This is a great OTC treatment to help big, deep breakouts that no mask or cleanser can fix. The results speak for themselves, as women with combo skin and severe breakouts can tell you. 

6.

Seamless Buffing Brush With Antibacterial Charcoal

bareMinerals, sephora.com, $28; shop now

This makeup brush was designed with special fibers infused with activated charcoal to help repel bacteria and to stay cleaner for longer. Obv, that's such an important factor when you're dealing with acne-prone skin. Now your makeup application will be free of bacteria that could encourage your breakout. 

7.

Acnedote Face & Body Scrub

Alba Botanica, target.com, $7; shop now

Meet the scrub that's tough on backne but gentle enough for daily facial cleansing. Clear skin matters on more than just your face, and this is a 2-in-1 product that covers it all. 
Just a heads up — this article may contain affiliate links. While a purchase through affiliate links doesn't impact the price you pay, Her Campus Media may receive a small commission. All products' prices and availability are accurate as of publication.