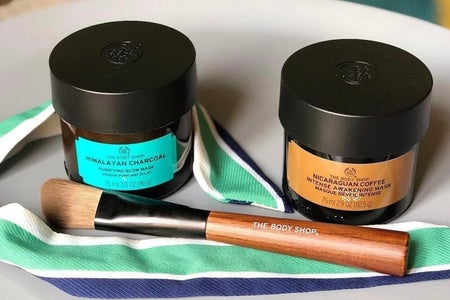 My Favorite Face Masks from The Body Shop, Ranked
When it comes to skincare, it's important to me that companies truly have my skin's best interests in mind, in addition to having an ethical and socially conscious heart. The Body Shop is vegetarian, against animal testing, supports community trade, and wants to enrich our planet — so it should be clear why the brand has pretty much won over my heart (and my skin).
Originally, I tried out the cleansers, exfoliators, and moisturizers. My oily, acne-prone skin has really benefited from these products, so I decided to give the face masks a chance, too. The Body Shop has a wide variety of masks, making it difficult to choose which to purchase. Luckily, there's an opportunity to get three samples for $5 (a blessing for all of us indecisive shoppers), and it's a great deal considering each sample is good for two uses. 
These face masks have quickly become my favorites, as well as an essential step in my regular skincare routine. Here are my go-to masks, ranked.
1. Himalayan Charcoal Purifying Glow Mask
This mask quickly became my favorite because of how clean and matte my face looks afterwards. It's refreshing and cool, and I usually use it when I have a special event coming up and want my makeup to look smooth. You can use this mask at whatever time of day you'd like, but I prefer mornings because then I absolutely know that my makeup for the day will look good. Sometimes I don't even feel like wearing makeup after I use this one! It's that good. 
For me, this is ranked first because I suffer with acne-prone and oily skin. Whenever my symptoms are at their worst, I know I can always rely on this mask. 
The Body Shop, thebodyshop.com, $20; shop now
2. Ethiopian Honey Deep Nourishing Mask
This mask's beautiful, yummy scent instantly pulled me in. This isn't a drying mask, so as you wait the 10 minutes after application, you can really see and feel the ingredients sink into your skin. When I wear this mask I actually feel like I'm doing something great for my skin, and there is truly no better feeling. 
The aftermath of this mask is super glowy and baby-soft skin. I notice that it also gets rid of redness, which is amazing. Because of its antibacterial and antioxidant benefits, honey is actually great for your skin in terms of acne, aging, and complexion boosts. It's a natural ingredient too, so I would definitely recommend it to everyone.
The Body Shop, thebodyshop.com, $10; shop now
3. Tea Tree Skin Clearing Clay Mask
As someone who has faced the worst acne and scarring, I really appreciate this mask. I use it whenever I'm having bad breakouts, and it helps clear up my skin fast. Tea tree oil, the main ingredient, is super helpful in treating acne.
The Body Shop, thebodyshop.com, $12; shop now
4. British Rose Fresh Plumping Mask
Aside from its pretty rose scent, this mask is perfect for plumping your skin and giving you a rosy, healthy and fresh look. It's amazingly moisturizing and hydrating as well, a key feature of a good face mask. If you have sensitive skin, this mask will be great for you because rose is a go-to for easing redness and soothing irritated skin. 
The only reason this is ranked last for me is because I don't face a lot of redness, or need much plumping for my skin. I tend to see better results and benefit more from other types of masks, but this is still one of my favorites.
The Body Shop, thebodyshop.com, $20; shop now 
Although there are some masks I have yet to try, I've tried most of The Body Shop's masks and have had great experiences. This brand is truly my holy grail for anything skincare. They're constantly having sales, so I'd definitely recommend taking advantage of this guide and trying out some of their masks (at a great deal, too).
Just a heads up — this article may contain affiliate links. While a purchase through affiliate links doesn't impact the price you pay, Her Campus Media may receive a small commission. All products' prices and availability are accurate as of publication.