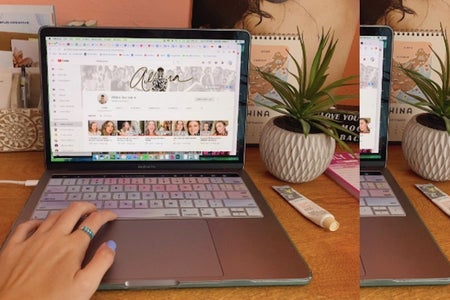 Courtesy of Lorraine Padgett
I Grew Up Watching These Bloggers on YouTube, & They Low-key Taught Me How to Do My Makeup
If I reminisce about the time when I first began to feel passionate about skincare, makeup and beauty, I always think about the people who inspired me. These were influencers and makeup artists I discovered on social media and began to follow because they had a primary interest in all things beauty. It was around winter break of 2017 that I started watching more YouTube videos, and that's where I discovered some of my favorites in the beauty community, and it was even better that we had similar skin types. I became obsessed with following their individual routines and listening to them review products that they love. Too, I learned so much more about makeup, and soon after I began to curate my own personal collection of products. 
Now it's almost two years later and my overall beauty knowledge has improved greatly, and my confidence in playing with different makeup looks has also increased tremendously. I owe most of this knowledge to a few particular bloggers who I may not know personally, but who have inadvertently sparked my passion for makeup by sharing their personal tips and routines with the world.
(Just a forewarning, these bloggers sometimes promote very expensive products that I as a college student can only dream of affording, so I watch them mostly to see how they apply products rather than to shop the exact products they're using). 
Oh, where do I begin with Allana? When I first discovered her I was doing some late-night YouTube watching as per usual, and the rage about Glossier had just begun so I was looking for review videos. Allana's video "Glossier Brand Review" popped up and I was drawn to her thumbnail and simple text. One minute into her video and I was sold on Glossier. I had watched plenty of other review videos, but Allana's really stuck out to me because she was so normal and so honest. She wasn't trying to promote anything, and if she didn't like something about a product she wasn't afraid to say so. I think being genuine on YouTube is something many people struggle with, but Allana's not one of them. She's the most honest and unashamed person I've ever seen, and it feels like she's just talking to you as a friend. 
Her full-face makeup looks are always flawless, and I've learned some great tips — such as taking products down your neck, making sure to prep and hydrate your skin before applying makeup, blending everything out more than you think you need to, patting/pressing products into the skin, and plenty more. I was inspired to buy the Real Techniques blending sponge after hearing her rave about how soft it is in one of her videos (she wasn't wrong). She isn't afraid to mess up or look ridiculous, which is something I really appreciate. She's relatable in a way that some other YouTubers just aren't because they're trying a little too hard. Allana doesn't try, she just does. 
I do realize that Allana and Estee are somewhat older than I am, but I think I'm drawn to their level of sophistication and knowledge. Estee is like the queen of natural-looking makeup and the "no-makeup makeup" look. And let's get real, how could one not be a beauty influencer with a name like Estee? 
She lives in London in a beautiful flat, and I love how elegant and classy her style always is —but she also allows herself to be messy and relatable. She talks about mental health and dealing with anxiety in a couple of her YouTube videos which more people should be doing because it's important to break the stigma around those topics, especially social media influencers who frequently appear to have perfect lives. I really appreciate the people who keep things real. 
In terms of beauty, she has pretty expensive taste because she has a career that allows her to have expensive taste, but I just love watching how she applies her makeup. What's nice is knowing that I can achieve the same look using more affordable products for myself. Estee inspires me to embrace my inner queen and be my own boss while simultaneously glowing. 
Kristin is without a doubt one of the happiest people on this earth. Her positive and bubbly energy is hard to believe, but it's also really refreshing. She embraces who she is without shame and does so with the sweetest charm. I genuinely feel that she cares about every person that follows  her. She's also effortlessly gorgeous and has great style. Because of Kristin, I discovered First Aid Beauty. She's a big advocate for their products, and now they sponsor her pretty often, but that isn't her main goal in promoting them. I remember watching one of her videos where she raved about the First Aid Beauty tinted moisturizer, and I was so intrigued that I went and bought it to try for myself and it ended up being one of my holy-grail products. I've been using it for almost two years now!
She definitely likes a full face of makeup, but she doesn't cake and pile everything on. Her face always looks hydrated and smooth and she applies everything with such ease as if it's second nature. Kristin inspires me to let my inner glow shine through while also enjoying the ritual of a skincare and makeup routine. 
These three women have all inspired me to be nothing but my true self, especially when it comes to how I use skincare and makeup. It's such a personal choice, especially because everyone has their own individual skin concerns and preferences. 
Before I started following them, I was a little clueless about the world of beauty and didn't feel confident in my abilities. That soon changed, and now I feel like I have my own personal expression and understand the kind of products that work for me. I choose to use cruelty-free products because I do not under any circumstances believe in testing on animals. I've also learned that I prefer using my hands or a blending sponge to apply products rather than using brushes, and that there is no right way to apply things. I used to think there was a universally correct way to apply certain products and that if I didn't do it the exact way, I was doing it wrong. But after watching Allana, Estee and Kristin, I realized everyone has a completely different way they like applying and using their products, and that's perfectly fine. So basically, I owe most of my growth in skincare and beauty to these beautiful and inspiring women. 
Who on social media inspires you the most when it comes to beauty? Message me on Instagram and let me know!