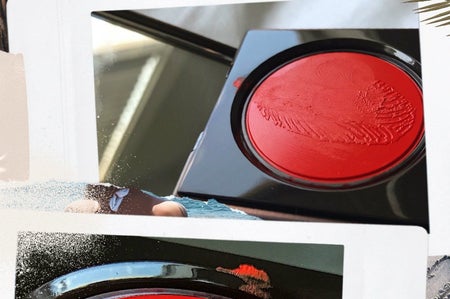 How to Take Small Risks with Makeup, Even If You're Not Usually That Adventurous
It can feel a little risky to try and rock the latest makeup trends if you don't typically stray too far from your everyday foundation-and-mascara-only routine. But adding a colorful eyeliner or a subtle pop of glitter doesn't have to be a nerve-wracking process.
Whether you're wanting to hop on the latest Glossier trend, try black lipstick for the first time, or incorporate a rainbow highlighter into your routine, taking makeup risks can be super rewarding. While it may seem like you're just making a small change, you're actually growing by pushing yourself outside your comfort zone and building your confidence. Taking time in the morning to be brave sets you up for an awesome day, and helps you feel like a badass all day long.
It's way easier than you think to start incorporating new things into your daily routine gradually, and it's really exciting to find a new fave product or makeup look. Here are some of the best ways to start taking risks with your makeup, even when you're not feeling super adventurous.
Start small
Taking risks with your makeup doesn't have to be an overnight, drastic change. The best way to start dipping your feet in is just to introduce new things one at a time. 
For example, you could start by committing to do one thing differently every day to get comfortable with breaking your routine. This could be playing with one of 2019's trendy colors through a bold lip or by trying out a bright blue eyeliner if the occasion calls for it. 
If you're typically a no-makeup gal, try wearing a bold lip with no additional makeup. It can dress up your everyday look and will feel less risky than trying to wear a full face of makeup for the first time. You can even branch out by using tinted lip balms, like these amazing ones from Fresh, instead of diving right into using matte lipsticks or liquid lipsticks. 
Like any time you're making a change or setting a goal for yourself, make sure to give yourself room and flexibility to adjust. No one makes a huge change in their habits overnight! By doing a little every day and being super conscious of the things you eventually want to be comfortable with, you'll gradually make changes and feel more confident in experimenting with new looks.
Wear your new look at home first
Once you've started to explore new products and applications, wear them around the house before you wear them to class or out with your friends. You'll start to feel more comfortable with the look before venturing out into the world. 
Don't be afraid to test out new looks with your friends, either! Have a little makeup party with your squad and try on a bunch of fun ideas in one night. You'll all feel more comfortable trying new things when you're together and can encourage each other to try out the styles IRL.
Another great way to branch out is to use YouTube and Instagram as inspiration. There are millions of tutorials online that will share how to create the look and outline how to use certain products. If you have an idea for something new in mind, like using a bold shade of eyeliner or adding a little sparkle to your look, you can search for those things and see just how to test them out (without having to experiment all over your face first)!
Know that you are your own worst critic
This is the most important thing to keep in mind with anything you do involving changing up your makeup or style. You really are your own worst critic, and the people around you will not judge you for trying something new! The people that matter will support you no matter what. Do what makes you happy and don't worry about what anyone else thinks. You can't base your ability to experiment on the opinions of others. 
Taking risks with your makeup doesn't have to disrupt your routine or be a huge lifestyle change. It can be refreshing and exciting to incorporate new fave styles. By being a little brave and trying something fresh, you can really amp up your confidence.