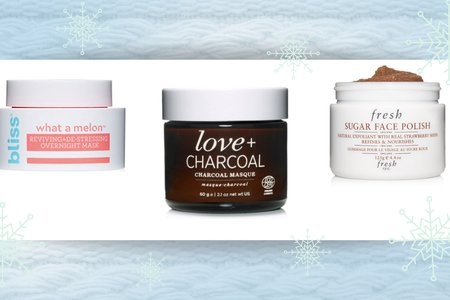 3 Face Masks You Should Gift Your Resident Skincare Guru Friend
In 2018, I became an intense skincare obsessive, and that means I'm at the point of masking pretty much every day. Yes, really. When I come home from work, I put on a sheet mask. Before I hop in the shower, I slather a mask onto my face, neck and chest. And because I've been masking round the clock, I've had a lot of time to figure out the best face masks on the market. 
If you have a beauty guru friend that's as obsessed with skincare as I am, these three masks will blow her freaking mind. All at different price points, they are the perfect stocking stuffers or a worthwhile investment into a glowing New Year's complexion. I'm so here for friends gifting friends beauty products, and I hope you have as much fun with each of these lil' beauties as I regularly do. 
This mask is my heart and soul. I started using it for the first time over summer, and it honestly had changed the way I do nighttime skincare so much. This reviving and de-stressing overnight mask from Bliss Spa is packed with potent watermelon fruit extract and ingredients that overhaul your skin for a totally refreshed complexion.
When I first apply it, my skin looks so fresh and dewy, and I swear the glow lasts a few days. This will be a game-changer for your BFF, and once she goes What a Melon™, she'll never go back. 
If you're not tuned in to all the benefits of charcoal, you definitely should be. Charcoal masks are key for extracting dirt and debris from your face to clarify your complexion. Wear a charcoal mask, and the next day you'll be new. My fave mask this year was the Love + Charcoal Masque because it's extremely powerful, and one of the few that's certified totally natural.
I love using a product where I can rest easy about the impact that it's having on the environment, reducing my beauty footprint as much as possible. Too, the natural ingredients like cupuacu butter and alpine rose make this mask smell so earthy whenever you open the pot. I go heavy when I apply this one – I just can't resist. 
I'm a firm believer in exfoliating regularly. My skin is pretty durable, so I don't worry as much about creating micro-tears, but this exfoliating and hydrating Sugar Face Polish from Fresh Beauty is actually so gentle and lovely. Fresh was one of the very first brands that ever included sugar in their products, and it absolutely revolutionized the skincare industry. The special thing about this mask is the plum seed oil and grapeseed oil that leave your face feeling so soft, you're almost...slippery. It's heaven in a jar, and well worth the splurge to have a face mask that's basically a facial in a jar. 
Skincare obsessive friends will quickly fall in love with all these masks, but they're also great intro products for the babes in your life still trying to figure out their personal regimen. My wish for you over the holidays and 2019 is the glowiest, healthiest skin you've ever had, and I hope these masks bring out your best no-makeup selfies.