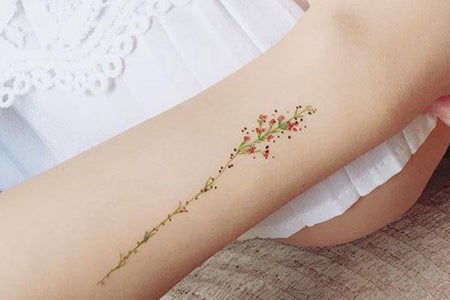 14 Fake Tattoos You Can Buy Online RN
If you are like me, you've been sporting fake tattoos that look so real since elementary school. Okay, we probably weren't fooling anyone because they looked more like glittery heartthrobs faces' (we're talking about you the Jonas Brothers) and cartoonish images of a peace sign or heart on our 9-year-old biceps. 
But no matter how old we are there's still something so cool about applying an intricate design on your skin that's just meant for you, yet also have the option to wipe it away and start again. 
We've found an awesome selection of fake tattoos on Etsy that not only can be a great and fun fashion accessory but will have your friends doing double takes. That's right, they look that real. 
If you have always wanted a tattoo and not ready to commit, then fake tattoos are definitely your friend. There a great way to try out different designs and placements. And even if you don't want a real one, fake tattoos are just a fun addition to your everyday look! So go forth and tatt away.