College Rankings 2013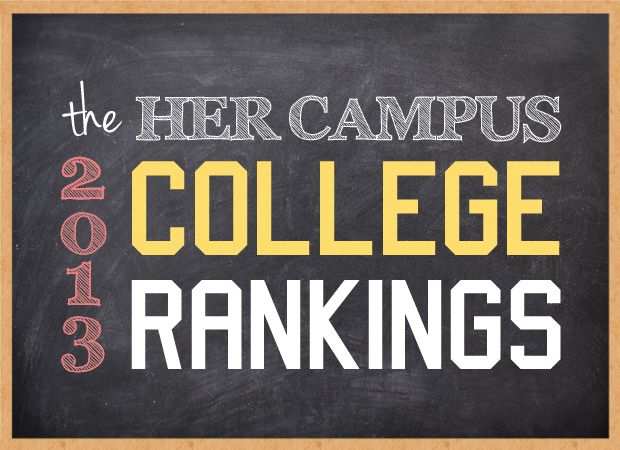 Here at HC, we're plugged into what's going on at colleges across the country. With a team of more than 3,000 students at more than 200 colleges and universities contributing to our site, we've got the inside scoop on who's doing what, where. So with the new school year rapidly approaching, we thought it only appropriate to stack the schools… Her Campus-style.
Read on for Her Campus's 2013 College Rankings, where we'll tell you which schools' students are so hipster, they probably knew about this list before you did; which schools' students are ending up in newspaper headlines (for all the wrong reasons); which schools are making big moves towards gender and sexual equality; where you can find the most attractive guys, total Betches, and the next generation of female leaders; and much, much more.
| | |
| --- | --- |
| | |
| | Almost every university offers its students the opportunity to perform community service, but at some schools, philanthropic work is a cornerstone of every student's education. From helping out in... |
| | |
| | |
| | |
| | Whether they're screaming their heads off in the football stands or rocking their school apparel around campus, some students love their schools just a little bit more than everyone else. They bleed... |
| | |
| --- | --- |
| | From keg stands and toga parties to streaking and hazing, nobody takes their partying quite as seriously as college frat bros. Your average Frat Star can usually be found on campus rocking a lax... |
| | We all know that college is for education, but that doesn't mean collegiettes can't enjoy a little eye candy (or something more) along the way. Looking for the most attractive college guys in the... |
| | |
| | |
| | |
Editors: Michelle Lewis and Stephanie Kaplan
Writers: Clara Beyer, Connie Chan, and Corinne Sullivan
Fact-Checkers: Janine Ko and Lauren Hudson
Design Editor: Kelsey Thorn